With the growing competition, OnePlus seems to be working on its next flagship – OnePlus 6T, which is one of the most anticipated smartphones of 2018. The phone is expected to launch sometime in November like the OnePlus 5T. Now, way ahead of the official launch, the alleged OnePlus 6T retail box has been leaked online through a Chinese microblogging site Weibo, revealing some key changes compared to OnePlus 6.
Click on the image to enlarge
From the leaked images of the OnePlus 6T retail box, it is confirmed that the packaging appearance of the phone will be similar to those of other OnePlus devices. The image shows off the box with a OnePlus logo and a big number '6' printed on the front. Apart from that, the leaked images have also exposed the official tagline for the phone, which is going to be dubbed as 'Unlock the speed'. However, we can't be certain about this as of now until OnePlus officially announces anything about the phone. Other than that, We can also see a OnePlus 6T branding on the side of the box.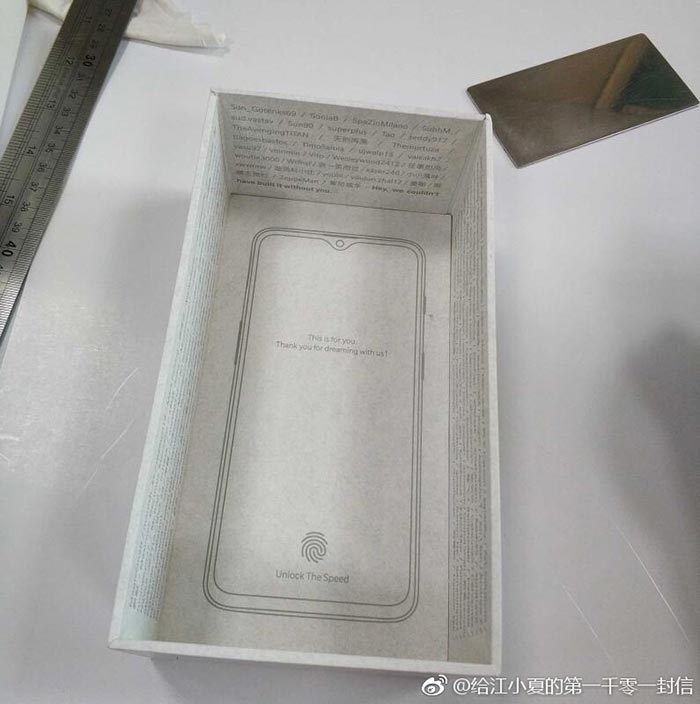 In addition, the inside of the retail box shows a wired mockup of the OnePlus 6T. It indicates an in-display fingerprint sensor and a 'waterdrop' notch for the front camera (as can be seen in the above image). However, the leaked front design of the phone has a striking resemblance to the recently announced Oppo R17, which is not a surprise as we have seen OnePlus acquiring some of the innovative features from OPPO and Vivo phones or vice-versa. The leaked images do not convey any other information about the upcoming smartphone  
So far OnePlus hasn't made any official announcements regarding its upcoming flagship. Now, we are certainly not a hundred percent sure if these are the original images. We advise you to take this information by a pinch of a salt.
As for rumored specs, the OnePlus 6T is expected to powered by the Qualcomm Snapdragon 845 SoC, paired with 6GB/8GB of RAM and 128GB/256GB onboard storage. We don't yet know if the OnePlus 6T will come with Android Oreo or Android Pie, but we'll be keeping an eye out for any more leaks, rumors, and updates on the device. In order to compete with other inexpensive flagship phones like Poco F1, the OnePlus 6T is expected to launch with no price gain.
Source: Weibo