In a surprising turn of events today OnePlus 7 image leaks for the very first time for the public view. The picture showcases what seems to be a new OnePlus 7 minus any display cutout. Yes, there is no notch and its pure edge-to-edge display. Well, as you may guess this image leak is not official at all. This image sources back to a Twitterati apparently from China.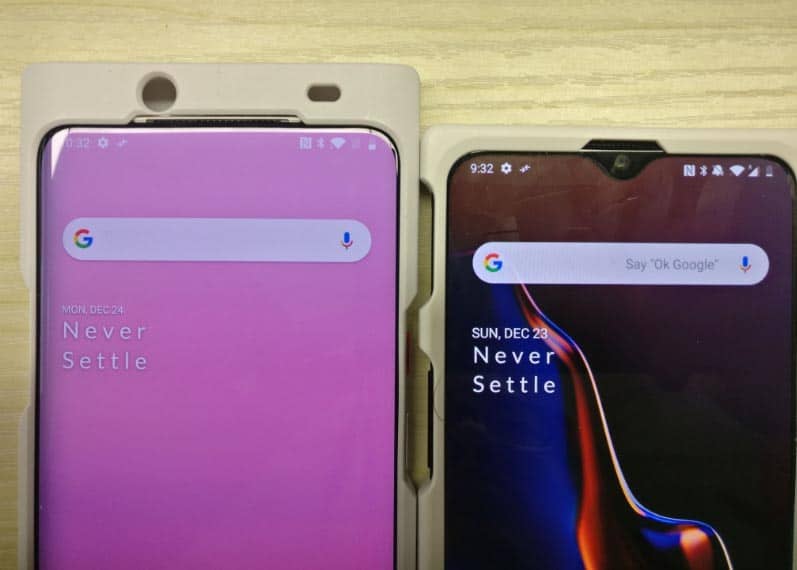 As you may see, the device we assume to be OnePlus 7 has the latest onePlus 6T beside it. The 6T is well recognized with the droplet notch. The device with pink wallpaper has a bigger display than the latest flagship 6T. It is quite obvious that the latest trend has gone miles ahead than the once popular notched display.  Interestingly, there was speculation that the OnePlus 7 may come with the punch-hole display. However, the Chinese company seems to have different plans this year.
The OnePlus 7 may come with a pop-up selfie camera, as there is almost no bezel on the upper end. If this is the case, then it will be the first OnePlus device to do so. Though the image may not be official, it does give rise to a lot of expectations. If we believe the image, then OnePlus is efficiently going hand-in-hand with changing trends of the smartphone market. We already know that the new OnePlus of 7th generation may come with UFS 3.0 Storage.
The last month, OnePlus dropped the McLaren edition of 6T which packs 10 GB RAM. So, we think the OnePlus 7 may debut with a base memory of 8GB of RAM. However, that may be highly unlikely as the brand has reputation for sticking to the budget. So, if it's working on a better all AMOLED display, then the base variant will be as usual of 6GB like the latest 6T.
OnePlus is quite popular for its summer device release from the last couple of years. So, we may expect further reveals and leaks in the coming months regarding that. Maybe in the summer of 2019, OnePlus 7 will release. Of course, the device will run Android 9.0 Pie out-of-the-box. As of now, this is all we can speculate. The actual outcome may be different.
So, OnePlus fans..! what do you think of the upcoming flagship OnePlus 7 according to the above image..? Do you think the display will be the only factor of OnePlus 7 if someone wants to upgrade from a 6T..? What are your expectations from the future flagship..? Let us know in the comments section.