It seems as if the OnePlus 3 and 3T are being bombarded with updates! We recently saw HydrogenOS 3.5 update and already a day later, today you can now install OxygenOS 4.5.0 update on the OnePlus 3 and 3T.
It was only recently that OnePlus announced the new OOS 4.5.0 update on the community forums. If you're wondering that the update is based on Oreo, then I am very sorry to disappoint. The build is still based on Android 7.1.1 Nougat, but it indeed brings some pretty cool changes to the overall system. The OEM is making sure that its users are getting an improved experience with every update they push. It seems like this one is nothing short of it.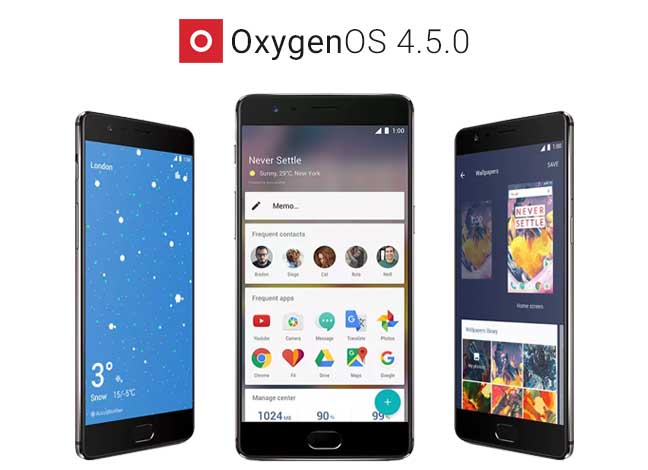 Below, we will further discuss the new features, improvements, screenshots, and instructions on how to install OxygenOS 4.5.0 update on OnePlus 3 and 3T.
Table of Contents
OxygenOS 4.5.0 Update for OnePlus 3 and 3T
The update is sized around 197 MB, which could be considered as a minor update. But the changes that this tiny upgrade brings are tremendous.
Below is the changelog of the fixes, improvements, and new additions that accompany the OxygenOS 4.5.0 update on OnePlus 3 and 3T.
[System]

Added lift up display
Gaming Do Not Disturb
Added low priority notification
Network speed in status bar
Added scheduled night mode
OnePlus Slate font added
Redesigned Dash Charge animation
System stability and battery improvements

[Launcher]

Added Shot on OnePlus wallpaper

[Phone]

Redesigned calling UI

[Camera/Gallery]

Added Shot on OnePlus watermark
Redesigned photo editor in Gallery

[File Manager]

Added secure box
Of all the mentioned changes above, my favorites include the Slate font and Gaming DND mode.
You shall notice that this OxygenOS 4.5.0 update brings almost similar changes that we saw earlier in the H2OS 3.5 update. It seems like the H2OS release was an indication that the same features shall be accompanying OxygenOS soon for the OP3 and OP3T.
Screenshots
Screenshot source: Pradeep@1+ at OnePlus Community
Instructions to Install OxygenOS 4.5.0 Update
Now that you know what you're going to get in this update, it is time for you to install OxygenOS 4.5.0 update on your OnePlus 3 and 3T. The fastest, most convenient and hassle-free method to update your device to the latest version is by going to Settings > System Updates. But, in case you haven't yet received it, you can opt for the manual installation method.
Now, there are two ways for you to install this update manually. You can either flash the OTA zip file, which will update you from OOS 4.1.7 to OxygenOS 4.5.0. However, in case you are on a rooted firmware or a third-party ROM, you will need to install the full ROM zip.
Prerequisites
Backup your OnePlus 3 and 3T completely: Tutorial
Charge your device to at least 60% battery level to avoid any interruptions during the update process.
Downloads
— OnePlus 3: Full ROM (Mirror) | OTA zip
— OnePlus 3T: Full ROM (Mirror) | OTA zip
Option 1: Non-rooted Users
If you have a non-rooted device, you are welcome to directly update using the OTA zip. So download the OTA zip for your device.
Connect your device to the PC.
Transfer the OTA zip file (E.g. OnePlus3TOxygen_28_OTA_055-056_patch_1709231856_c00bc95db92dec.zip) to the root directory (not in any folder) of the device storage.
Disconnect the device and open Settings.
Scroll down and tap on "System update". Press the gear icon on the top-right of the window.
Select "Local upgrade" and browse the storage for the OTA zip file. Choose the file and select "UPGRADE NOW" option when prompted.
During this process, your device might restart, so be patient and let it do its task. Once the OxygenOS 4.5.0 update is installed, you will be able to enjoy all the new features.
Option 2: HydrogenOS/Custom ROM/Rooted Users
Rooted users will not be able to either install the OTA automatically or manually. You will need to flash the complete OxygenOS 4.5.0 update ROM zip on your device using stock/TWRP recovery.
Download the full ROM zip file for your OnePlus device.
Connect your phone to the PC in file transfer mode and copy over the ROM zip (e.g. OnePlus3TOxygen_28_OTA_056_all_1709231856_9af15a0.zip) to the storage.
Now, disconnect the device and power it off.
Boot your OnePlus 3/3T into recovery. To do that, press and hold the Volume Down and Power keys altogether.
Now follow step #6 if you have stock recovery or step #7 if your device has TWRP recovery.
Stock Recovery:

Select "English" as language.
Go to Wipe data and cache > Reset system setting.
Press "Yes" to wipe the device.


Restore OnePlus 5 Stock Firmware – Stock Recovery

Go back to the main recovery screen and tap on "Install from internal storage".
Browse the storage and select the full ROM zip file. Press on "Yes" when prompted, to start the update process.
Once done, tap on "Reboot".

TWRP Recovery:

Go to the "Wipe" menu and slide the "Swipe to Factory Reset" button.
Move back to the TWRP main screen and select the "Install" tab.
Browse the phone's storage and select the ROM file.
Finally, swipe the button on the bottom of the screen to flash the full OxygenOS 4.5.0 update ROM zip.
When done, press "Reboot System".
You might notice that OnePlus has removed the stock music app from the OS. You can now get the app directly at the Play Store.
OnePlus is very considerate about feedback. If you have installed OxygenOS 4.5.0 update on the OnePlus 3 and 3T, kindly consider sharing your experience and bugs (if any) by visiting here.