After a year and a half of waiting, the second smartphone from Poco has been released as the "Poco X2". The complete collection of Poco X2 stock wallpapers is now available for download. There are a total of 19 stock wallpapers in Full-HD+ resolution.
When Xiaomi launched the POCO F1 back in August 2018, it drew a lot of attention. Given the price point, the phone offered pretty powerful hardware. It has already been more than a year since the phone was announced and Poco didn't release anything during 2019, maybe because it was dealing with its separation from Xiaomi. And recently in January, last month, the now-standalone brand announced that they will launch a phone, but it will not be the Poco F2.
And so, Poco X2 was recently released and it's a great Android smartphone to purchase if you're on a budget. But it's not actually the Poco F1 successor everyone was waiting for.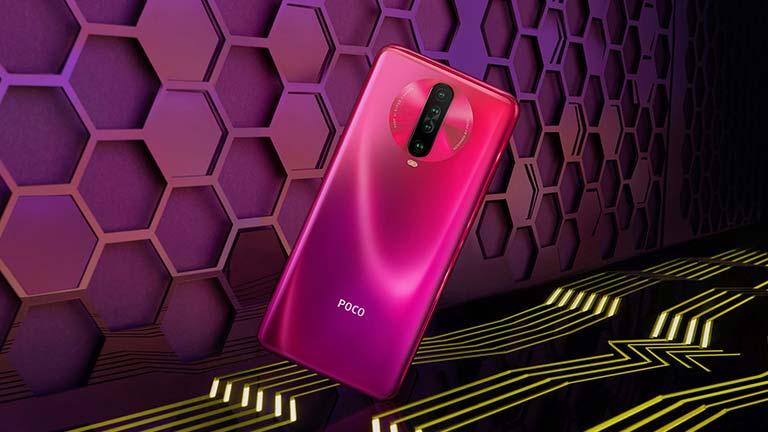 The X2 is a near replica of the Redmi K30, which is exclusively sold in China. The phone comes with a Qualcomm Snapdragon 730G SoC and 6/8 GB of RAM. The display on the Poco X2 measures 6.67-inches and supports HDR10+ with a stunning 120 Hz screen refresh rate. Pair it all, you get a decently powerful device, which is built for elite gaming.
When it comes to the camera, the Poco X2 sports a dual 20+2MP in-screen camera setup. On the rear, there's a quad-lens setup with a 64MP Sony IMX686 sensor. The battery on the phone is HUGE with 4500 mAh and supports fast-charging up to 27W with the in-box charger.
Download Poco X2 Stock Wallpapers
Well, you're honestly not here for the specs or the features offered by the phone, you're here to download Poco X2 Stock Wallpapers for your Android device. So we won't waste any more of your time discussing it, despite, you can always take a look at the specs here, and visit the official website for feature highlights.
The Poco X2 has already reached the market and is available for purchase. Like any other Android device, the Poco X2 also comes with a collection of new and unique stock wallpapers. If you already own the Poco F1, chances are you will give it as pass. But you can still get the Poco X2 wallpapers and apply them on your Android device to get a little touch of it.
Now, there are a total of 19 stock wallpapers from the Poco X2. To be more specific, 13 (Thirteen) of these wallpapers are in 1080 x 2340 px, 5 (Five) in 1080 x 2400 px, and 1 (One) in 1080 x 2160 px resolution. Almost all of these offer varying designs like abstracts, landscapes, etc. Given their resolution and vibrant colors, these wallpapers will look fantastic on any modern-day smartphone display, especially AMOLEDs.
Below are the previews of all 19 Poco X2 stock wallpapers that are available for download.
For your convenience, we have compiled all the wallpapers in a zip package. Should you wish to download them separately, you can simply visit the Google Drive folder link.
Download Links:
To apply, simply download the zip file and extract the wallpapers on your device. Once done, you can long-press on the home screen and set the wallpaper using the launcher's menu. Or, you can simply use a file manager app to open and apply them.
More stock wallpapers for you:
So, you have just been able to download Poco X2 Stock Wallpapers and Ringtone for your Android device. Go ahead and apply them on your phone now. We hope you'd like them, cause we sure do. Don't forget to share your views about the phone in the comments below.