The latest developer preview of the upcoming Android version is meant highly for the developers or testers. If you're wishing that it could just be used as a daily companion with no bugs, you might have the wrong belief. As hard it may sound to accept, but the first preview is not-so stable. So, we're here to help you return from Android N Developer Preview, in the easiest way possible.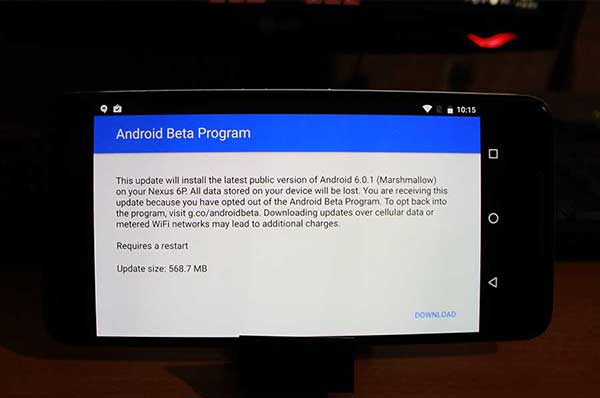 Now, there are two ways to do so, depending on your current conditions. If you have not rooted the preview, you can simply un-enroll from the Android Beta Program, and receive a roll-back OTA. Or, if you have rooted, you will have to flash the latest factory image for your Nexus device or the Pixel C. But, in both the cases, your data, and storage will be completely wiped off. So, make sure that you have backed up your device completely.
Un-enroll & Return From Android N Developer Preview
The first step to roll back from N Dev Preview is to visit the Android Beta Program page – g.co/androidbeta. You will need to sign-in with the same Gmail account that is associated with your Android device, and was used previously to enroll in the program.
Roll down on the page, and you will see the enrolled devices under 'Your eligible device'. Now, click on the 'UNENROLL DEVICE' button corresponding to the device you're willing to return back. Once you do that, you will be prompted with a message, click on 'Leave Beta'.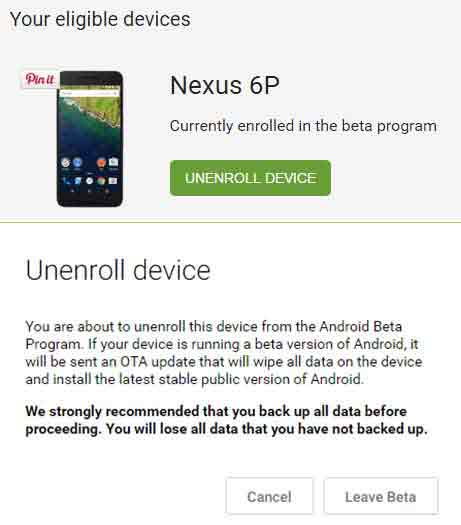 A success 'Device unenrolled' message shall now show up. Google will now push a roll-back OTA update to your device. If you don't receive the update instantly, go to Settings > About phone > System updates, and tap on CHECK FOR UPDATE. Now, if you still don't get the update, wait for it to appear, which may take a few hours depending upon the line-up.
Once you have got the update notification, which will allow you to roll back to the latest update available for your device (6.0.1, Marshmallow). Just tap on DOWNLOAD. The update will be approximately 500 MB, depending on the device. So be patient, and let it take its time.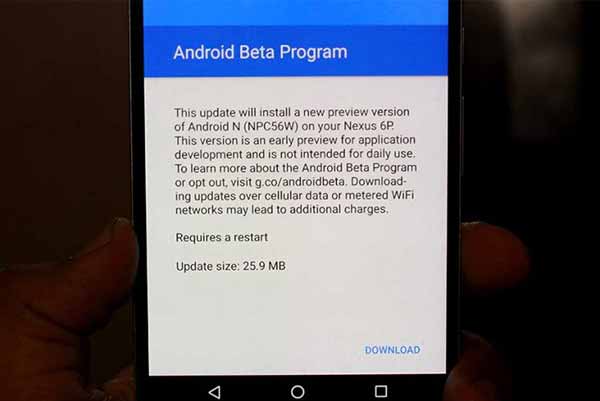 Once downloaded, the update will be verified. And thereafter, you have to tap on 'RESTART & INSTALL'. Your device will automatically reboot and complete the installation. The process may take a few minutes.
When done, your device will reboot back into the latest public operating system. You can now restore the backed up data, and start using the stable system software, again. In case you feel like enrolling again, read this article.
If you want to go through the manual method, you can go through the link below.
How to flash Factory Image on Nexus
Tell us why did you roll back from Android N Developer Preview. Were the features worth loosing the stability? Let us know through the comments.