Looking for a method to root your device? This guide will help you root Leagoo T10 and install TWRP recovery on it.
Rooting an Android device is considered a common practice when it comes to the popular OEM devices like the Google Pixel 2, Essential Phone, etc. The root solutions are pretty much released instantly and moreover, these devices are supported officially. But the story flips when it comes to the less-known devices, like the one we're spotting on today. Here, we will guide you through the complete process of how to root Leagoo T10 and install TWRP recovery.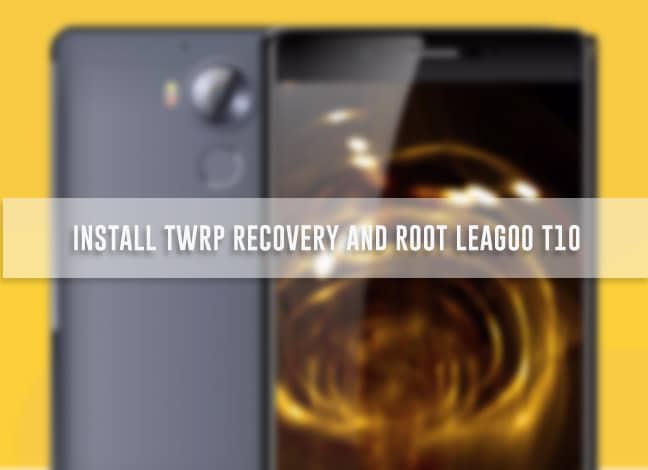 Table of Contents
Install TWRP Recovery and Root Leagoo T10
The T10 from Leagoo is a decent spec Android device, but it hasn't received much attention in the rooting scenario due to its brand name. And since developers don't know many people who hold the device, they feel it not be worth their time. Yes, that's right in several ways.
But, the small bunch of users in the XDA community is not yet ready to give up. These users have tried almost every possible root solution, but the direct ones failed rigorously. The most obvious step was then to root Leagoo T10 using Magisk or SuperSU. But that would require a working TWRP recovery.
Thanks to XDA senior member alpha232 for providing the working TWRP recovery image. This recovery is actually based on the LG K10, which shares the same MediaTek chipset as on the Leagoo T10.
Disclaimer
Rooting Leagoo T10 will probably void your phone's official support and warranty. Only proceed if you understand what you are doing. We will not be held responsible for any damage to your phone.
However, in case you find yourself stuck, we shall try to help you to the best of our knowledge.
Prerequisites
Before you get to the steps below to root Leagoo T10, it is important that you first fulfill these requirements.
Backup your phone completely. Unlocking the bootloader will wipe any data on your device, we highly recommend backing up your device before proceeding. You may follow our guide on how to backup Android phones.
You must install ADB and Fastboot on your PC for this process to work.
Charge your Leagoo T10 to at least 50-60% battery level to avoid any shutdowns during the rooting process.
Download all the files provided in the section below.
Downloads
Now, start by following the instructions to finally root Leagoo T10 using Magisk or SuperSU.
Step 1: Unlock Bootloader on Leagoo T10
Turn off your T10 completely.
Press and hold the Volume Up + Power button to boot into recovery mode.
Use the Volume keys to highlight 'Reboot to bootloader' and press the Power button to select it.
Your T10 should now enter the bootloader mode. Now, connect it to the PC using the USB cable.
Go to the C:\adb folder (Prerequisites, #2) where all the ADB and Fastboot files are present.
Press the SHIFT key on the keyboard and right-click inside the folder. Select 'Open PowerShell window here'.

Enter the following command to initiate the unlock bootloader process:

fastboot oem unlock

A message will pop-up on your phone's screen now. Use the Volume buttons to highlight 'Yes' and select it using the Power button.
Your phone's bootloader should now be unlocked. Do not reboot the phone yet or close the PowerShell window. You are now ready to install TWRP recovery and root Leagoo T10.
Step 2: Install TWRP Recovery and Root Leagoo T10
In this step, we will be booting TWRP recovery and then use it to root the device. Remember, we will not be flashing TWRP recovery permanently, instead, we will simply boot it temporarily. Permanently flashing TWRP on the device will result in a bootloop.
Make sure that your T10 is still connected to the PC in bootloader mode.
Now, copy the downloaded 'TWRP-t10.img' file to the C:\adb folder.
Open the PowerShell window and enter the following command:

fastboot boot TWRP-t10.img

The phone should instantly boot into TWRP recovery as soon as the command is entered. Now, you can use TWRP to root Leagoo T10 by flashing Magisk or SuperSU.
Now, go to the 'Mount' menu and tap on 'Enable MTP'.
Transfer your choice of downloaded root file (Magisk or SuperSU) to the storage.
Once transferred, disconnect the phone.
Tap on the 'Install' button on the TWRP main screen.
Browse the storage and select the root zip (Magisk-v20.4.zip or SR5-SuperSU-v2.82-SR5-20171001224502.zip).

Finally, swipe the 'Swipe to confirm Flash' button to root Leagoo T10.
Once everything is done, tap on the 'Reboot System' button. Your phone should now boot into the OS. Go ahead and try some root-enabled apps or Magisk Modules if you have rooted using Magisk.
Check out some mods for rooted devices:
If you face any problems during the rooting process, let us know by commenting below.