Samsung recently unveiled the Galaxy Note 8 successor at the event held at Barclays Center in New York. You can now download Samsung Galaxy Note 9 stock wallpapers for your Android phone or tablet. The collection includes 10 different wallpapers in 2560×2560 pixels resolution.
Along with the infamous S-series phones like Galaxy S9, Samsung is well recognized for its Note series too (Oops, not the Note 7 perhaps). This year, the manufacturer did a decent job with the Galaxy Note 9, trying to improvise every bit ranging from the minute yet effective changes in the design, to the device's hardware and software. While the phone has been announced, there is still some time before it makes its way to the market and be available for the users. However, certain people out there have got their hands on the phone and have managed to extract the Samsung Galaxy Note 9 stock wallpapers. So, if you're constantly looking for something new up your display, this is the chance to add a little taste of the Note 9 on your phone.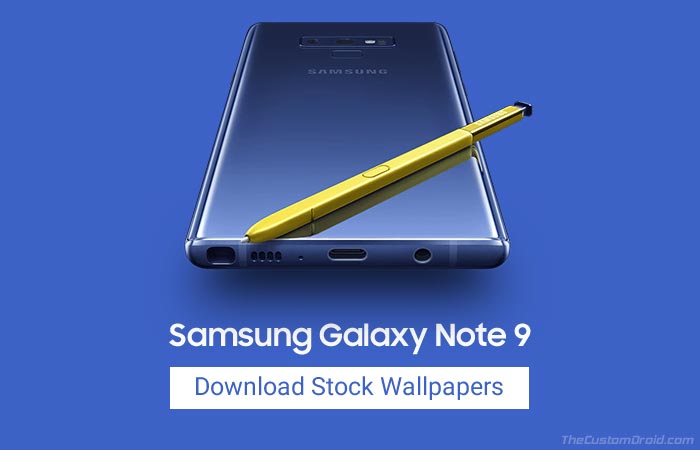 Table of Contents
Samsung Galaxy Note 9 Specifications
Upgrading from the predecessor, the Galaxy Note 9 comes with a 6.4-inches super AMOLED, near bezel-less display with curved edges. On the inside, the new phone+tablet (phablet) will be powered with an Exynos 9810 Octa-core/Qualcomm Snapdragon 845 processor, 6GB/8GB RAM, and 128GB/512GB storage. The rear camera hasn't seen much difference and stays at 12 MP, with variable aperture, same as the Galaxy S9. The difference lies with the camera lens encasing, making it smaller when compared to the predecessor with the fingerprint sensor placed below it. The front camera, however, will now be 8 MP.
Before we get to the links to download Samsung Galaxy Note 9 stock wallpapers, let us dive into a bit more details about the device.
The major difference where the phone excels is the bright yellow S-Pen equipped with Bluetooth LE for the first time. The new button on the S-Pen makes it more efficient with playback controls, clicking pictures and more. You can even set custom controls for it. The battery capacity on the Note 9 has been increased to 4000 mAh. Samsung has promisingly kept the 3.5 mm headphones jack. The company has made another significant change and introduced stereo speakers (Thanks a lot!) that are tuned by AKG with Dolby Atmos.
Samsung Galaxy Note 9 will ship with Android 8.1 Oreo, although Google released Android 9 Pie just a few days ago. Like earlier, the phone will be available in three different color variants – Midnight Black, Ocean Blue, and Lavender Purple. Storage options include 128GB and 512GB, which is significantly more than the predecessor.
Samsung Galaxy Note 9 Stock Wallpapers
Enthusiasts at XDA-Developers have managed to extract the Samsung Galaxy Note 9 stock wallpapers, and they look exactly how you'd want them.
There is still time before users can actually get their hands on the device, although it is already up for pre-orders. So, even if you manage to order yourself a unit, you will still have to wait until Samsung starts shipping. But, if you don't plan to buy it, you can still add a little touch of it to your current Android device. Like every other device, the latest Note 9 also comes with a set of wallpapers which are unique to the device. Thanks to Mohamedovic for extracting and uploading the official Samsung Galaxy Note 9 wallpapers. Also, thanks to XDA member Vmb265 for sharing the link on XDA forums. You can now download these and apply them to any phone or tablet.
There are a total of 10 different abstract wallpapers portraying a blend of colors, that will look absolutely tremendous on any display. These look very similar to the Galaxy Tab S4 wallpapers we shared earlier. All the wallpapers are sized at 2560×2560 pixels resolution. Which means, they can be easily cropped for any screen size.
Below is the preview of all the 10 Galaxy Note 9 stock wallpapers. You can click on the image(s) below to preview them before downloading.
Download Links
For your convenience, we have zipped up all the 10 wallpapers in a ZIP archive. However, if you wish to download these wallpapers individually, simply click on the Google Drive link below.
So you have just been able to download Samsung Galaxy Note 9 wallpapers. The Galaxy Note 9 has definitely managed to live by its heritage. What's your opinion on it? Are you doing to order yourself one? Which one of all the available wallpapers do you like the most? Please leave your feedback via the comments section below.
Source: mohamedovic.com | Via: XDA