It is again that time of the year when Samsung begins unfolding its new devices. Yes, you guessed it right. The Samsung Unpack event is almost knocking at the door. Needless to say, the recent hypes are about the company's upcoming offering Galaxy S10 which will unveil at this year's official event. Now, to raise the hype bar a bit higher, Samsung Galaxy S10 Release Date Officially Reveals for the public. The upcoming premium Galaxy S series smartphone will unveil on February 20th at an event in San Fransisco.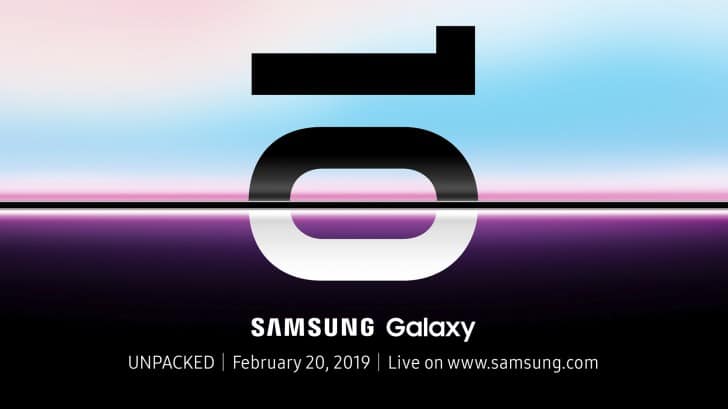 Here is the media invitation poster from Samsung which clears away every last doubt about the S10. Apparently, the unveiling event will stream live on Samsung's official website. Also, there is a possible hint about the Galaxy S10's color finish from the above poster. We can assume there may be a lilac purple along with an ocean blue and an off-pink kind of color variant of S10.
Apparently, three new smartphones will be released. It includes the 5.8-inch Galaxy S10 (S10E/ S10 Lite), the 6.1-inch Galaxy S10 and the 6.4-inch Galaxy S10 Plus.
Everyone was anticipating that the S10 and its cousins will mark their entry at the MWC 2019 event. This event will take place in the last week of February, in Barcelona. Samsung seems to be running a bit ahead of the anticipated schedule. This may be because they want to step up their business game with the early introduction of the S10. So, in this way, the Galaxy S10 and its devices will steal all the attraction in the market. Speaking of proper market entry for sales, we may get to see the S10 hit the stores around 1st or 2nd week of March 2019.
Another reason for early release cites that the S10 will mark the 10th generation of Galaxy S series devices. So, obviously, Samsung wants its device to take the limelight with an early release instead of MWC 2019 which will feature other big smartphone giants as well. The S10 may pack a Snapdragon 855 SoC for the US market and Exynos 9820 chipset for other markets. It may also flaunt an in-display fingerprint, which will be a first for the company.
Now that Samsung Galaxy S10 release date officially reveals we cannot wait to see what all surprises will unpack. We can expect information about pre-orders at the 20th February event. Definitely being the 10th anniversary, Samsung will plan a grand entrance for the Galaxy S10 and its counterparts. So, what's your expectation from the Samsung Unpacked Event 2019..? Do share your views with us.