Samsung's next-generation tablet is going to be revealed soon. In this post, you will be able to download Samsung Galaxy Tab S4 stock wallpapers.
The Android tablet market is not as strong as it once used to be. With the increasing display sizes and technology, the need for tablets has taken its toll. This directly impacts the device manufacturer as well. Google once released tablet devices like the Nexus 7, Nexus 9, and Nexus 10, but they didn't get the success like the original Nexus and Pixel phones. Another strong OEM in the market that is still focusing on tablets is Samsung. Despite all the odds, Samsung's tablet market share has maintained its record for the past few years. According to SamMobile, the next-gen Samsung Galaxy Tab S4 will be announced in upcoming months. While there is still some time before we can actually hold the device, you can easily download Samsung Galaxy Tab S4 stock wallpapers and enjoy its taste on your device.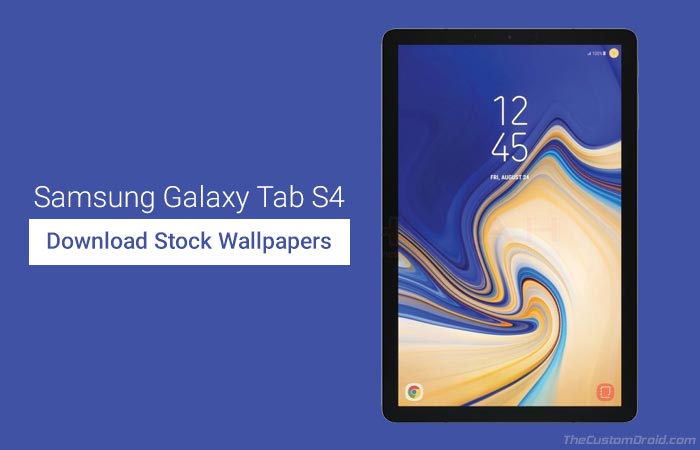 Table of Contents
Samsung Galaxy Tab S4 Specifications
Upgrading from the predecessor, the Galaxy Tab S4 comes with a 10.5-inches super AMOLED display with 16:10 screen ratio. On the inside, the tablet will be powered with a Qualcomm Snapdragon 835 processor, 4 GB LPDDR4X RAM, and 64 GB storage. The rear camera hasn't seen much difference and stays at 13 MP. The front camera, however, will now be 8 MP. More details about the aperture and other features are impending.
Before we get to the links to download Galaxy Tab S4 stock wallpapers, let us dive into a bit more details about the device.
The 2018 flagship tablet by Samsung will ship with Android 8.1 Oreo out-of-the-box with additional software features such as AKG audio, new S Pen features, DeX support and more. It comes as a surprise that the Galaxy Tab S4 will support Iris scanning, as revealed by SamMobile while digging into the leaked firmware. The fingerprint scanner will be completely ditched and the new Iris scanning will replace it. According to the recent leaks of renders and specs, it's safe to say that the official launch is not far on the calendar. Allegedly, it could be announced at IFA 2018 in September.
Download Samsung Galaxy Tab S4 Stock Wallpapers
About a week ago, SamMobile posted that the official firmware for the Tab S4 was available for download. Not only did that help them dive deep into the software features, but also provided the opportunity to extract the Galaxy Tab S4 wallpapers.
There are still a few months before we actually get to see the tablet out live. For those willing to buy it will have wait even further. But even if you don't plan to buy it, you can still add a little touch of it to your current Android device. Like every other device, the latest flagship tablet from Samsung also comes with a set of wallpapers which are unique to the device. Thanks to SamMobile, we have been able to get our hands on the official Samsung Galaxy Tab S4 stock wallpapers. You can now download these and apply them on their phone or tablet.
There are a total of 10 different flashy and abstract wallpapers portraying a blend of colors, that will look absolutely tremendous on any display. All the wallpapers are sized at 2560×2560 pixels resolution. Which means, they can be easily cropped for any screen size.
Below is the preview of a few Galaxy Tab S4 stock wallpapers. You can click on the image(s) below to preview them before downloading.
Download Links
For your convenience, we have zipped up all the 10 wallpapers in a ZIP archive. Should you want to download these wallpapers individually, simply click on the Google Drive link.
So you have just been able to download Samsung Galaxy Tab S4 stock wallpapers. We hope you'll enjoy them on your Android phone. Don't forget to drop a comment and let us know your opinion about the upcoming flagship tablet from Samsung.