Samsung recently unveiled its next-generation tablet 'Galaxy Tab S5e' for 2019. The complete collection of Samsung Galaxy Tab S5e Stock Wallpapers is now available for download. There are a total of 10 unique abstract wallpapers in 1920 x 1920 pixels (Full HD) resolution.
Android tablets aren't much of a thing now. Even Google manufactured and released its last tablet, the Pixel C back in 2015. It certainly seems like the Android tablet market hasn't seen much significant growth when compared to its rival –  Apple's iPad. But certain manufacturers like Samsung are still not ready to give up. The OEM launched its next-generation Galaxy S5e tablet in April, it is $250 less expensive and much lighter and slimmer than last year's Galaxy Tab S4.
A Bit About the Samsung Galaxy Tab S5e
Now before you go ahead and download Samsung Galaxy Tab S5e stock wallpapers, let's take a look at what the new Samsung Android tablet has to offer.
Kicking off with the design, the Samsung Galaxy Tab S5e comes with a metal unibody design, which is 5.5mm thin and weighs just 400g. It's 0.6mm thinner and 56g lighter than the iPad Air. Putting those numbers into account, the tablet is fairly balanced and wouldn't pressurize your hands if you hold it for long, watching your favorite movie or show. Despite the ultra-thin aesthetics, the tablet still feels strong and certainly wouldn't bend when you put it in your bag.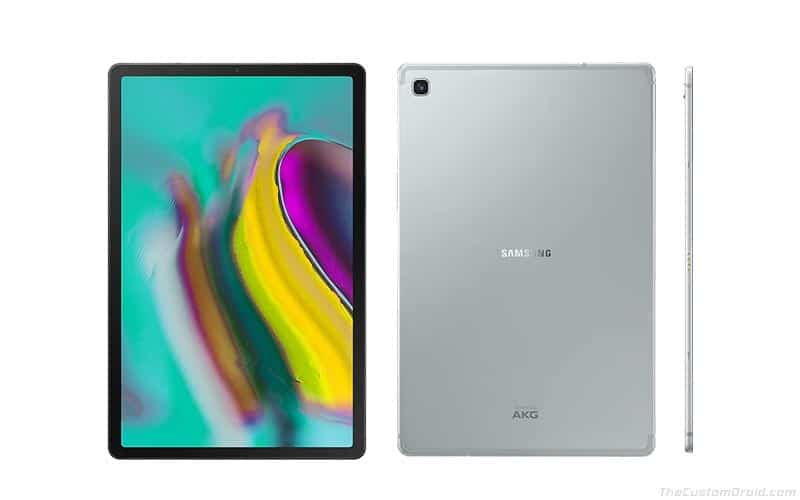 Samsung Galaxy Tab S5e offers the same and powerful 10.5 Super AMOLED screen with bright colors and strong contrast, something that the manufacturer is well recognized for. The bezels are now thinner with an increased 81.6 screen-to-body ratio for a truly immersive viewing experience.
It comes with a Quad speaker sound system tuned by AKG with support for Dolby Atmos three-dimensional surround sound. Giving in to the ultra-thin design of the tablet, there's no headphone jack. So, you will have to stick to USB Type-C or Bluetooth-enabled earphones.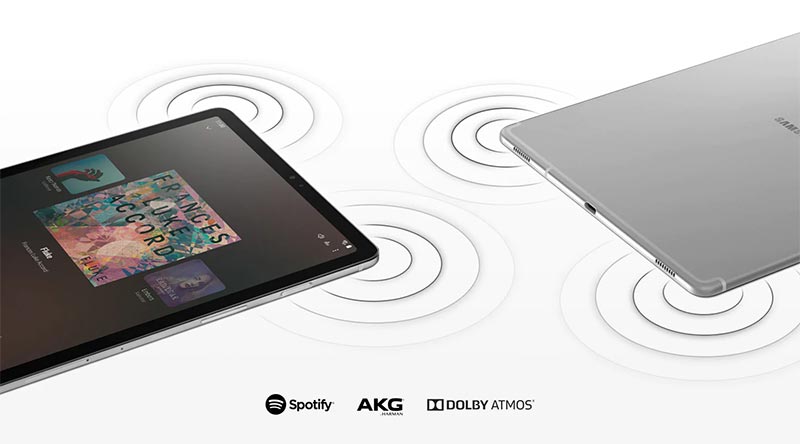 On the inside, the Samsung Galaxy Tab S5e is powered by a Qualcomm Snapdragon 670 processor with 4GB and 6GB of RAM and 64GB and 128GB of ROM, respectively. Compared to the Tab S4, the base storage on the 6GB variant has been shrunk to 128GB instead of 256GB. However, it is still possible to expand the storage to 512GB using an external microSD card.
The rear camera on the Tab S5e is 13MP and can shoot videos at 2160p@30fps, while on the front is 8MP. Considering the numbers, the camera is still great compared to the rest of the Android tablets.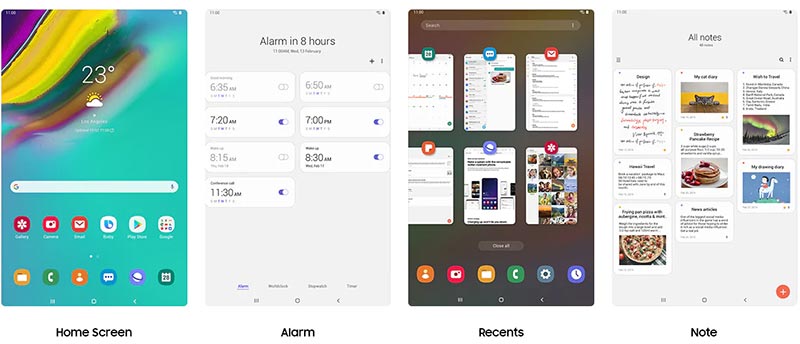 When it comes to the software, the Galaxy Tab S5e comes with Android Pie out-of-the-box with Samsung's new One UI skin sitting on top of that. One UI is certainly a huge improvement over its predecessor and helps users focus on the task at hand by clearing out the excess screen clutter. Improved One-handed usage in One UI is something that will be a lot beneficial for tablet users. You can also follow up on our post for the complete list of Samsung One UI features and comparison with Samsung Experience 10.
On the security front, the Samsung Galaxy Tab S5e offers a side mounted fingerprint scanner for all authentication purposes in the OS, something which we missed in the Galaxy Tab S4 last year. It also comes with the Face Unlock feature, although less secure the feature definitely is convenient when you're on the move.
For the full list of specifications, you can also refer to GSMArena.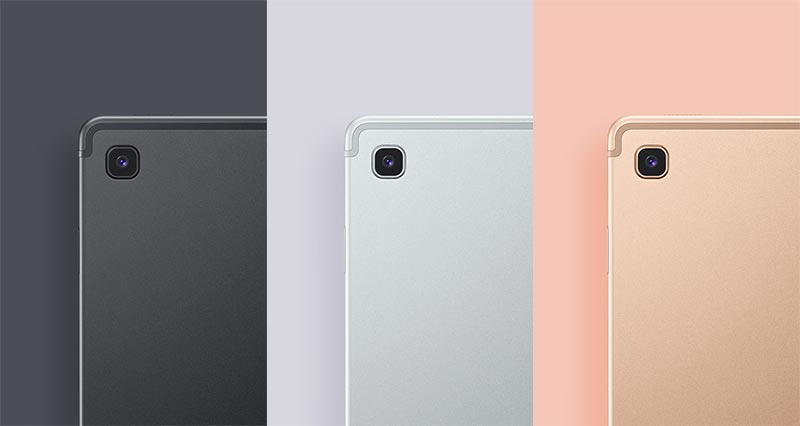 The tablet comes with three different monochromatic colors – Gold, Silver, and Black. It is currently available in the USA, Australia, Malaysia, and a few other countries with various trade-in offers. The base 4GB/64GB storage variant is available for 399.99 USD and the top 6GB/128GB storage variant for 479.99 USD.
The manufacturer believes that users still look forward to powerful tablet experience without an expensive price tag, and it seems to have done it right with the Galaxy Tab S5e.
So why would you buy this new tablet by Samsung? – Well, it comes with a good overall experience, be it the performance, its design, or the affordable price tag. You can easily pair up the tablet with Samsung DeX with an external keyboard accessory for more productivity. The Galaxy Tab S5e also seamlessly syncs with your smartphone to support calls and messages on-the-fly. The only thing that's missing out is the S Pen, but if you can ignore that, the Samsung Galaxy Tab S5e is a perfect package for every modern-day tablet user.
It's 2019, and if you're in doubt between the Galaxy Tab S4 and Tab S5e, then do check out this post by Android Central.
Download Samsung Galaxy Tab S5e Stock Wallpapers
Like any other Android tablet or smartphone, the Samsung Galaxy Tab S5e also comes with a set of fresh new wallpapers unique to the device. Thanks to the Mi Resource Team, we now have hands-on all the Samsung Galaxy Tab S5e wallpapers that come as stock.
There are a total of 10 different wallpapers following the same Abstract design on stock wallpapers of any other Samsung Galaxy device. The vibrant colors of these wallpapers would look stunning on any smartphone/tablet display. So, if you're not going to purchase the tablet, you can easily use these wallpapers to add a touch of it to your current device. All these wallpapers are in 1920 x 1920 pixel (Full HD) resolution.
Below are the compressed previews of all the stock wallpapers from the Samsung Galaxy Tab S5e that you can download from here.
For your convenience, we have packed all these wallpapers in an archive (.zip format). Should you only wish to download them individually, we have also provided a link to the Google Drive folder.
The Galaxy Tab S5e is already available for purchase in several countries and should be rolling out worldwide in the coming months. Are the new lightweight and ultra-slim design, inexpensive price tag, and support for the latest Android Pie software convincing enough for you to purchase the tablet or upgrade from your existing one? Don't forget to let us know in the comments.
More stock wallpapers for you:
So there you go! You have just been able to download Samsung Galaxy Tab S5e Stock Wallpapers for your Android device. Go ahead and apply them on your phone now. We hope you'd like them!