Samsung making an Android Go device with Samsung Experience on top is an "Ehhh," news. Not only for the fact that Experience (formerly TouchWiz) is a lag crap, but some users may despise the idea of having a custom skin on a device that should be running Vanilla. Either way, Google didn't require nor limit manufacturers unto using stock Android for these ultra cheap devices.
But whether we like it or not, it exists and it's getting Wi-Fi certified.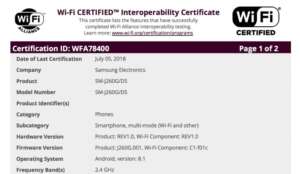 The phone in question, SM-J260G/DS, runs on Android 8.1 (Go Edition) and will only support 2.4GHz Wi-Fi as per Wi-Fi Alliance. Allegedly, Samsung will soon market this device as Samsung J2 Core.
For the specs, the J2 Core will feature a 5-inch AMOLED display with on-screen navigation. The CPU is rumored to be the quad-core Exynos 7570, paired with 1GB of RAM and 16GB onboard storage. Camera wise, the phone will have an 8MP on the rear and 5MP for the selfie. Pedestrian, but still is a better combo if we talk about the one on the Nokia 1. After all, it's an Android Go handset. The battery on this device will be very decent. At 2600mAh, there's no more to ask.
The availability remains a mystery. But with the frequency of the leaks, it should be coming soon.