Want to make transactions through Samsung Pay on Galaxy Note 8? Here's a guide, which will let you know about the same and guide you on how to set up Samsung Pay on your device right now.
The Galaxy Note 8 is the latest and most anticipated device from the manufacturer right now. It features some really hefty features like Infinite display, Bixby Assistant, Live Messages with the all-new and better S Pen, which makes it stand out from the rest.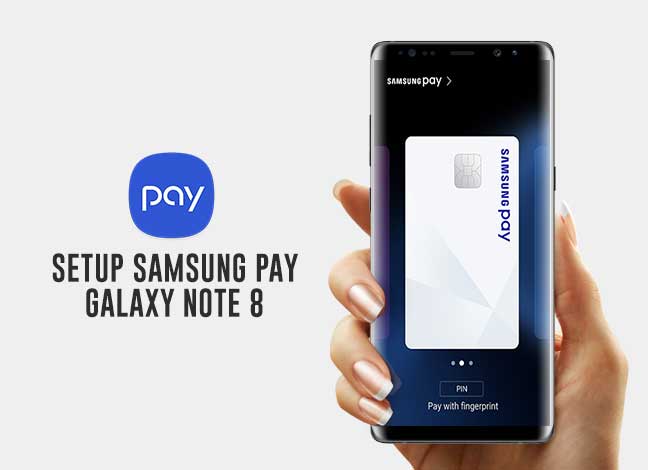 Samsung Pay is an integral part of every Samsung device and so it is for Note 8 too. If you're not well acquainted with what it is and how you can use Samsung Pay on Galaxy Note 8, the information below will indeed be pretty useful to you.
What is Samsung Pay?
Samsung Pay is an e-payment service which was first introduced by Samsung Electronics in South Korea 2 years back. It uses Magnetic Secure Transmission (MST) technology to transmit card data to a payment terminal's swipe slot using an electromagnetic field. It means payments can be done instantly without holding Debit and credit cards along with you.
Samsung users can easily pay through the Samsung Pay by simply tapping on their phone against a terminal if they have Samsung Pay on their devices.
So, if you own the latest Samsung's Flagship device "Galaxy Note 8", then take a look at the instructions below to set up Samsung Pay on Galaxy Note 8 right now.
Instructions to set up Samsung Pay on Galaxy Note 8
First of all, I would like to inform all the Galaxy users that they can enjoy the Samsung Pay feature on their devices by default if it is compatible. To get started with Samsung Pay on Galaxy Note 8, follow the below instructions:
Download and install the Samsung Pay App from Play Store, if it is not available on your Note 8 out-of-the-box.
Open the app and Tap on START.
Now, enter the Samsung account login info. Once you have entered, Tap on SIGN IN. In case you don't have, create a new one by tapping on SIGN UP.
Now, Tap on "AGREE TO ALL" and proceed further.
After this, you need to set up fingerprint or four digit pin for security purpose. To set up, Tap on "USE FINGERPRINT" and follow the instructions displayed on the screen. In case, if you're already using fingerprint, then this step is not for you.
Once you have registered with fingerprint or Four digit Pin, you can proceed to add the card details. To do so, simply Tap on ADD > Add a Debit/Credit card. Now, the camera app will be open.
Place your card in the front of your device's camera, so it can automatically fetch the card information. You can also choose "Enter card manually" to enter the details manually if the app is unable to detect.
Then, Tap on Next.
Now, the final step is to Complete the Registration verification by entering the OTP (One Time Password). You can choose your desired verification method to do so.
Finally, Tap on Save and then on Done.
Now, you can make cashless transactions by using Samsung Pay on Galaxy Note 8. Go ahead and pay for your orders now. To do so, verify the app security and place the rear of your Galaxy Note 8 on the card or NFC reader on the payment terminal.
The feature is available in over 20 countries and you can use Samsung Pay to transact on several locations including popular eateries, garments stores, malls, etc.
I hope you have succeeded to set up Samsung Pay on Galaxy Note 8. But, in case if you have any doubts and queries, then feel to drop a comment.