Earlier we saw a new version of your favorite custom recovery, bringing in a complete overhaul and some new features for the supported devices. TeamWin has just pushed a new update to the current versions, and it is labeled as TWRP v3.0.1-0.
The TWRP gerrit showed some recent major changes and fixes, and those have just been compiled and released. I love TWRP, for the wide range of features that it provides, and the new ones are constantly being added. The current changelog, as outlined by the team is listed below.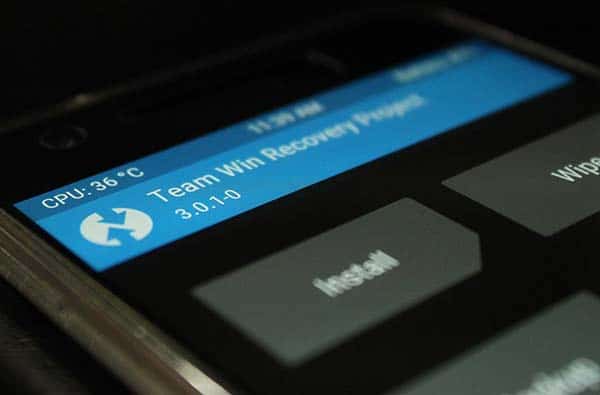 TWRP v3.0.1-0 Changelog
CM 13.0 Pattern Encryption is now supported.
Slow flashing issue due to modprobe, subjected to a few devices has been fixed.
libtar has been updated to latest upstream and fixes.
Fixes for loading custom themes.
TWRP will now detect and install TWRP themes automatically through the normal zip install process.
The following new languages are now supported – Italian, Czech and Polish. Also, significant updates have been made to Dutch language.
Progress Bar has been improved – It will now show updates during image flashing, and better track progress during file system backups (tar).
Fix input box text display.
Reboot option after zip install is complete.
Other minor bug fixes and improvements
Of course thanks to the developers and maintainers for working hard on this. If you love TWRP and are a developer too, please don't hesitate to help the team, by opting as an official maintainer for your device.
If you have not yet updated, go on and find TWRP for your device, and flash it. I have already updated my Nexus 6P to the latest version, have you? Let us know if the fixes have anyhow proved useful to your device.
If your updated recovery is still not up on the device page, you can check for the current build status at Jenkins.
TWRP V3.0.2-0 Fixes Decryption Issues, Finally!
Not even two days and TeamWin has pushed a new update labeled v3.0.2-0. Data encryption within TWRP got broke with the recent builds of 3.0.0, and 3.0.1 too. The issue was basically with the Input Box itself, that in-turn affected masked input (passwords).
But the issue has finally been addressed, and now users will be able to easily decrypt their device's /data partition. If you have been using TWRP v3.0.1, the developers now encourage the users to stop using it instantly, if their device is encrypted. Another minor addition has been made in terms of language support, where the Greek language has been added to several builds.
We recommend the users to update to v3.0.2-0, for better compatibility with the decryption process.