I am not a theme-aholic, even though I do have the CM Theme Engine on my phone, which has a lot of available themes, but I still haven't used it in years. On a different page, I do like to switch wallpapers very often, which is not as much of a trouble and still lets you render a good setup for your Android home screen. The other day, I came across this fantastic app, that offers the best kind of wallpapers for your Android smartphones and tablets – WallArt Android App.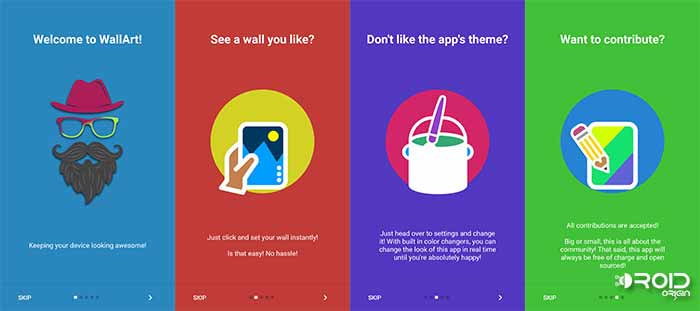 WallArt Android App
It's not just your average wallpaper app, I like it for more than a few reasons. The first one, it offers the kind of wallpapers that I adore the most – minimal and colourful since they do not force you to compromise with the icons on the screen, they come out good. The wallpapers are well-designed and custom-made by a known theme-maker and icon-designer – Binod Ray
Why WallArt?
WallArt is a wallpaper app with 370+ Wallpapers as of now and growing. It's not like any other Wall Apps out there on Store, it contains hand made wallpapers to go well with your icon packs. – Binod Ray
Over to the app, it is light and easy-to-use and is also not overloaded like others on the Play Store. Wallart offers a material design to match with the latest Android Material guidelines, that suits the best on Android Lollipop and Marshmallow. The app is itself theme-able, you can choose custom colour modes for the app, to match it with your device's overall theme.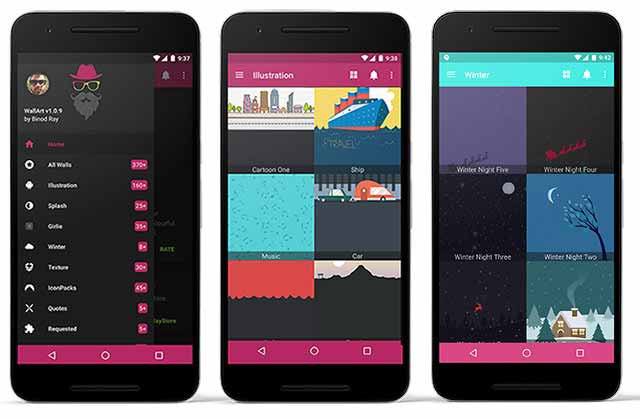 To be precise, there a total of nine different categories of wallpapers, namely:
Illustration – 'Rockets, ships, cars, music, landscapes, sunsets, everything is here'
Splash – 'Throw in some vivid colours'
Girlie – 'The best ones for the girls'
Winter – 'Well, I am a winter person!'
Texture – 'A variety of different texture'
Icon Packs – 'Wallpapers from some famous icon packs out there'
Quotes – 'Quote your moods or lifestyle'
Requested – 'The users are the masters'
PolyGon – 'Polygons, polygons, everywhere!'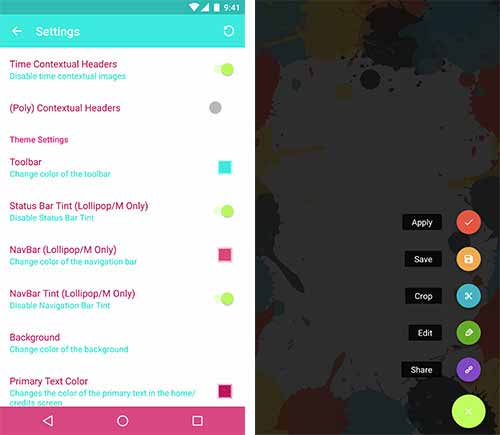 Do you like a wallpaper from the app's showcase? Forget the trouble of tapping multiple times, just hit the wallpaper once and instantly set it as your home screen wall. You can crop and edit a wallpaper for your device's screen size, which is a cool feature to include. Also, get notified when new wallpapers are added (You will require having Pushbullet installed), just go to the app, and tap on the 'bell' icon on the top.
WallArt Android App has gained a decent amount of popularity on the Play Store, and people are loving it.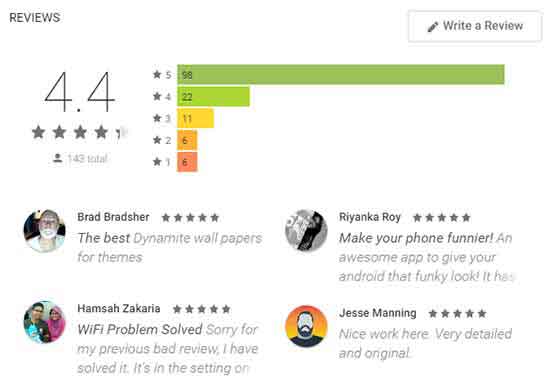 Don't wait now, WallArt is available at an inexpensive price of INR 60.00 only, tap on the app-box below and buy it right now. Don't forget to support the developer by rating the app.
Download Wallart from Google Play Store
If you want to contribute to WallArt, you can showcase your own wallpaper right there. Just contact Binod 🙂
Do you like the app? Express your valuable opinion through the comments below.