WhatsApp has finally open grounds to enable its users to make payments over UPI in India. In this article, you will learn how to get and use WhatsApp Payments feature to send and receive money.
The feature was ever in rumors and is finally rolling out in the wild to its users running the latest WhatsApp Beta version. It only supports Pear-to-Pear (P2P payments) at the moment. Which means you wouldn't be able to send/receive any payments if you're registered as a Business user on WhatsApp. It is yet to be declared when the feature will be available for the users running standard/stable WhatsApp version. If you're really keen on trying the new functionality, then we'll help you get it on your Android phone. Once installed, you can follow the steps below on how to use WhatsApp Payments feature to easily send/receive money.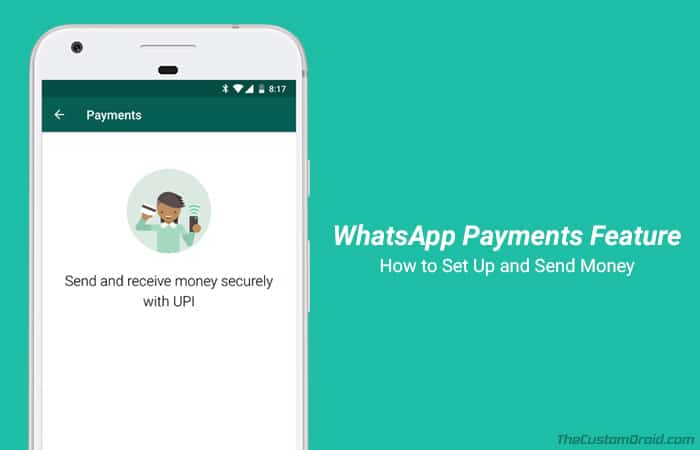 UPI or Unified Payment Interface is a platform developed by the National Payments Corporation of India. It allows a user to perform inter-bank transactions by just using a unique UPI PIN or phone number of the receiver. The biggest advantage of the platform is that it deposits/withdraws funds directly from the bank account. Well, there's no doubt that Whatsapp's new Payments feature will be widely adopted, considering its large user-base. Plus the app, unlike others, is making use of the nation's own UPI platform. Below are some benefits of using the new WhatsApp Payments feature.
Available 365 Days*24 Hours.
Single platform to be used for all National and International banks.
Usage of a unique UPI PIN, instead of bank details like account number, IFSC code, etc.
Perform transactions in a few taps.
Now that you know what the feature is for, let us take a look at how to set up and use WhatsApp Payments feature on Android.
Table of Contents
Get WhatsApp Payments Feature on Android
As we have already mentioned, the feature is rolling out incrementally to WhatsApp Beta users. If you're already a beta tester for the app, open the Play Store and check 'Apps & games' section for an update. However, if you're operating on the standard version, then follow the steps below to opt-in for the Beta program.
Open the official WhatsApp testing program page on your PC or Android phone.
Log in with your Google account when prompted.
Click on the 'BECOME A TESTER' button.
Once you click on it, you will see a 'You are now a tester' message on the screen.
Next, open the Play Store on your Android device.
Search and open 'WhatsApp Messenger'.
Simply hit the 'UPDATE' button to install the latest WhatsApp Beta version.
Set Up WhatsApp Payments Feature
Before you can use WhatsApp Payments feature, it is important to set up the feature in the app settings.
Open WhatsApp Messenger on your phone.
Tap on the 3-dot menu icon on the top-right.
Select 'Settings' option.
Open the new 'Payments' option.
Tap on 'ACCEPT AND CONTINUE' button.

On the next screen, you will be prompted to link your bank account by verifying the phone number.
So, tap on 'VERIFY VIA SMS'.
Select your bank from the provided list.

Next, just choose the account number you want to link.
When the bank account is successfully linked, press the 'DONE' button.

You can further add more accounts to be used. The main window should also help you track your payments under the 'Payment history' section. You are all ready to use WhatsApp Payments feature to send and receive money now.
How to Send Money using WhatsApp Payments Feature
Make sure that you're using the latest Beta version of the app.
Open the chat for the contact to whom you want to send money.
Tap on the attachment icon (paperclip) in the message box.

Press the 'Payment' option.
You shall see the 'Send Money' screen.
Enter the amount you want to send to the contact. Currently, you can send over INR 1000 to an individual in a single payment.

Additionally, you can also input a note.
Once done, just press the send icon and enter your UPI PIN when prompted.
The payment will be automatically transacted from your account.
That's all! You have just been able to send money using WhatsApp Payments feature on Android. If you want to send money to a contact in a group, just tap on the 'Payment' option and select the individual group contact. We would love to see how the feature advances in the coming time and add more options to the dedicated feature.
This is not the first time that an instant messaging app has implemented such feature. Apps like PayTM, Telegram, and Hike already over it. But we are quite sure that WhatsApp will have an upper hand in the competition, considering the fact that almost every other Android device owner uses WhatsApp.
So there you go! You have succeeded to use WhatsApp Payments feature to send money to your WhatsApp contacts. If you have any questions, leave them down in the comments below.