We are fortunate for using Android for many reasons, the supreme reason is the availability of a vast variety of applications for this very operating system. At this very moment, approximately 1.6 million apps are available at the Google Play Store, for your Android phone/tablet, and a multiple number of downloads.
But how do you choose which apps are necessary for us, or our device? You can't just browse all the apps, install each one of them, test a few, and finally use only the ones you approve.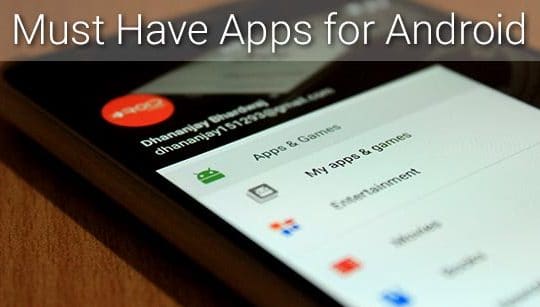 Today at TheCustomDroid, we are starting off with a habit, in which, we will list 5 Must Have Apps for Android, every month. This list will specifically list 5 different apps of random app categories, from the Google Play Store.
The Apps listed below are irrespective of their order and are mentioned on the basis of our own judgment and observation. Let us start now!
---
Table of Contents
5 Must Have Apps for Android
---
1. ES File Explorer – File Manager
Category – Productivity | Price – Free
A File Manager is one of the essential apps, which lets you manage your documents, music, videos, photos, and other miscellaneous files with ease. Although there are so many file manager apps available for Android, the best I have found is ES File Explorer.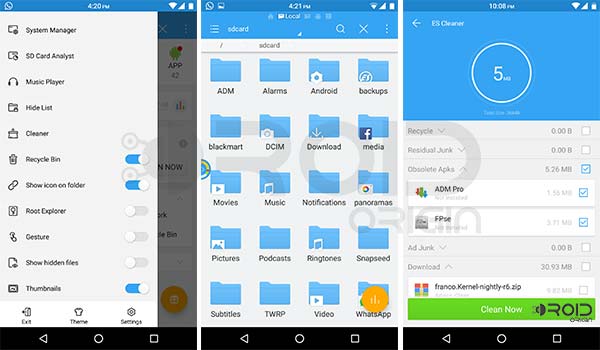 ES File Explorer file manager is present to you by ES Global, which is also famous for its other apps like ES Task Manager, App Locker, etc. The app is fully fledged with all the essential features that a basic file manager offers, and also a huge list of extra features that make it one of the top rated and highly used file manager app. The design is based on the Google Material Design guidelines, which is also very easy to operate. It lets you navigate files and folders on local and external storage, plus it also lets you use ES File Explorer as a root explorer. The additional features are written precisely below.
Features:
Clean Junk Files on a single tap using Cleaner.
Cloud backup of the files to several servers, including Google Drive, OneDrive, DropBox, MediaFire, and a few more.
Drag-and-drop function.
Archive (ZIP, RAR, TAR, 7ZIP) support.
In-built music player and Download manager support.
View or hide files
Connect via LAN, FTP, Bluetooth, and Cloud.
Remote Manager for free remote access.
Multi-language support.
The above is just an overview of the features that this specific app offers, but trust me there is a lot more. If your device manufacturer doesn't offer a native file manager, and you are looking for something packed with features, you should definitely install ES File Explorer on your Android phone/tablet.
2. WhatsApp Messenger
Category – Communication | Price – Free
An Android isn't smart until you use to connect with people, Facebook and Google+ are cool, but what about messaging? It is something that every person uses, but carrier messages are way too expensive.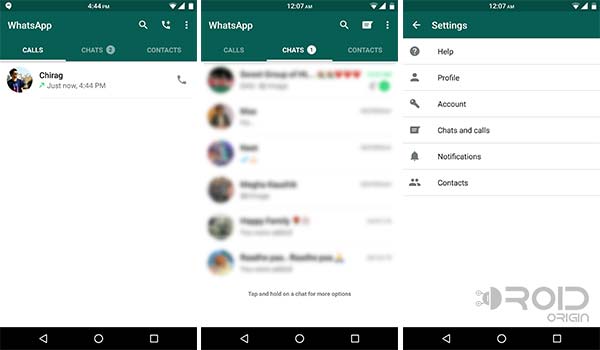 Here enters WhatsApp Messenger, which is a completely free Android messaging app, which is not only limited to messages, but also allows you to share pictures, videos, audio, location, and contacts. Another cool feature that was recently added was, WhatsApp Call – the feature lets you communicate with your contacts over data or wifi connection. The app also follows the Material Design which is also quite simple and easy to hand-on. The app has personalized notification settings for chats, and groups. And also allows you manage your privacy for the profile picture, last-seen, and status.
I would say, WhatsApp is definitely a must have app if you want to communicate with your friends and family, at almost no-cost. All you require is the WhatsApp registered contact number.
3. Swiftkey Keyboard
Category – Productivity | Price – Free with in-app purchases
Swiftkey is the best choice if you are willing to give-up on your stock keyboard. The keyboard is highly-customizable, with multi-language support, that lets you type hassle-free. The keyboard uses artificial intelligence to adapt to its user's writing and keywords. So basically, no more auto-correct and predictions that give typo-errors, Swiftkey makes it up to you by knowing your writing style.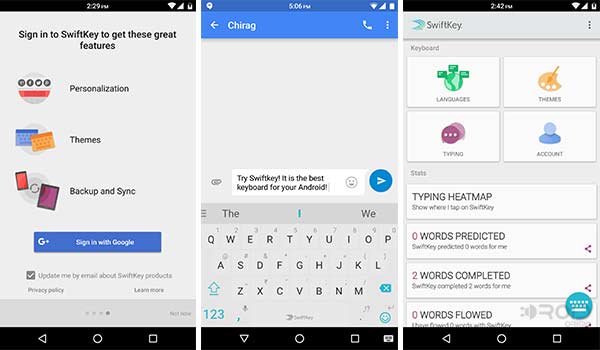 Features:
You can also theme the keyboard accordingly with almost 80+ themes, available via the Google Play Store.
Sign-in with your Google account to sync the keywords and predicted text on multiple Android devices at once. So now all your devices know your writing and respond all the same.
Swiftkey supports 100+ languages so that no one feels left out, and you can easily switch between languages.
Swiftkey Flow feature to write fast with swype-to-type.
Auto-correct feature for all the supported languages that learn more from you.
Auto predict the most-used emoticons.
I personally have been using Swiftkey keyboard ever since I had my Nexus 4, and it has proved to be well-designed and efficient in its work. Connected with my Google account, I can write across all my Android phones without having the need to set-up the keyboard from start. If you are looking for a replacement for your keyboard, I bet, Swiftkey will be the best choice.
4. QuickPic Gallery
Category – Photography | Price – Free
Not all Android phones have a customized native Gallery app, especially when it comes to Nexus devices. While there is a long list of photo viewers available, of which, QuickPic is the best, known so far. It is extremely fast, simple, and easy to use. The app includes all the essential features, plus some other features that make it different from the others. It is optimised well for large screens, those of the tablets, or phones like the Nexus 6P.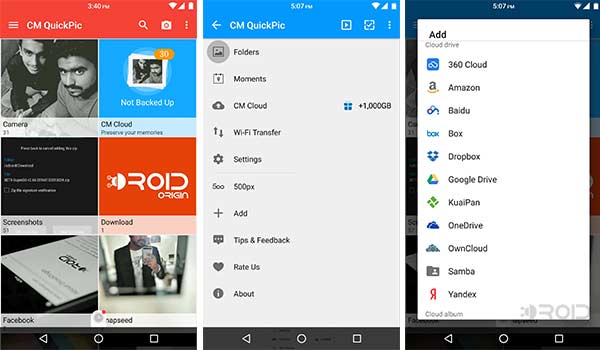 QuickPic supports multiple finger gestures, a decent list of themes, smooth slideshows, photos and video management, and has no ads. The app also supports transferring photos and videos over Wi-Fi to nearby devices (on the same WiFi network, of course) without the need of mobile data. It also lets you hide your personal photos and videos from the gallery and protect them with a personalized password.
The best feature that was integrated recently in QuickPic, is the CM Cloud. This helps you backup your photos and videos to the secure Amazon servers and restore them any time to all the synced devices. Apart from that, you can sync your gallery media to cloud servers like Baidu, Dropbox, Google Drive, OneDrive, Yandex, etc.
5. Muzei
Category – Personalisation | Price – Free
We all love personalizing our Android devices to our taste. The basic personalization comes through the home screen wallpaper. But that is not just a simple task, you will need to browse several websites to download your favorite wallpapers, and then set them, and change them manually everytime, you get bored.
But Muzei is a cool app that you must have on your Android, which will help you automatically change wallpapers. What it basically does is, it picks up a list of random art wallpapers from its source and apply them randomly as your home screen wallpaper, which will change every day. You can adjust the amount of blur, dim, and gray levels to make the currently set wallpaper more fitted with icons and widgets. You can also choose photos or personal wallpapers from your photos, to apply them.
---
If you would, you can also tip us apps that you think are must-have for every Android user. For this, you can simply comment below and we will definitely consider your tip on the list that will come next month. And obviously, we are looking forward to expanding the list, so you can recommend as many essential apps as possible.