Add a little flavor of the new and exclusive OnePlus 5T on your Android. Here, you can download OnePlus 5T Star Wars Edition wallpapers.
Soon after the launch of the OnePlus 5T, the company announced a limited edition variant to be released in December. The date was marked on December 15 and it seems the device is already available in the leading smartphone markets around the world. It is basically the same phone, but with an added visual touch of the Star Wars: The Last Jedi theme. The body design has been given a retouch too, with a new color scheme and added graphics.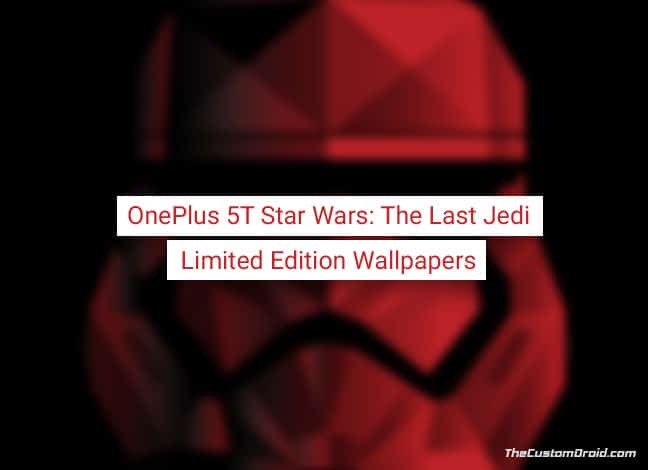 Before you head forward and download OnePlus 5T Star Wars Edition wallpapers, let us have a quick sweep of the device and what is unique about it.
Everything inside the phone remains completely unchanged. The limited edition phone still runs on a Snapdragon 835 SoC, 20+16MP dual-camera setup, 6.01-inches full-HD bezel-less display. The body is now Matte White, with Volume and Power buttons in Black accent. The Alert Slider has a new deep-Red finish, that gives the phone a nice lifted feel. The back of the device now has a "Star Wars" franchise logo.
On the software part, the OnePlus 5T Star Wars: The Last Jedi Limited Edition features the regular OxygenOS based on Android Nougat. Android Oreo-based OS would be a great bummer here. It comes with a set of 10 unique wallpapers designed to match the overall color scheme with touches of Red and White.
For the first time, OnePlus has shifted from its tagline to "Strong Enough To Rule The Galaxy". It is also worth noting that the Star Wars Limited Edition device only comes in the 8GB/128GB variant, priced at INR 38,999 or $607. The phone is already available in India and in a few European countries.
If you still have been making the decision on which smartphone you should buy in a budget, then it's time to reconsider and get the best of both OnePlus and Star Wars with this Limited-Edition device.
Download OnePlus 5T Star Wars Edition Wallpapers
If you've already got the original OnePlus 5T up your sleeves or any other Android phone, you can still add a little touch of Star Wars to it through the native wallpapers.
As said before, the phone comes with a set of 10 different wallpapers. All of these are designed with Red and White color accents. OnePlus 5T Star Wars Edition wallpapers are sized at 1080×2160 pixels in full-HD quality. They are best suited for devices with longer screens like HTC U11 Plus, Google Pixel 2, Oppo R11s, etc. Since the wallpapers are in full-HD resolution, they might look a little out of detail on high-res displays.
Below is the preview of all the 10 wallpapers that you can download. Note that these are only the preview of the full-resolution wallpapers.
For your convenience, we have provided the wallpapers packed in *.zip format. We have also listed a shareable folder if you want to download individual wallpapers for your device.
OnePlus-5T-Star-Wars-Edition-Wallpapers.zip | Google Drive folder
So you have just been able to download OnePlus 5T Star Wars Edition wallpapers. Apply your favorite one on your Android and let us know your opinion through the comments.