The official wallpapers from Xiaomi's latest gaming smartphone have surfaced online. You can now download Xiaomi Black Shark stock wallpapers from here.
It was last year, that the Razer Phone was launched last year. The device was pretty much the result of Nexbit's acquisition by Razer, but with improved internals and features like 120Hz refresh rate, aiming at hardcore mobile gamers. For months, there have been rumors that Chinese manufacturer Xiaomi is working on a gaming-centric smartphone. We also previously saw a leaked image of the device, that gave us a fair idea of its design. The image also showcased a gamepad that could be plugged into the phone. If you don't plan on buying the device, you can still avail the opportunity and download Xiaomi Black Shark wallpapers for your Android device.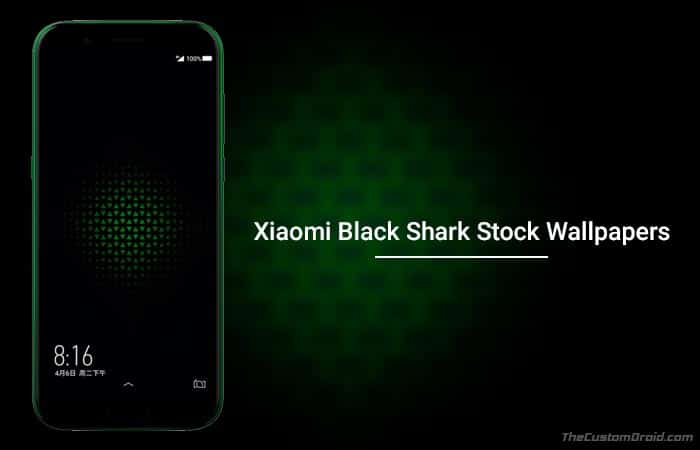 The actual specs of the phone are now confirmed. The Black Shark is powered by a Qualcomm Snapdragon 845 processor, supports 64 GB UFS ROM, 6GB (LDDR 4X) RAM, 4000 mAh battery, with a 5.99-inches IPS LCD display. It's hard to actually depict the overall performance of the phone in real life. But it's quite easy to say that Xiaomi has done a tremendous job when it comes to the design. Unlike the simple bar-style design of the Razer Phone, the Xiaomi Black Shark's rear offers an X-shaped design for easy gripping and gives it a sturdy look. At the top, there's a dual 12MP+20MP camera setup. A new button, known as the 'SHARK' key is placed on the left, that would allow users to quickly access the gaming manager in one tap. You can also view the full spec list here.
On the software end, the Black Shark comes with Android 8.1 Oreo preinstalled with the custom JoyUI skin. Which means you will get to enjoy all the standard Oreo features like Picture-in-Picture mode, Adaptive Icons, Notification Channels, and more. Another remarkable feature offered by the device is the 'Liquid Cooling System' that is capable of lowering the temperature up to 8 Degree Celcius, as claimed by Xiaomi. The new gaming smartphone comes in two color variants – Polar Night and Sky Gray. It will be available for pre-orders, starting 20 April at JD.com.
Well, even if you don't plan on buying, you can still download Xiaomi Black Shark stock wallpapers and apply them on your Android device.
Download Xiaomi Black Shark Stock Wallpapers
The phone comes with 15 distinct wallpapers, all of which look quite unique and do not share any similarity as those on the Razer Phone. The collection includes different types of wallpapers including abstract, nature, landscape, and a few with the signature green/black color combination. All of which are in 2160×1080 px resolution (18:9).
Xiaomi Black Shark stock wallpapers are best suited for longer smartphone displays like those of Pixel 2 XL, OnePlus 5T, Redmi Note 5 Pro, Honor 9 Lite, etc. Those with smaller screens can still apply the said wallpapers by cropping or resizing them on the device itself.
Below are the previews of all the Xiaomi Black Shark wallpapers available in the collection. Note that these are just for your reference. The full-sized wallpapers are available in the download section below.
We have packed the complete collection in a ZIP format for your convenience. If you wish to download them individually, you can simply click on the Google Drive link.
Download Links
So you have just been able to download Xiaomi Black Shark stock wallpapers for your Android device. Apply them on your phone and let us know which ones do you like.