Read the Chroma ROM review and find out if it is the best ROM for your Nexus 6P.
I am a regular ROM flasher, or what people call "a flashaholic", and I like to switch ROMs every now and then, testing their stability and features. Starting off from my first Android smartphone – LG Optimus One, I have wandered between some popular ROMs, like CyanogenMod, MIUI, AOKP, ParanoidAndroid, but never did care about others. The other ROMs felt somewhat useless to me, because they only cheery-picked handful of features from several known ROMs, and baked them into a single package. I never even cared to flash them even once, but that was definitely unfair. This approach of mine took a turn recently, when my favorite ROM for the Nexus 6P & Nexus 5 – Cataclysm ROM, was discontinued. I am not that fond of CM or MIUI, so I had nowhere else to go, except for the Android Development section of my Nexus 6P at XDA-Developers forum.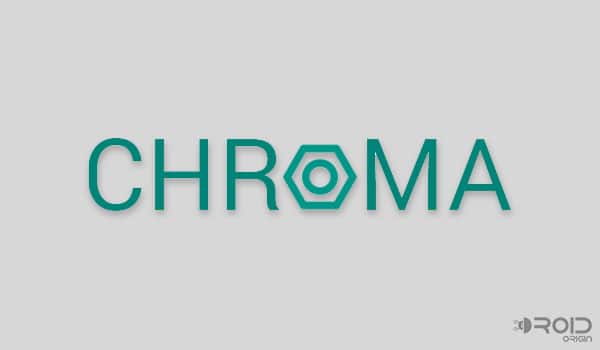 I started off with the top-rated ROMs available there, and then I came across this fantastic ROM, known as Chroma ROM. The first thing that pulled me towards it, was its lightweight nature. So, I decided to go on and flash Chroma ROM on my Nexus 6P. What happened next? I won't just put it in few words, I will share my experience with this very ROM and its features.
So today, I am going to write down a full Chroma ROM Review, in which I will outline all the major features and performance experience so that our readers could also know about Chroma ROM.
Table of Contents
Chroma ROM Review
If you would have asked me, I would say, there are two types of custom ROMs, first – those which work on enhancing the native abilities of Android, second – those which concentrate on beautifying the user-interface. But then, here comes the third type of custom ROM that I just have known, which offers nothing but pure stability and only a handful of useful features, and also a fair bunch of UI customization options.
Chroma ROM (developer – zephiK) is something that I would tag under the third category, and its stability and performance have forced me to write down this review. Okay, so no more discussions, lets head towards the ROM.
Booting the ROM for the first time didn't take much longer, a decent duration of a minute at most and it entered the OS. The foremost thing that I loved, was the boot animation – neatly design and pretty simple, suiting the ROM's approach.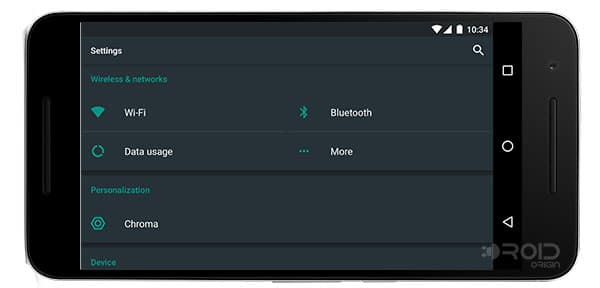 This is something that every user looks for in the first place so that he/she can distinguish the ROM from the others. Chroma is not bloated with tons of options to customize your Android and is only limited to the basic ones that may get you through. This is something I have always preferred and was the major reason for me using Cataclysm ROM, earlier. The options are directly embedded into Settings and could be accessed by going to Settings > Chroma.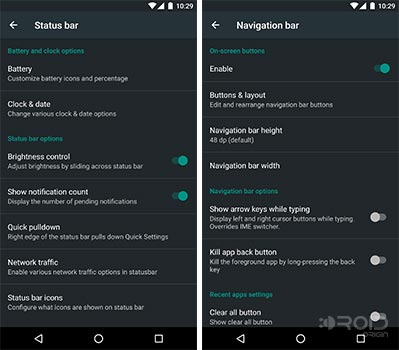 You have options to customize battery icons and enable battery percentage. You can enable Brightness control on the status bar and Notification count.
Quick pulldown options are available to instantly open Quick Settings by swiping down from the chosen screen edge. Enable network traffic stats and adjust the icons to be shown on the status bar. Customize Quick Settings toggles and its appearance.
Change the layout or add buttons to the nav-bar, Adjust navigation bar dimensions, kill app back button, Clear all button. You can also change the location of the Clear all button.
2. Gestures & Lockscreen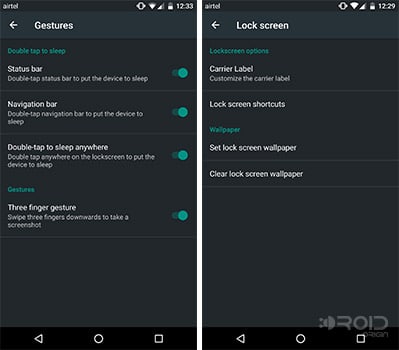 Chrome ROM also inscribes gestures on the status bar and nav-bar. You can enable double-tap on the status bar to put the device to sleep, double-tap the navigation bar to put the device to sleep, double-tap anywhere to put the device to sleep, and also three-finger swipe downwards to take a screenshot.
On the lock screen, you can customize the carrier label – enable carrier label at lock screen or status bar, or both. You can set lock screen shortcuts and also custom wallpapers.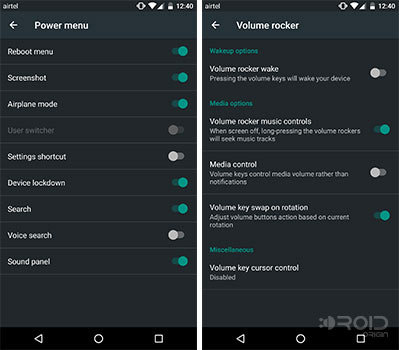 The power menu can be adapted as per choice, to enable/disable – Reboot menu, screenshot, Airplane mode, Settings shortcut, Device lockdown, Search, Voice search, and Sound panel options.
Volume rocker setting is basically concerned with the volume buttons and their actions. You can enable Volume rocker wake to wake the device from sleep on lock screen. Also, controls to long-press volume buttons to change tracks and media control options. Another, you can also swap the volume keys upon rotation.
While that was the Chroma settings, but the ROM also has included several other settings like the following:
Display > Theme – You can change the Settings theme between Light and Dark.
Display > Rotation – Enable/disable rotation on the home-screen and lock-screen, with 0 degree, 90 degrees, 180 degrees, and 270 degrees modes available.
Sound & notification > Notification light – Change default notification light color, enable/disable lights in do not disturb mode. Also use custom color values for actions and apps, separately.
Sound & notification > Battery light – Change LED colors for battery low, charging, and fully charged status. Enable/disable pulse notification LED when the battery is low.
SuperSU – The ROM is pre-rooted by Chainfire's SuperSU, and doesn't require you to flash any root package on top.
Chroma also includes another great feature – RRO Layers support, which lets you theme your complete Android framework using Layers Manager app.
Above, we have mentioned almost all the features that Chroma ROM offers. But apart from features, the ROM mainly concentrates on stability and performance. Scrolling and multitasking is swift and snappy, so no matter what amount of apps you open in the background, you won't get a single glitch while moving between different app windows. Its been a few weeks now that I have had Chroma ROM installed on my Nexus 6P. And, I must say, it is positively the most stable, close-to-stock, and well performing ROM.
I do not lay my interest in benchmark scores because they are highly subjective, but I am also aware of other users and their belief. So, here is the AnTuTu benchmark score for your reference. The score is slightly higher (86891) than that with Stock Factory Image (83989), majorly in terms of CPU.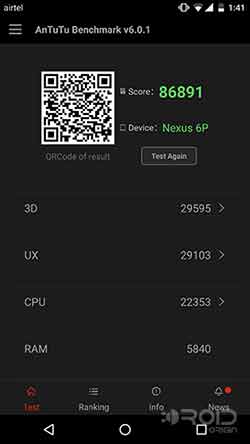 Chroma ROM has been produced keeping battery, performance, and stability as its outlines. Besides the Nexus 6P, it is also available for Nexus 4, Nexus 5, Nexus 5X, and Nexus 6.
You can download Chroma ROM for Nexus 6P from here – AndroidFileHost
GApps and installation instructions could be found on the original XDA thread. The provided GApps are from BankS and contains the apps for basic Google functionality, if you want, you can download other GApps from opengapps.org.
You must try Chroma ROM on your supported Nexus smartphone if you are seeking stability and battery life. Tell us how you feel using the ROM, via comments?