You can now download Google Pixel 3 Live Wallpapers Port for your devices running Android 6.0 Marshmallow, Android 7.0/7.1 Nougat, Android 8.0/8.1 Oreo, and Android Pie. You can grab them and apply them on your phone for a fresh new look. There are a total of 28 different wallpapers that you can download.
The Google Pixel 3 is probably one of the most anticipated Android flagships of the year. In the last few months, we have seen enormous leaks about the phone's design and hardware. While there are certain parts of the phone that you may or may not like, but there's something that every Android user will love. And that is the Google Pixel 3 wallpapers.
While normally, stock wallpapers are made available after a certain device is released, but that's not the case here. The complete set of Google Pixel 3 Live Wallpapers is now available ahead of the official launch.
Twitter user Ishan Agarwal was able to grab the official Pixel Wallpapers APK file and thus extracted all the new wallpapers for the users. Initially, only the still images of the official Google Pixel 3 Live Wallpapers were available. Further down the road, he made the wallpapers APK available for the public. However, the APK could only be installed on devices running Android Pie.
Another user (Pranav Pandey on Twitter) was then able to backport the APK to run on devices with older Android versions. Which means you can now get Google Pixel 3 Live Wallpapers Port on any device running Android 6.0 or above.
Before you head over to the download links, let us first take a look at all the 28 wallpapers available. All of these wallpapers are divided into two major categories – "Come Alive" and "Living Universe". The "Come Alive" category consists of the following sets of wallpapers:
Bloom Cloud, Bloom Sky, Bloom Sunrise
Bubble Up Lemon, Bubble Up Peach, Bubble Up Plum
Burst Dusk, Burst Forest, Burst Midnight
Groove After Dark, Groove Chill, Groove Party
Pixie Cobalt, Pixie Emerald, Pixie Periwinkle
Further, the "Living Universe" category hosts the following new sets of wallpapers:
Bird's-Eye View, Zion National Park
Light the Way, Schwyz
White Sands, Sonoran Desert
Tropical Voyage, Malolo Barrier Reef
Download Google Pixel 3 Live Wallpapers Port
The live wallpapers can only be downloaded and used if you install the APK. Users on Android Pie can simply install the original Pixel 3 Wallpapers APK. While others with ARM64 devices running Android Marshmallow, Nougat, and Oreo can grab the ported Google Pixel 3 Wallpapers APK Port by Pranav Pandey. He has provided two different versions of the ported APK – (1) for devices running Android 6.0 Marshmallow – Android 7.1 Nougat and (2) for devices running Android 8.0/8.1 Oreo.
However, if you just wish to download the still images, then we have also provided a link to that as well, courtesy of Ishan Agarwal. You can even look at the following previews of all the Google Pixel 3 Live Wallpapers before you go ahead and download them.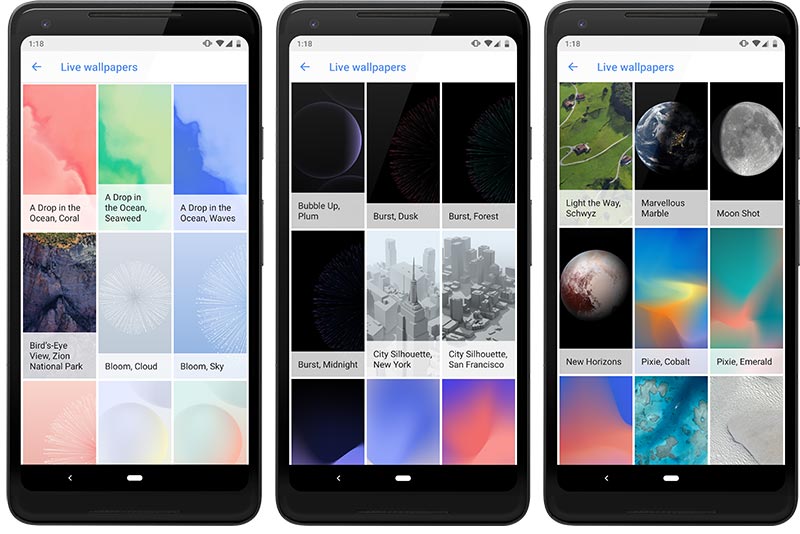 Google Pixel 3 Live Wallpapers Port
If your device has ARM architecture, please download the universal port from here.
Please note that several OEM devices, including those from LG, Samsung, Xiaomi, etc will also need the Google Wallpapers app from the Play Store in order to use the port and apply the wallpapers.
To install this ported APK, you must first uninstall any previous installation of the Pixel Wallpapers app from your phone. Also, you must enable 'Unknown sources' or 'Install unknown apps' option in the device settings. Once done, simply use a file manager to install the APK on your phone.
So there you go, you have just been able to download Google Pixel 3 Live Wallpapers Port for Android 6.0+. Our appreciations go to both Ishan Agarwal and Pranav Pandey for making this possible. Don't forget to let us know which one do you like the most? Leave a comment down below and let us start a discussion.
Source: XDA forums | Via: XDA