While we have seen Google improving on all the other Google Apps with significant updates, be it Play Music, Chrome, Maps, etc. But, we never saw much for Google's native keyboard, until lately, when Google gave an overhaul to it, with several new features that might dispose of your need of using a third-party keyboard. Google Keyboard 5.0 was released recently, and we are here to talk about all the new features that it has to offer.
The app now offers a better keyboard experience with a decent list of UI tweaks, added gestures, and much more.
Table of Contents
What's new in Google Keyboard 5.0?
» One handed mode
We all tend to use a single hand while replying to the texts or emails that we receive, because the other one could be there holding the wine glass, or steering the wheel while driving (Kindly don't do it, it is dangerous). But then, of course, it is still difficult to swipe your thumb all over the screen.
The latest version of the Google Keyboard brings-in an intriguing feature that would ease out the way you type one-handed. Android power-users who have experience with custom ROMs, might already be aware of this feature. But Google has taken it into its own hands, delivering the very same to its users, with the Google Keyboard app.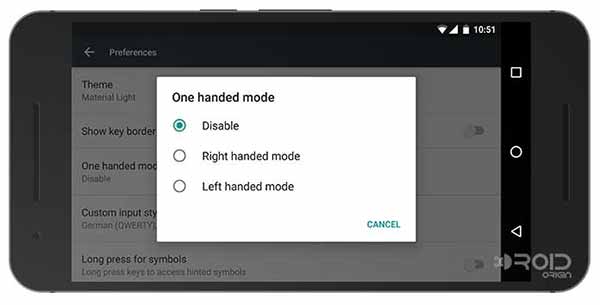 One-handed mode allows you to access the complete keyboard as a smaller variant, displayed at the either side of the screen, depending upon your chosen option – Left handed mode or Right handed mode. You can switch your keyboard from full-screen to one-handed mode at any time by long-pressing the comma key (","). You can switch between left-handed and right-handed keyboard by just tapping on the arrow key.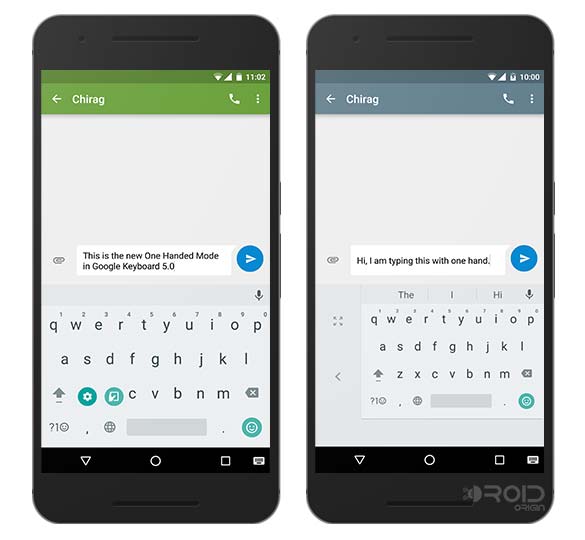 The feature enhances your overall keyboard experience, especially when typing one-handedly.
» Key borders and height
With the new update, Google has now introduced key borders, which of course is an optional setting, that will improve the layout. In the same context, the old Holo theme has been removed, since we don't even need it anymore, provided that the key borders will suffice.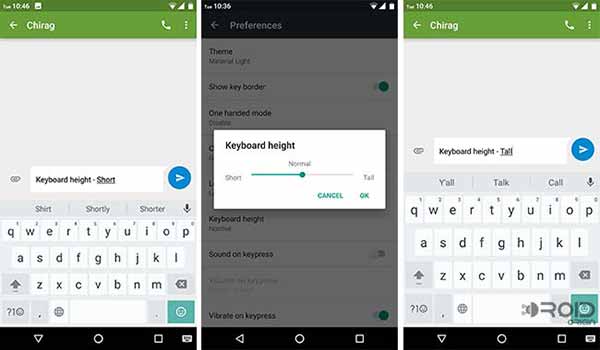 Other addition to the list, is the adjustable keyboard height. So if you have ever thought that the keyboard takes a lot of room on your phone's screen, you can change it to match your requirements. The larger the keyboard height, the longer and more accessible the keys would be.
» Improved gesture typing and suggestions
Earlier, while typing, you would normally see suggestions floating along your finger, disrupting the typing experience. With Google Keyboard 5.0, the suggestions would now only appear in the suggestions bar, making the keyboard much more clear and handy while typing. If there are suggestions that you don't want to appear anymore, you can long-press and swipe them away anytime.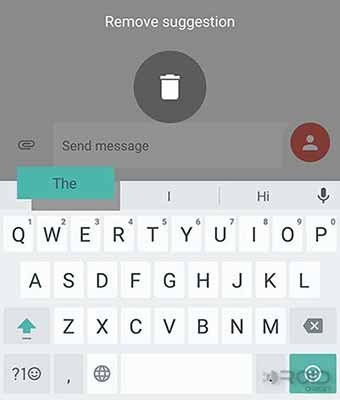 As for gestures, you can now simply strike off/delete the current word by swiping left, from the delete key. Next, on the list is improved cursor control. If you have mistyped, or want to edit a keyword, you can just tap and scroll the cursor to either direction, freely.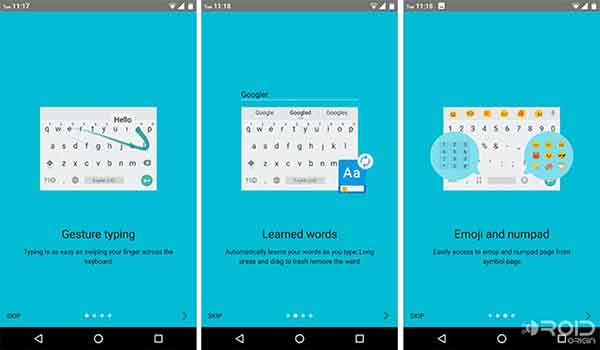 The numpad and emoji quick access have been improved with a better access. Quick access buttons are now laid out on the alt/number screen, already displaying a set of emojis on a separate bar, above the keyboard.
Download Google Keyboard 5.0
Google Keyboard 5.0.20.121473290 is available as a direct update from the Google Play Store. If somehow the update has not reached your device yet, you can download it directly from APKMirror.
I certainly love the new features, and I think Google's own keyboard is nearly going to replace most of the third-party keyboards that I use. What do you think? Drop down a comment below and let us know.