The Chinese Android manufacturer recently unveiled the latest iteration of MIUI on 31st May 2018. Today here we will be talking about MIUI 10 Features and release data. Users can also check the list of MIUI 10 supported devices for their Xiaomi/Redmi phone.
MIUI is the native skin for devices released by Xiaomi. Its upcoming OS upgrade was on the cards for a few months. And it was only until recently when the company introduced MIUI 10 during the Xiaomi Mi 8 launch event. With the new MIUI 10 UI, the company has decided to take a unique approach towards its software. There are huge visual and performance-aiding changes that we have seen in this update.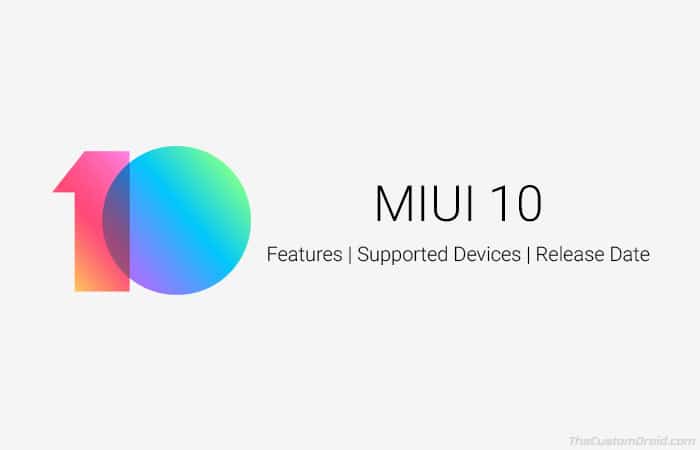 Table of Contents
MIUI 10 Features – What's new?
From what we were able to gather, MIUI 10 comes with a significant amount of improvements over its previous version. The new firmware comes with a lot of changes, adapting the true fullscreen immersive mode. And just like Huawei, Xiaomi also seems to be focusing a great deal of time on AI (Artificial Intelligence) and how it can help expand the software experience on their phones. Xiaomi has taken its turn over almost every aspect of the OS, that will be stocked in the latest Xiaomi Mi 8 and Mi 8 SE, and will also benefit some of the existing devices.
In brief, the company's new software utilizes the AI technology to provide a more performance-orientated software experience on all the MIUI 10 supported devices. It adds a lot of new features that not only comply with the latest smartphone trends but also strive at improving the usage.
We have shared all the major MIUI 10 features below. Also, check the list of MIUI 10 supported devices to see if/when your Xiaomi/Redmi phone will get the update.
1. AI Portrait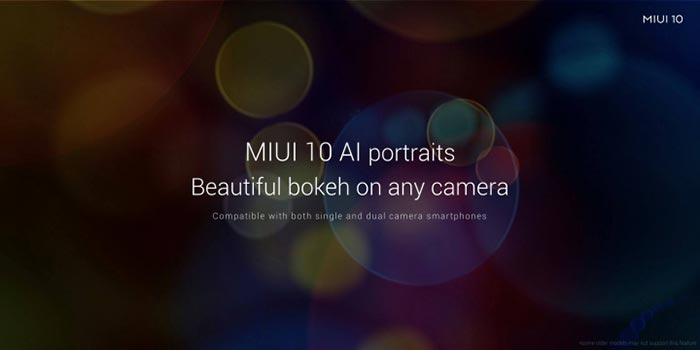 In MIUI 10, the camera software makes use of the latest algorithms (AI) to differentiate between the subject and background, thus creating a bokeh effect. This is also known as 'Portrait mode' on several other devices. The feature works on devices with both – dual and single lens camera. It is quite similar to that we have already seen in the Google Pixel 2 series. It's good that Xiaomi is finally utilizing the software to deliver the best camera experience.
2. AI Preload for Performance
The second most significant addition to the list of MIUI 10 features is the AI Preload technology. According to Xiaomi, the new feature will already pre-load apps based on the usage pattern and daily routine. Thus, it will help significantly improve app load-time and other UI functions. Since the feature makes use of AI, just like Huawei, the software experience will get better and render more performance over usage.
3. New Virtual Assistant based on AI
Virtual Assistants are now a very important part of every Android phone. We have seen Google Assistant and Amazon Alexa setting the best examples of a virtual assistant and how it should operate. With MIUI 10, Xiaomi has decided to introduce its very own virtual assistant that will come as the default assistant on MIUI 10 supported devices. It can read out text messages, provide updates on traffic, and much more.
4. Car/Drive Mode
Utilizing your phone while driving could be utterly risk and Xiaomi realizes that. With the new MIUI 10 software, it also introduced a dedicated drive mode that would provide a much more similar navigation interface on the device. It also allows users to operate their phone using voice commands while driving. So, you can easily answer a phone call, reply to a text message, or change the route using these voice commands.
To better aid the fullscreen displays and to provide a more immersive experience, Xiaomi introduced a new way of navigation in the OS. Well, it certainly functions similar to the iPhone X navigation gestures or the ones that we saw in Android P Beta recently.
Beebom recently demonstrated on how these navigation gestures work. According to which, swiping once from the bottom edge of the display will take you to the homescreen. If you swipe up and hold, then the all-new Recents menu will be triggered. Swiping from either left or right edge of the display will take you a step back.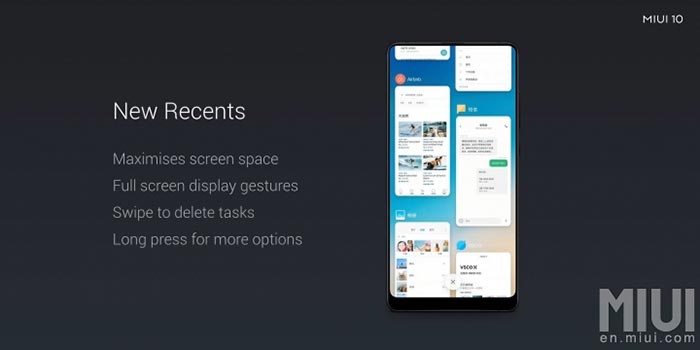 Switching between apps is now easier with MIUI 10. Unlike the old horizontal navigation between cards, the new MIUI 10 UI provides a better visual and functional ability to the feature. You will now be able to view recently accessed apps in form of vertically-scrollable cards. The two-column layout allows you to access at least 4 different recent apps, similar to what you might have seen on the Apple iPad with iOS 11.
The ability to view more apps at once aims at utilizing the taller displays that we now see more often. You can easily use a swipe gesture to dismiss a card or hold on to it, to view available actions like locking the cards in split-screen mode and more.
7. Android Oreo
MIUI 10 is based on Android Oreo. This might also be judged as a shortcoming since Android P is already on its way. However, the new MIUI 10 software will definitely provide the unique standard Oreo features and a more secure operating system for the existing devices.
There weren't many details that were put forth regarding the MIUI 10 features. Rest assured, we will be seeing more once the update is rolled out to the devices in the near future.
MIUI 10 Release Date
So when exactly can you expect the update to reach your phone? – Xiaomi provided a timeline for the rollout of the MIUI 10 China Developer ROM. Following their regular rollout pattern, Xiaomi will be released the update for a list of MIUI 10 supported devices in early June. It will further expand to more devices (As listed below) in the month of July. The Global Beta ROM could be expected to be available around the same period.
The company does suggest users to carefully view the update notice. The software at the given time could contain bugs that would prevent the normal functioning of the phone. Users can also help in the development process by providing their feedback and reporting bugs in the device-specific sub-forums.
MIUI 10 Supported Devices
The company made a direct announcement regarding the list of MIUI 10 supported devices, that are eligible for the update and shall receive it soon.
Devices eligible for MIUI 10 Update in June
Xiaomi Mi 8

Xiaomi Mi MIX 2S

Xiaomi Mi MIX 2

Xiaomi Mi MIX

Xiaomi Mi 6X

Xiaomi Mi 6

Xiaomi Mi 5

Xiaomi Mi Note 2

Redmi S2

Redmi Note 5
Devices eligible for MIUI 10 Update in July
Xiaomi Mi Note 3

Xiaomi

Mi 5X

Xiaomi

Mi 5c

Xiaomi

Mi 5s/Mi 5s Plus

Xiaomi

Mi 4

Xiaomi

Mi 4c

Xiaomi

Mi 4S

Xiaomi

Mi Max 2

Xiaomi

Mi Max
Redmi 5
Redmi 5A
Redmi 5 Plus
Redmi 4
Redmi 4A
Redmi 4X
Redmi 3S/Redmi 3X
Redmi Pro
Redmi Note 5A
Redmi Note 4 Qualcomm/Redmi Note 4X – Download link and Instructions
Redmi Note 4 MTK
Redmi Note 3 Qualcomm
How to Install MIUI 10 on Xiaomi
Not long after the official announcement, we finally got our hands on the MIUI 10 China Developer ROM from the Closed Beta program. If you own the Xiaomi Mi Mix 2/2S, Xiaomi Mi 6, or Redmi Note 5 Pro, then you can follow our tutorial on how to install MIUI 10 on Xiaomi devices.
Please note that the software is in its very initial phase. Which means, it could have bugs. However, there are yet no critical issues that would affect the normal functioning of the phone. So if you can manage to look past that, then go ahead and follow the instructions.
Wrap Up
Xiaomi has certainly taken its time for a major software update. Right after the announcement, we knew that it was worth the time. The company now aims at adapting the upcoming smartphone developments, such as the taller and bezel-less screens. Not only that, but Xiaomi has really brought in some significant changes that would help the users get more out of their device's software.
Using Artificial Intelligence (AI) based features will most probably award the company with more positive feedback. We will only know more when we actually get hands on the all-new MIUI 10 software.
Until then, stay tuned and let us know which one of the above-mentioned features influences you the most? Do the changes compel you to upgrade to a Xiaomi/Redmi phone next? Please leave your opinions in the comments section below.