Among the numerous apps available on Google Play Store, finding the best Android File Manager apps could be very confusing. That's why we have listed the 5 Best Android File Manager apps here. These apps are listed here after a dedicated research. They are all very efficient and personally tested by us.
A File Manager plays an important role on our Android phones. They help us to view, copy and move files such as media and documents. While our phones are fully automated, but they require us to manually manage the storage and files stored on it. And File Managers are the tools that make it happen. Most OEM devices come with a proprietary pre-installed file manager, but a few others don't. So if yours is one, then this list could prove very useful to you.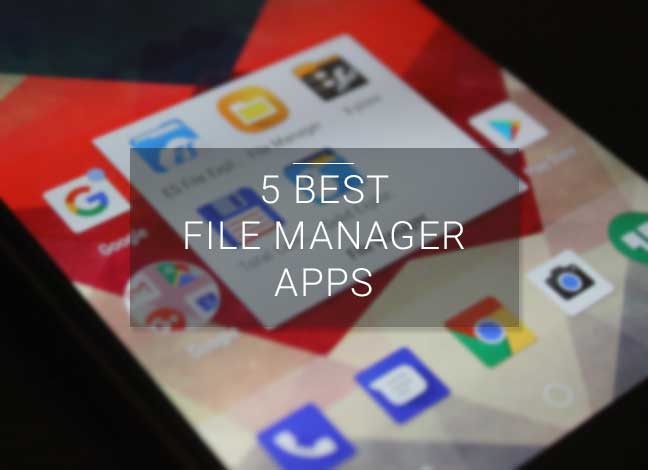 Most OEM devices come with a proprietary pre-installed file manager, but a few others don't. So if yours is one, then this list could prove very useful to you. Thankfully, the Google Play Store features tons of awesome File Manager Apps. Check out these Best Android File Manager/Explorer Apps below.
Also read: 10 Top Root Apps For Android – August Edition
Table of Contents
List of 5 Best Android File Manager Apps
1. ES File Explorer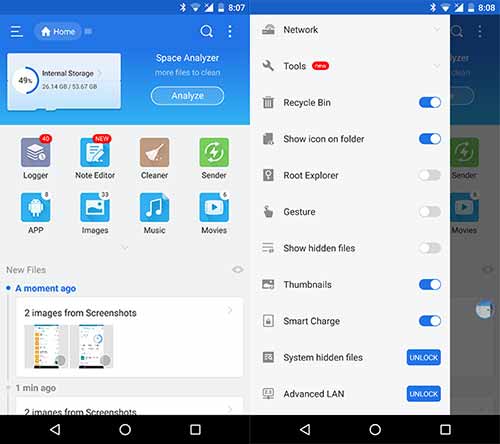 ES File Explorer is an efficient Android File manager app. It is quite easy to use and comes with a simple and powerful user interface. It has tons of options and features like the logger, Note Editor, Cleaner, and many others. The Gesture feature is one another cool function that helps you to perform a certain function within the app if you have recorded the particular Gesture to do something.
ES File Explorer comes with a pre-installed recycle bin which makes you do mistakes. So the next time you mistakenly delete something, you can recover it back from the bin. You can enable the Root Explorer option to access the system partition with read-write capabilities. One of the best things about the app is that it allows users to change the app theme. So, you can download themes for ES File Explorer and change your App UI.
You can enjoy most of these features in the FREE app. But, you can also go for the pro version ($2.96) to unlock the extra features.
2. Solid Explorer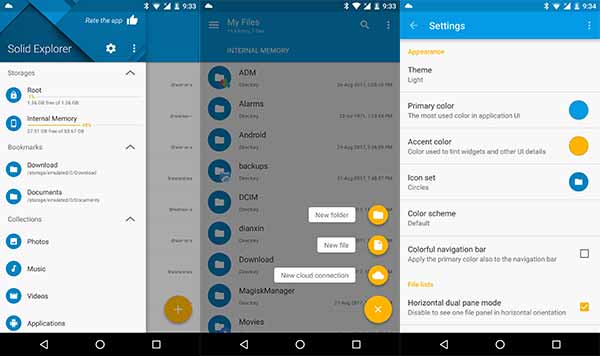 Solid Explorer is a faster Android File manager app with a clean Material design implementation. Some great features are – Drag and Drop between panels, Root Explorer and Cloud File Management, etc. The app also brings the ability to read and extract encrypted ZIP, 7ZIP, RAR and TAR archives. You can even protect them with a password during the archiving process.
The app is available on Google Play Store for free, but only for a 14 Days trial. If you love the app, you can contribute to the developer and purchase the premium version at just $1.99.
3. File Manager by ASUS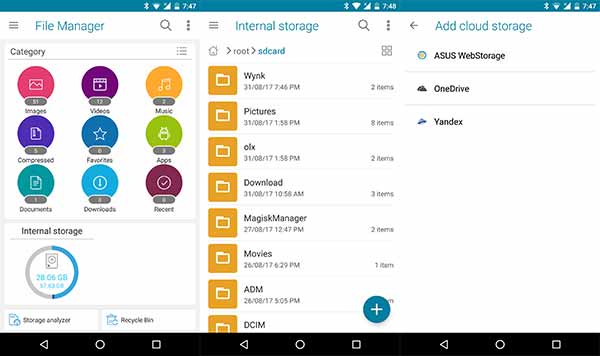 One other light, efficient, and easy to use Android File Manager app. File Manager by Asus is also the default file management app for phones like the Zenfone 5. It lets you browse and access your files by category, as well as allows you to copy, move, rename, delete or share files, and all the basic functions. File Manager by ASUS also allows you to access files over LAN and SMB. It also supports cloud integration and Archive functionality.
It also incorporates Disc tools that offer many useful tools like storage analyzer, Recycle bin and hidden cabinet. You can also change the app's default theme colors. The Asus file manager is a completely free app that doesn't show any absurd ads that make the whole experience bad.
4. X-Plore File Manager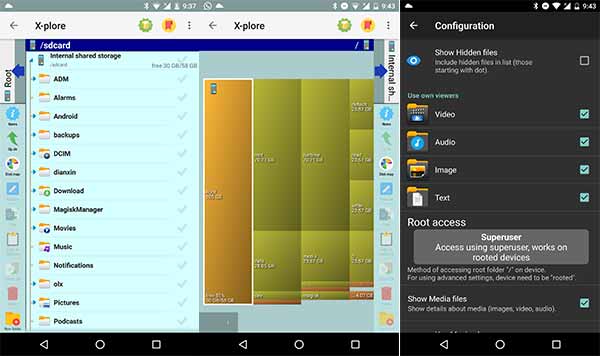 X-Plore Pane File Manager is also a double pane file manager which allows users to manage two windows at a time. It has many features like App Manager, Wi-Fi file sharing, Access to FTP and FTPS, Hex viewer, PDF viewer, and USB OTG support, etc. File encryption is also available. It also lets you view Root files without root access. To sum up, X-plore is a very functional Android file manager app, especially for advanced users.
Like other file managers, it doesn't have good UI but is packed with a variety of functions to perform storage operations. It also comes with support for various types of files (Zip, RAR, and 7zip), cloud storage (Dropbox, Box.net, Amazon Cloud Drive, OneDrive, MediaFire, and many other), network storage (FTP, SMB, DLNA/UPnP), etc.
5. Total Commander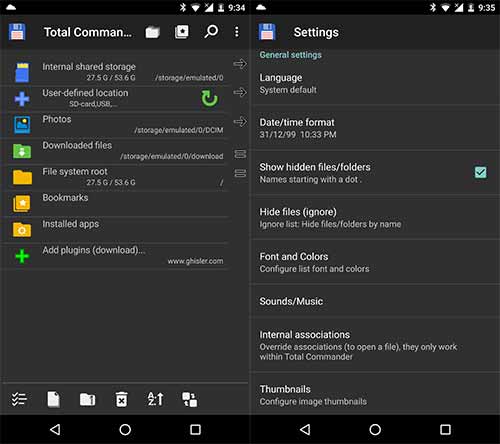 Total Commander is formerly a desktop file manager software, but it is also available for Android now. There are some special key features that make it unique than other. Like, it is ad-free, has an inbuilt media player to stream directly from LAN, and has huge language support. Other than these, the Total Commander provides all the basic features that other file managers offer. It means, Total Commander File Manager really works like a Commander for your Android device.
If you have rooted your device, then you can have full control over your device's system files.
So, above were some of the best file manager apps for Android. If there is any other file manager which have forgotten to list and deserves to be here, then let us know by commenting below.