Learn how to easily boot Redmi Note 5 Pro Recovery Mode. The guide enlists methods using special button combination or by using ADB commands.
Booting and rebooting are two popularly used words in the tech world. Booting, which means to bring an operating system to a state of initialization, is considered by most of the people as a one-stop-solution for most of the glitches and errors. This article will guide you on how to boot Redmi Note 5 Pro Recovery Mode.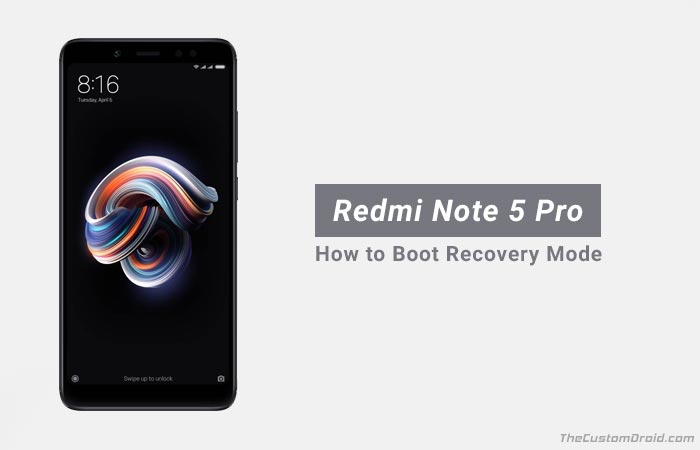 There are mainly two modes for booting apart from the regular booting. These are – (1) Recovery mode and (2) Fastboot mode. Here we shall discuss the former. So why exactly would you need to boot your phone into the stated modes? You will find the answer to this in the next paragraph.
Stock recovery mode enables you to flash MIUI recovery ROM and perform factory data reset etc. If you have flashed TWRP recovery, then you will get to enjoy more functionality like flashing custom ROMs/kernels/mods, wiping partitions, and more.
Now that you know how booting into different modes will help you, proceed ahead to the instructions and boot Redmi Note 5 Pro Recovery Mode.
Table of Contents
Steps to Boot Redmi Note 5 Pro Recovery Mode

First, turn off your Redmi Note 5 Pro entirely using the power button.
Next, press the Volume Up and Power button simultaneously for a few seconds.
Once the logo of the brand (Mi) appears, release the Power button.
Please note, only the Power button has to be released. You have to continue pressing the Volume Up button till the recovery mode screen appears.

Subsequently, you will be required to select the language, i.e., English. You will have to do this using the Volume keys (for moving between the options) and the Power button (for confirming).
You may then see a few options out of which you have to select the Recovery mode and confirm by pressing the Power button.
Now, there's another quick way to boot Redmi Note 5 Pro Recovery mode. That is by using a specific ADB command.
Method 2: Using ADB Commands
In order for the command to work, you must first enable USB debugging on your device and install ADB on your PC.
Connect your Note 5 Pro to the PC using the USB cable.
Go to C:\adb. This is the folder where all the ADB and Fastboot binaries are present.
If you have setup ADB system-wide, you can simply open a PowerShell or CMD window.
Enter the following command to confirm the connection:

adb devices

It shall return a device ID. In case it doesn't, you will need to install the correct Xiaomi USB drivers.
Next, boot Redmi Note 5 Pro recovery mode using the following ADB command:

adb reboot recovery

Your phone will instantly turn off and reboot into the said mode.
At times, when the intended purpose has been carried out, the device can easily be shifted to the OS mode. In case if it doesn't, you can do it by pressing and holding the power button for about 7-10 seconds. It is always recommended to have your data backed up before you go for any type of hard reset.
So these were two different ways to boot Redmi Note 5 Pro recovery mode. If you have any questions regarding the process, leave a comment down below.