Currently, Google is rolling out an important update to its official Contacts App. The latest update comes with further tweaks to the visual design based on the material design theme. Along with that, the latest software will enable users to clear the interaction data. All Android users can now download Google Contacts 3.1.
Google Contacts is a free contact management app for Android devices. It is also the stock contacts app for Google Pixel/Nexus and Android One devices. It was around two years ago when Google finally introduced a hamburger menu for quicker navigation. And with v2.0 in 2017, we saw a design refresh after a very long time. Google first dropped the new Material Design 2.0 in Contacts v3.0 and is now adding more changes and new features in the latest version 3.1.3.214980940.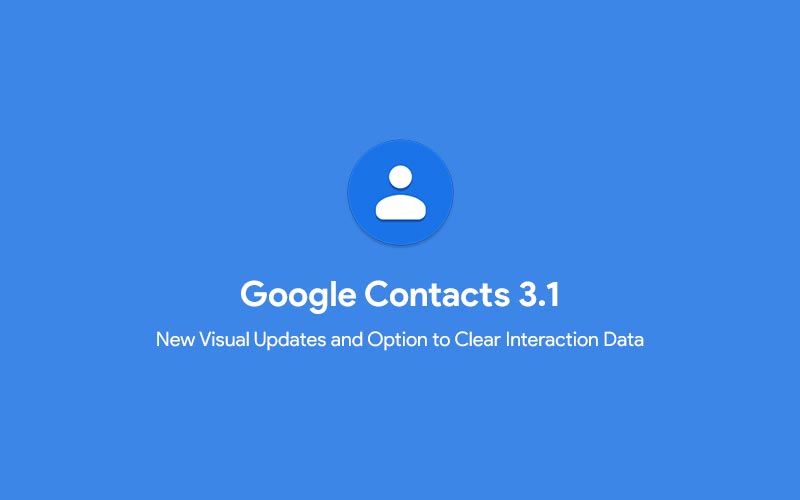 If you're not able to update right away somehow, then you can download Google Contacts 3.1 APK and install it manually.
What's new in Google Contacts 3.1?
Now, before we download Google Contacts 3.1 let's have a glance at what new features it brings for the users. Visual changes are always an integral part of every update Google rolls for any of its applications. Contacts App is no exception to this. The latest update brings changes to the navigation drawer. The user's Google+ profile backdrop image has now been removed and replaced with White color in the background. The size of the icons in the navigation drawer has also been reduced a bit.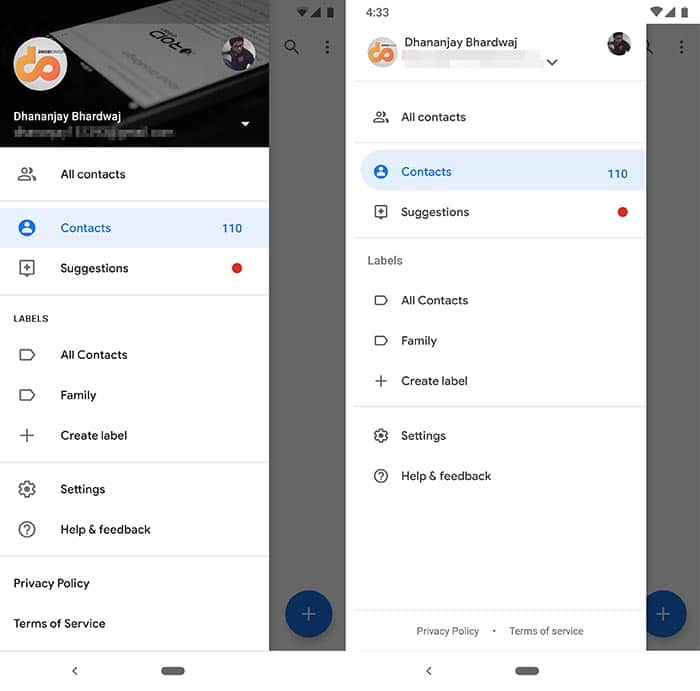 Posts the Contacts 3.1 update, switching between synced account be done directly from the drop-down menu. Also, the highlighter row within the navigation drawer now has a rounded end.
There is another minor change which is noticeable. It is the colors of auto-generated thumbnails of contacts with no profile images. The new design offers a White text on a solid background color instead of the pastel color scheme introduced in Contacts 3.0.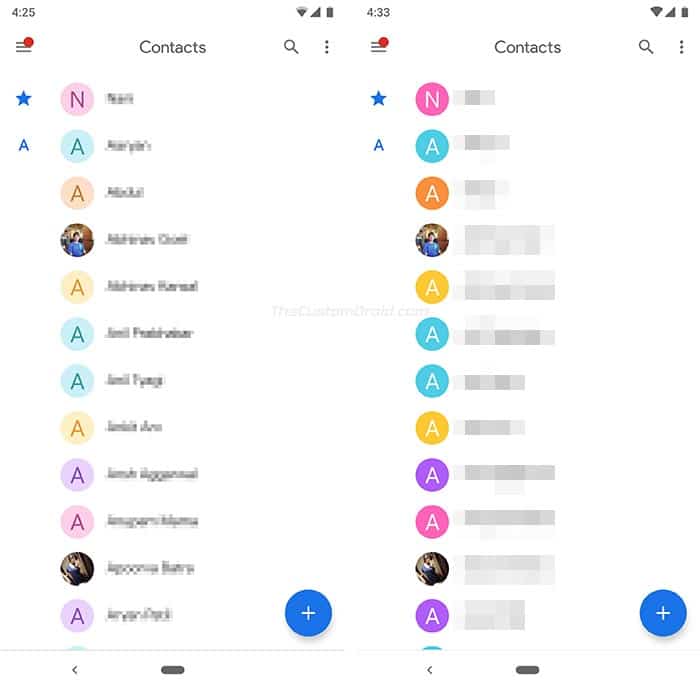 Most importantly, the latest update to Contacts App brings an option to clear the interaction data. In simpler terms, the app stores your interaction history to suggest you information based on your usage. Also, as we know,  there are some other apps that may require access to Contacts, can also access this interaction data. Not many users would like this personal information to go into servers of random apps. So, Google Contacts 3.1 will enable you to easily clear this interaction data. To do so, go to the app settings, scroll down to the bottom, and tap on 'Clear interaction data'.
Download Google Contacts 3.1 (APK)
The latest Google Contacts 3.1 update is rolling out to the users via the Play Store. Usually, it may take some time for the update to knock into all the Android devices out there. If you're not fond of waiting for the update, you can simply download Google Contacts 3.1 APK and sideload it on your Android device.
Before you can sideload the app, you must first enable 'Unknown sources' or 'Install unknown apps' in your device settings.

For Nougat and below, go to Settings -> Security.
If you're using Android Oreo or above, go to Settings -> Apps & notifications -> Special app access.

After you enable the permission, download Google Contacts 3.1 APK from APK Mirror.
Move the file to the device internal storage.
Next, go to the app drawer and open a file manager.
Navigate to the location of the APK file where you moved and tap on it.

Now follow the on-screen directions to install Google Contacts 3.1 on your phone.
So, that's it. The latest update to the Contacts app brings a new visual presence altogether Allegedly, we might even see a 'Dark Mode' too, just like in Android Messages. Download Google Contacts 3.1 and enjoy its new features now!
Via: AndroidPolice