Android 9 Pie is more than two months old since it was officially announced on 6th August 2018. Over this period and through the availability of the official source code, several smartphones and tablets have received Android Pie unofficially via custom ROMs. Today here, we have provided the complete list of Android 9 Pie ports (Custom ROMs) for various smartphones and tablets.
This year, it was the first time ever that a developer preview of the upcoming Android version was made available for a list of non-Google OEM devices. These included – Nokia 7 Plus, Essential Phone, OnePlus 6, Oppo R15 Pro, Sony Xperia XZ2, Xiaomi Mi Mix 2S, Vivo X21UD, and Vivo X21. This was made possible due to Project Treble, that was announced last year with Android Oreo. The new project by Google separated the Android framework from the vendor implementation. Thus aiding the quicker release of new updates by manufacturers.
For the same reason, some of the aforementioned devices including the Essential Phone, OnePlus 6, and Nokia 7 Plus have already received the official Android Pie update, in that order. Although many manufacturers including Huawei, Motorola, HTC and Sony have already announced a definite timeline for a list of their phones that will get Android Pie.
But, what about the rest of Android-based smartphones and tablets? Well, this is where the Android 9 Pie Ports will help. So, even if your current Android device will never support the latest Android version, it still has a very good chance to run it through the available Android Pie custom ROMs. These custom ROMs are developed by third-party developers over at the XDA community forums.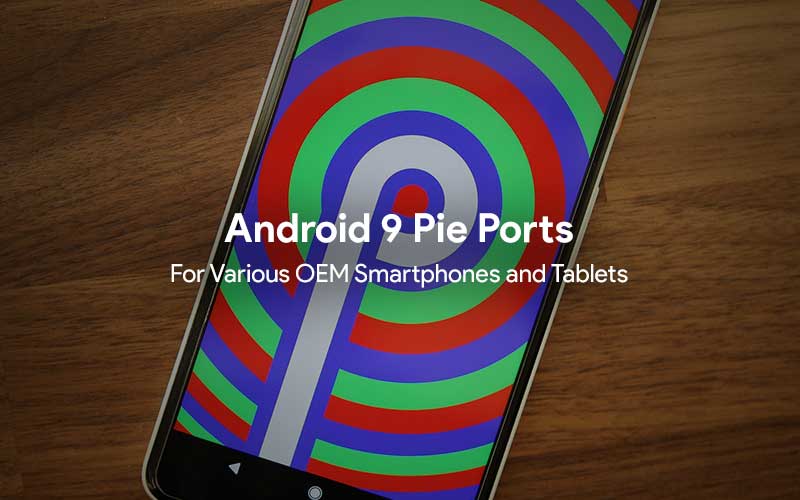 Now before head down below and check the list of Android 9 Pie Ports for your smartphone and tablet, let us take a quick look at the features that you will enjoy.
Table of Contents
Android 9 Pie Features
Android Pie, being a major version update, brings a plethora of new features that aim at improving the overall OS experience better. Many of these features utilize the Machine Learning technology to deliver an experience that is tailored to the user himself. Below, we have listed and explained some of the major Android 9 Pie features.
Adaptive Battery and Brightness
Google has partnered with Deepmind (A British company that focuses on artificial intelligence technology) to design a new feature known as "Adaptive Battery". Adaptive Battery analyzes your phone's usage pattern and allocates the battery resources on apps that the user cares about the most.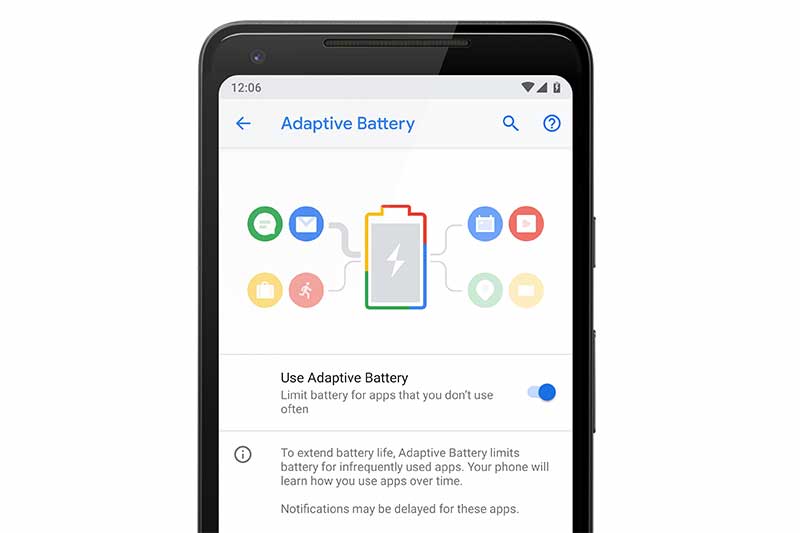 Another feature that also uses Machine Learning to scan how you adjust brightness under different environments and activities. It then processes the information and adjusts the brightness accordingly for a much easier and hassle-free experience.
Both Adaptive Battery and Brightness work better and better as you go on using your phone.
The second major Android 9 Pie feature is all-new system navigation based on gestures. For a long time, we have been using capacitive buttons or the on-screen navigation bar to navigate between the apps and other parts of the OS. With Android Pie, Google has decided to change that in a significant manner. As the displays are growing taller and taller with time, Google's new system navigation makes it easier for a user to approach parts of the OS and switch between apps.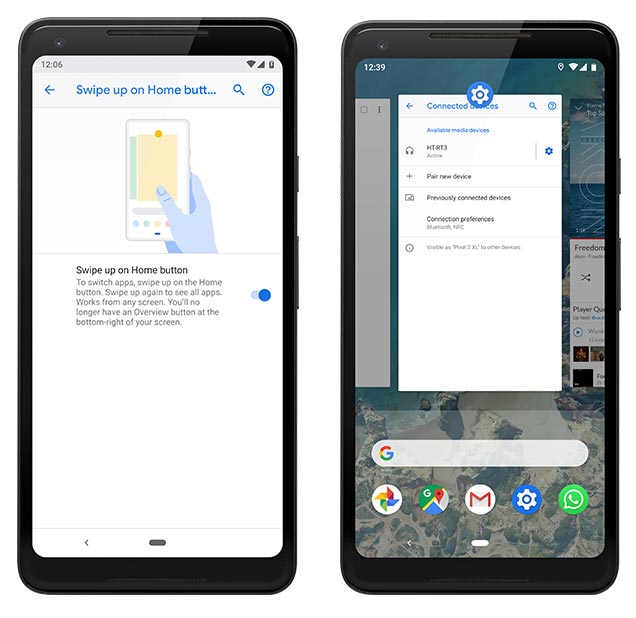 Design-wise, there's only a single pill-like home button at the bottom of the screen. Swiping up on the button opens the full-screen preview mode of the recently-used apps. Another swipe and the app drawer will open. Swiping the home button to the right will allow you to switch between the current/last app easily.
App Actions and Slices
This is another feature that uses Machine Learning. App Actions scans your activities and usage to suggest app-based actions to get things done quickly. Supposedly, you're about to leave for work in the morning, then you'll be shown a Google Maps app action to navigate to your workplace.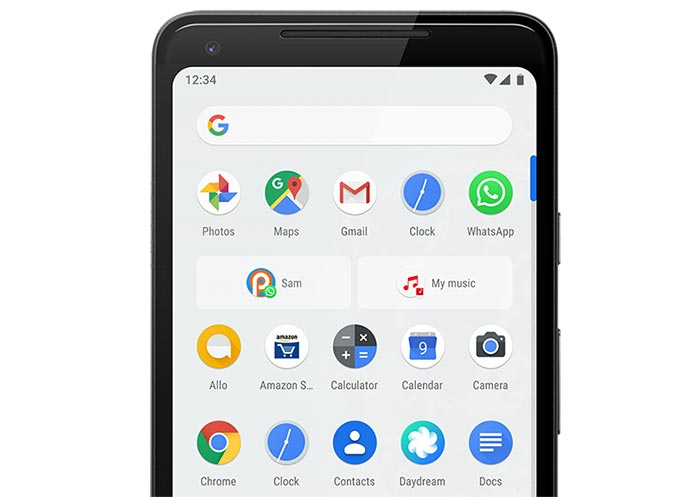 App Slices, on the other hand, is still in development and is supposed to roll out to the users by the end of this year. To demonstrate, let us take an example from Google itself. So, suppose if you start typing "Lfyt" in the search bar, then you'll see 'slices' from the Lfyt app showing the price of your ride and ETA.
Redesigned Quick Settings, Notifications, and Volume Controls
Talking of the UI, Android 9 Pie features a lot of changes here and there. For starters, the Quick Settings menu in Pie has seen a major facelift with the new White color scheme and easier accessibility across the toggles.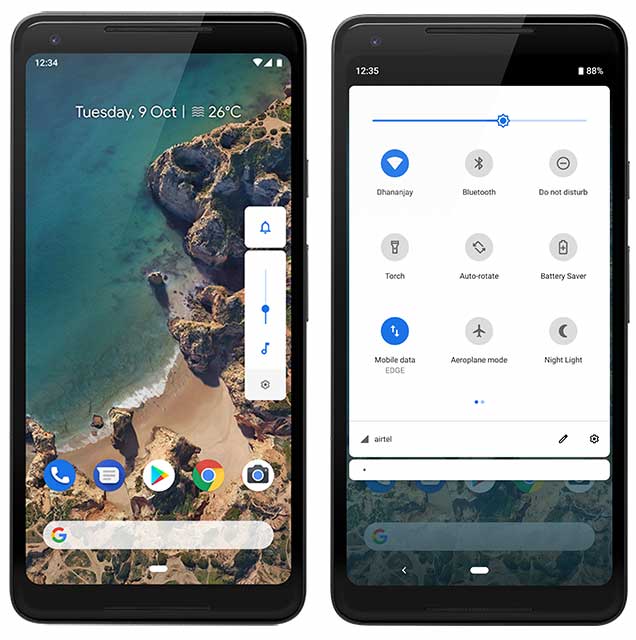 The Notifications shade has seen an equal amount of changes too. To begin with, it follows the same color scheme as the Quick Settings with rounded corners on the top and bottom. Further, different app notifications are split using a subtle line. In terms of the functionally, in-line chat replies and the Smart Reply features are now present.
Another area of the user interface that saw a major change was the volume controls. With Android 8.1 Oreo, we already saw the Power menu to shift to the side. With Pie, Google also made the same change to the Volume Controls in order to accommodate the notches on the top of smartphone displays. Along with the new positioning, there's also a new button that lets you cycle between ring/vibrate/silent sound modes.
Digital Wellbeing
In today's time, smartphones are everything and an average user might spend hours using it throughout the day. Digital Wellbeing is Google's initiative that would help a user maintain an optimal balance between technology and the rest of our things.
Basically, Digital Wellbeing is a set of features that are designed to help you understand how much time you spend on your smartphone and provide suggestions for a balanced usage. This is still in beta testing and is already available for users with Google Pixel phones.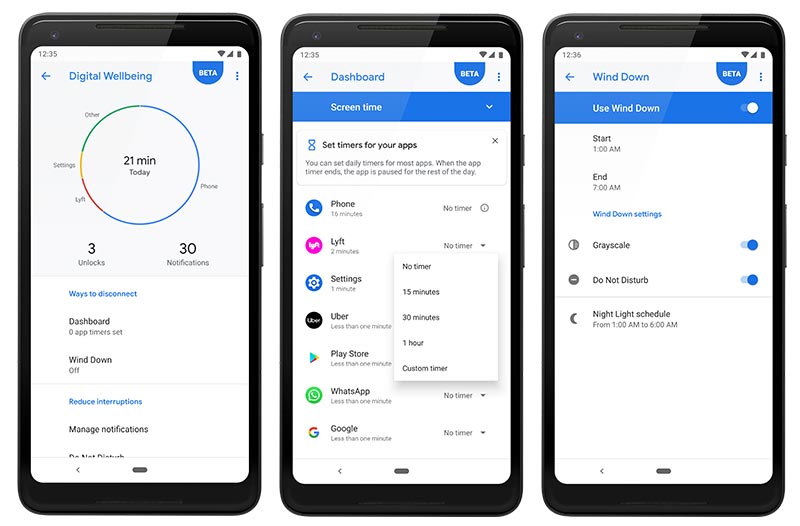 There are currently three main parts:
App timers: You may set time limits on a per-app basis and after the set time is up, the app icon will automatically be greyed out.
Wind Down: When enabled, this will enable Do Not Disturb mode and Night Light, and will also shift the screen colors to Grayscale.
Do Not Disturb: The improved DND mode in Pie now completely disables all visual notifications and their sounds.
If you have a Pixel phone running Android 9 Pie, then you can opt for Digital Wellbeing Beta right now.
That's about the major Android 9 Pie features. If you're looking for the complete list of changes, then please visit the official Pie website or if you're a developer, then visit the official release page.
So, there's a ton of new features that you will experience once you install one of the custom ROM from the list of Android 9 Pie Ports provided below.
List of Android 9 Pie Ports for Smartphones and Tablets
The list below has been primarily sourced from XDA-Developers. We are further searching the device-specific forums on XDA to update this list and add more devices. Corresponding to each OEM device, there's a link to official XDA thread of the custom ROM based on Pie.
While installation procedure for many of these ports is simple, there are others that might require special instructions. So, make sure that read through the first post of the linked XDA thread for your phone/tablet. This will also help you get acquainted with any existing issues/bugs with the ROM before you install it.
Asus
Google
Honor
HTC
Huawei
IUNI
LeEco
Lenovo
LG
Motorola
Nubia
OnePlus
Samsung
Sony
Wileyfox
Xiaomi
Yu
ZTE
Android Pie for Project Treble Devices
If your smartphone supports Project Treble officially or unofficially, then there's a better chance for you to try Android Pie on it. You can get GSIs of Android Pie-based custom ROMs from here. You will find several ROMs including ArrowOS, HavocOS, AOSPExtended, Pixel Experience, Phh-Treble, and more. We also have a dedicated tutorial on how to install a Generic System Image on Project Treble supported devices.
Please note that if your phone supports Treble unofficially, then you might want to visit your device-specific XDA forums to check for specific instructions.
So, that's the list of Android 9 Pie Ports for smartphones and tablets from different manufacturers. It is good if your phone supports a custom ROM based on Android Pie. But if it doesn't, make sure to bookmark this post as we will keep updating the available ROMs, as well as, adding more devices to the list.
Relish some slices of Pie now!