Does your Android device support Google's Project Treble for quicker and easier software updates? Check out this list of Project Treble supported devices and find out!
Android is a versatile OS and offers enormous possibilities to explore the bits of it. However, we have constantly observed the delays that some manufacturers take to push out the latest software update for their devices. Often, several of these devices lose update support even before the pre-defined timeline. After years of feedback and upset users due to such behavior of the OEMs, Google took a definitive step last year with Android Oreo. The tech giant announced Project Treble that'd help manufacturers to roll out software updates more quickly and easily. According to Google, every Android smartphone that comes with Android Oreo must include support for Project Treble. To find out if your phone supports it, go through the list of Project Treble supported devices.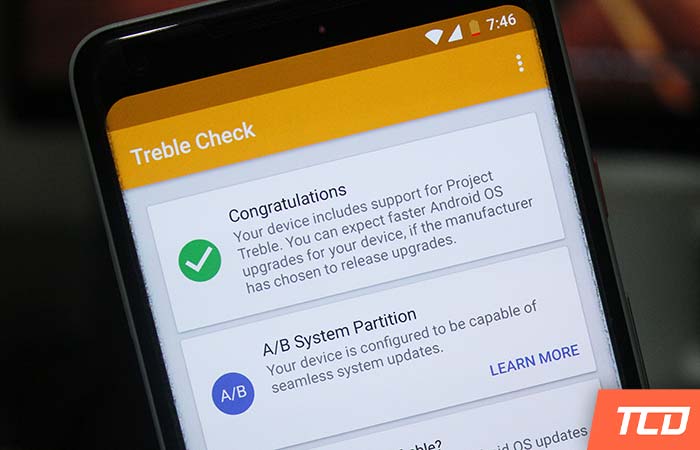 The implementation, however, is not yet widely accepted as some manufacturers still chose to release devices without Treble support. Of course, these devices also don't come with Android Oreo out-of-the-box.
So how exactly do Treble influence Android OS updates? — The new implementation simply separates the Android OS framework from the vendor code. Which means, manufacturers can easily update the framework and push the new update to the devices, without having the need to rework the vendor-side code. The image below will give you a much clear idea of what we are talking about here.

On the other hand, Project Treble compatibility also holds significant importance within the Android developer community. That's because users can easily install Generic System Images compiled from the AOSP code on their device. Which means, it would not be necessary to compile custom ROMs for every device individually. We have already talked about phh-Treble – an AOSP-based build compiled for Project Treble supported devices.
We are just scratching the surface here. Project Treble has the potential to bring some major benefits to the Android development scene.
Table of Contents
List of Project Treble Supported Devices
Ever since the official announcement, users seem to be very keen on finding if their device or the one they are eyeballing supports Treble. While it is easy to find if your device supports Project Treble. But it hard to know if your next phone will support it or not. To deal with this, we have taken some time and compiled a complete list of Project Treble supported devices for you. This list includes devices that are officially supported by the OEM, as well as those which have received Treble compatibility unofficially.
To add your convenience, this list will be updated regularly when we have confirmations on new devices. So don't forget to bookmark it.
Officially Supported by Project Treble
Asus
Essential
Google
Google Pixel
Google Pixel XL
Google Pixel 2
Google Pixel 2 XL
Huawei/Honor
Huawei Mate 9
Huawei Mate 9 Pro
Huawei Mate 10 Lite
Huawei Nova 2
Huawei P8 Lite
Huawei P10
Huawei P10 Lite
Huawei P10 Plus
Honor 7X
Honor 8 Lite
Honor 9/9i
Razer
Xiaomi
Unofficially Supported by Project Treble
Below is the list of Project Treble supported devices that are updated unofficially.
Lenovo
Motorola
Xiaomi
That's quite something, right? One can easily depict that Huawei is leading among other manufacturers when it comes to supporting Project Treble. If your phone is supported, you can easily install Generic System Image of popular ROMs like phh-Treble, LineageOS 15.1 and Ressurection Remix.
So this was our list of Project Treble supported devices. If your device is supported, you can avail the opportunity to install Generic System Image of some popular custom ROMs like LineageOS 15.1 and Resurrection Remix 6.0.
Credits: XDA-Developers