If you currently own the Xiaomi Mi flagship, then here's your chance to enable Project Treble on Xiaomi Mi 6. Enabling it will allow you to flash generic system image of AOSP Oreo ROM on your device.
Ever since the release of Android Oreo back in August 2017, we have been constantly swirling around various features exclusive to the stated Android version. While most people would be well aware of the cosmetical and clearly visible features, there are a couple of things on the inside, that makes Oreo one of the most significant Android version to date. Once such feature is "Project Treble". It is often regarded as the most significant low-level change in the Android system. In brief, Project Treble will aid the software update process and allow manufacturers to provide updates at a much faster rate. On the other hand, it also holds notable importance among the third-party development community. This post will help you enable Project Treble on Xiaomi Mi 6.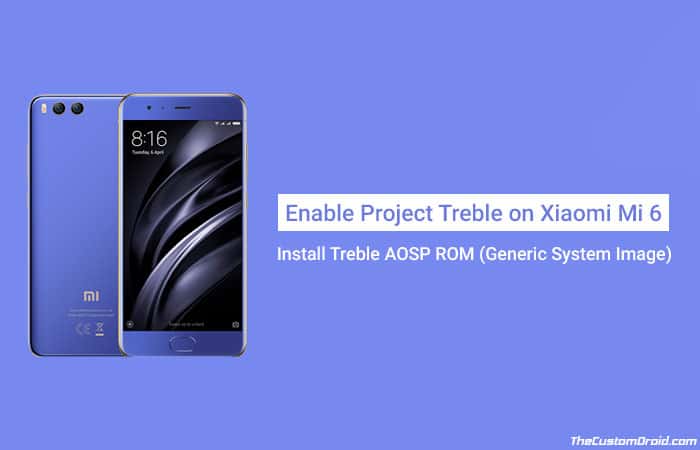 So how exactly does Treble work and how is it important? – The change simply draws a line between the Android OS framework and the vendor implementation. Which means, manufacturers can simply roll out the updated OS framework, without having to rework the vendor code. The separation of the two automatically allows the silicon manufacturers to roll out updates more easily and quickly. When it concerns the third-party development, like custom ROMs, Project Treble has a similar effect on that as well. In short, users can easily boot a single AOSP Generic System Image (GSI) on multiple Treble-enabled devices, irrespective of the manufacturer or their hardware specs.
The figure below will give you a good idea of what we just talked about.

According to Google, every Android device rolling out with Android 8.0 Oreo must already support Project Treble. But what about those which were released pretty recently and still don't support it? Knowing the importance, users are now faithfully looking forward to the manufacturers to roll out all their new devices with Project Treble enabled. Now, let us see how you can enable Project Treble on Xiaomi Mi 6 easily.
— Project Treble Supported Devices List (Official and Unofficial)
Table of Contents
Guide to Enable Project Treble on Xiaomi Mi 6 (Unofficially)
Xiaomi Mi 6 was launched back in April 2017 and is on the top in the Mi line-up. The phone offers a decent hardware config, including Qualcomm Snapdragon 835 processor, a dual 12MP+12MP rear camera with dual-LED, 4GB/6GB RAM, 5.5-inches IPS LCD display, front-mounted fingerprint sensor, and USB Type-C support. On the software part, the phone came with MIUI 8 based on Android 7.1 Nougat. Recently, the phone has been updated to Android Oreo via MIUI 9.5 ROM.
Before you get to the instructions to enable Project Treble on Xiaomi Mi 6, give a quick read below and understand how this mod actually works.
The Mi 6 is not the first device to achieve unofficial Treble support. Xiaomi phones like the Redmi Note 4, Mi 5, and Mi 5s already have it. In theory, the developers at XDA forums have taken an unused partition (CUST) on the said devices and converted them to an individual Vendor partition. XDA member blankaf has been able to compile a flashable ZIP that contains the boot image and a vendor image (CUST partition). In order to flash this ZIP, you will be required to use a special TWRP recovery compiled by the developer himself.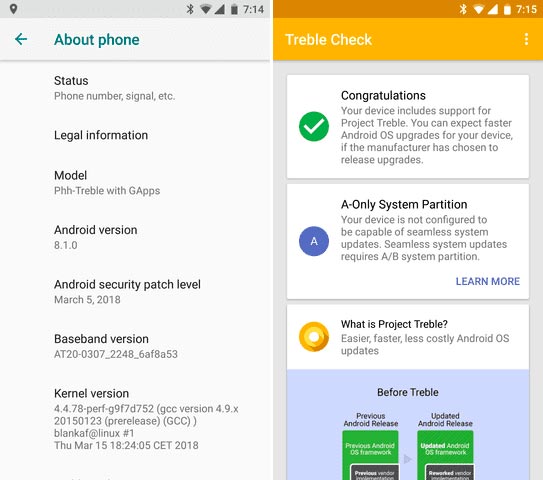 Let us take a look at a few caveats of using this mod.
VoLTE
SELinux is permissive
On-boot error: "There's an internal problem with your device"
The instructions to enable Project Treble on Xiaomi Mi 6 and to install Treble AOSP ROM on the device are listed below. Once you have enabled, you can easily install a Generic System Image (GSI) such as phh-Treble ROM.
Requirements
The process will completely wipe your device. So take a complete backup of the necessary data. We suggest that you follow our tutorial on how to backup Android devices.
Charge your Xiaomi phone to at least 50-60% battery level to avoid any disruptions during the flashing process.
In order to flash the Treble-enabled TWRP recovery, you must first install Android SDK tools on your PC.
Download the required TWRP recovery by blankaf and flash it using the command below: twrp-3.2.1-0-sagit-blankaf-3.img

fastboot flash recovery twrp-3.2.1-0-sagit-blankaf-3.img
Once you have fulfilled the requirements, you can go follow the steps below to enable Project Treble on Xiaomi Mi 6 and install Treble AOSP ROM (GSI).
Downloads
Steps to Enable Project Treble on Xiaomi Mi 6 and Install Treble AOSP ROM
Download the enabler ZIP and Treble AOSP ROM (Generic System Image) files from above.
Connect your Mi 6 to the PC and transfer the files to your phone's storage or SD card (preferred).
Disconnect the device and power it off.
Boot your Mi 6 into TWRP recovery mode by pressing the Volume Up and Power buttons simultaneously.
Go to Wipe -> Advanced Wipe and select the following partitions: Dalvik/ART Cache, System, Data, Cache and Vendor.

Swipe the button to wipe your device.
Go back to the main screen and tap on the "Install" menu.
Navigate to the storage and select the ProjectTrouble-MI6-sagit-treble-v1-ALPHA.zip file.
Swipe the button on the screen to enable Project Treble on Xiaomi Mi 6.
After finishing, go to Reboot -> Recovery.
Finally, repeat the flashing process and install Treble AOSP ROM (Generic System Image) this time.
After all the flashing is done, hit "Reboot System". Once your Mi 6 boots, you shall be running the Treble AOSP ROM based on Android 8.1 Oreo. The ROM is mostly clear of any bloatware or additional apps, which you might like. You can also check if your device supports Treble, just for personal satisfaction. A successful reboot itself means that you have been succeeded to enable Project Treble on Xiaomi Mi 6.
The process is quite easy, right? If you still have any questions, then leave them down in the comments.