Xiaomi might bring Mi A1 Project Treble support with the Android 8.1 Oreo update. Exciting, right? Ever since the launch, the first Android One-powered Xiaomi device has faced a fair share of problems. Like first, the manufacturer had delayed the source code release by almost half a year. There were also instances of suspended Android Oreo releases.
Despite all the hassle, the OEM has managed to deliver what everybody would expect from an Android One-based device. And that is regular updates. Talking about the software, the Mi A1 has been running Oreo for some months now and the time is approaching for the Android 8.1 Oreo release to be made. Well, there are no confirmations on when, but rest assured, it will be arriving soon.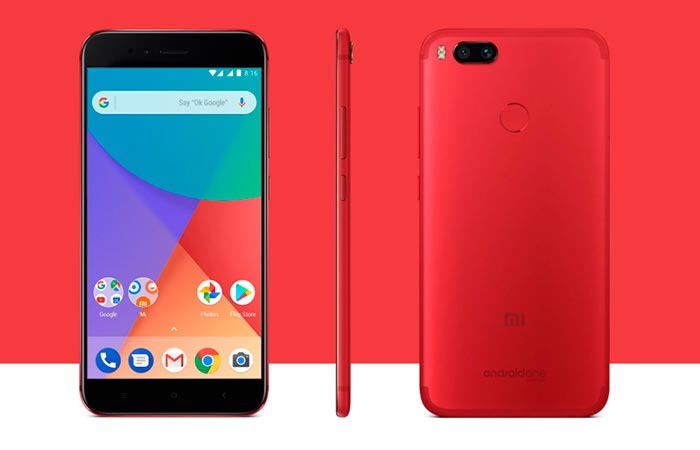 Android 8.1 Oreo Update Might Bring Mi A1 Project Treble Support 
Another great news that has recently popped up indicates that the Xiaomi Mi A1 Project Treble support may be coming. We have already seen some exciting developments taking over the forums as well. For instance, a third-party developer ported Treble to the Redmi Note 4. Project Treble for the device will mean that users can expect software updates to roll out faster. Not just that, it also means a great deal to the third-party development scene as well.
XDA senior member guy_infinity seemed to have a private conversation with another XDA member. As you can see in the screenshot below, the former asks the forum member about the Android 8.1 Oreo development for the Mi A1. He was further interested in knowing some details and also whether or not the update will bring Project Treble support to the device. To this message, the other party replied that he could not mention much about the update, as he is under a Non-Disclosure Agreement, most probably with the OEM. Anyhow, he clearly stated that Mi A1 Project Treble support is expected. He also failed to mention how the implementation would take place.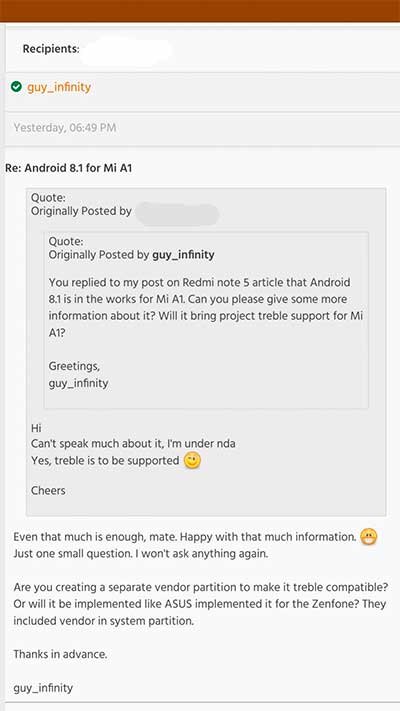 Member guy_infinity has intentionally removed the username of the said member from the screenshot, so as to preserve his agreement with the company. By the looks of it, we feel like the said member is either associated with the development as an internal beta tester or could also be a part of the actual development team.
We are not sure when this would happen, only time and the upcoming updates will tell. Users already seem to be pretty excited with the news. What's your take on it? Do you think Project Treble will make much difference to the Mi A1 software updates? Considering it already receives monthly updates on time.
(Source)