Google Pixel 3 bought some significant changes in terms of the software and one of them is the new Camera. The Pixel 2 camera experience goes without saying, it was and still is tremendous and a major part of it is dedicated to the Google Camera app. The Pixel 3 is carrying over the same standard, moreover improving it with the updated camera app. You can now download Google Pixel 3 Camera app with redesigned UI, quick-access to NightSight, RAW support and more changes. The updated Google Camera app version is 6.3.026.265696615.
Update (23 October 2019): Google Camera 7.1 app from Pixel 4 is now available for older Pixel devices. Download the APK from here.
The Google Pixel 3 (XL) was launched recently and it didn't even take hours before the official apps started surfacing online. We already saw the official Pixel 3 Launcher app available for the older Pixel, Nexus, and Android One devices running Pie. And now, we have hands-on the official Google Pixel 3 Camera App that brings a series of new changes and features.
Table of Contents
What's new in Google Pixel 3 Camera App?
Update on 8 September 2019:
Google Camera 6.3 has been released. It moves the NightSight mode to the app's main UI, adds the ability to mute camera shutter sounds, and more.
Update on 15 November 2018:
Night Sight feature is now rolling out to Google Pixel, Pixel 2, and Pixel 3 devices with Google Camera v6.1.021.220943556 update. Check the download links section below.
Update on 12 October 2018:
According to XDA-Developers, Google Camera 6.1 from Google Pixel 3 also supports the use of external microphone while video recording. For example, you can use your headset's inbuilt microphone while recording videos without having the need to bring the phone near your mouth.
Let us start over with the major shift in the visual appearance that you will see once you install Google Pixel 3 Camera app on your phone. With Google Camera 6.1, the complete interface of the app has been redesigned. The old hamburger menu for switching modes and video mode icon beside the capture button have now been removed.
Switching between different capture modes like NightSight, Portrait, Camera, Video, etc is now done through a sliding mechanism. Sliding to the very right will give you access to the 'More' section that accommodates Photo Sphere, Panorama, Time-Lapse, Slow Motion, Playground, Lens, Photo booth, and the app's setting menu.
The next major inclusion in Google Camera 6.3 from Pixel 3 is support for the RAW image format. RAW format has been supported by Android since quite some time and many OEMs are already utilizing it in their default camera apps. It was long over-due that Google added support in its own Camera app.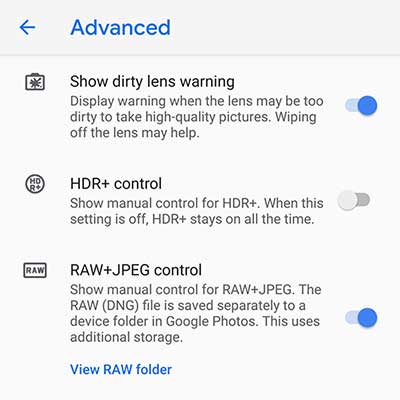 In order to enable RAW capturing, go to the app's Settings -> Advanced and toggle ON the 'RAW+JPEG control' option. Once enabled, you will see the option in the viewfinder to use this feature.
Another area where UI changes have been made is the Panorama mode. The old dot-style interface while capturing a panorama has been replaced with arrows on either side. It also has an additional Audio Recording option too.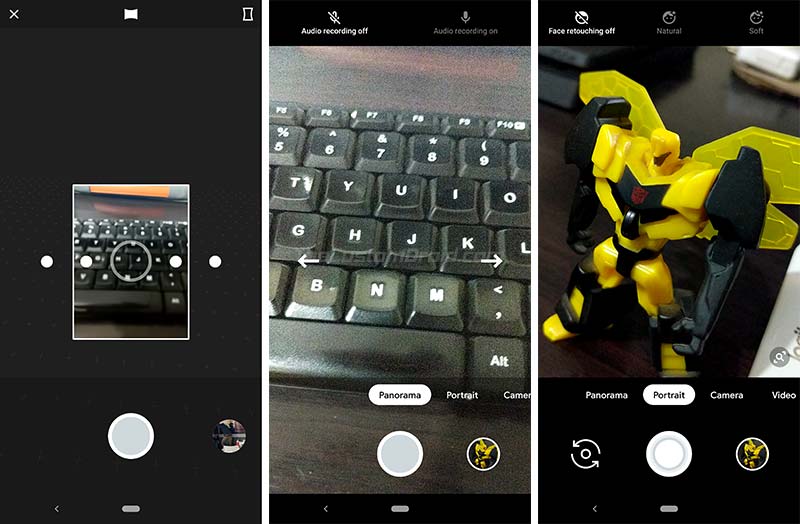 Face Retouching in Portrait mode now has options to pick between 'Natural' and 'Soft' modes. To add, long-pressing on the viewfinder will now trigger Google Lens automatically.
Google Camera 6.3 also removes the color temperature controls completely. Well, since most users stick with AWB, it is not much big of a loss.
Download Google Pixel 3 Camera (Google Camera 6.3 APK)
You can only install Google Pixel 3 Camera App on Pixel, Nexus, Android One phones running Android 10 Q. If your device is running Android Pie, you can download Google Camera 6.2 from below and install it.
Important Note: The official Google Camera app cannot be installed on other OEM device. In such a case, you will need to download and install a GCam Port for your device from our dedicated section.
How to Install Google Pixel 3 Camera App on your Phone?
Installing this new version of the Google Camera app is easy, all you got to do is, download the APK and manually sideload it on your phone. However, just in case you need more precise instructions, follow the steps below.
Make sure that the 'Install unknown apps' option is enabled in Settings -> Apps & notifications -> Special apps access.
Download Google Pixel 3 Camera APK on your phone.
If you have downloaded it to the PC, make sure to transfer the APK file to the phone's storage.
Go to the app drawer and launch a file manager application of your choice.
Navigate to the location where the APK was downloaded/transferred.

Tap on the APK file and then on 'Install' to install Google Pixel 3 Camera App on your phone.
When the installation is complete, hit the 'Done' button.
Now, go back to the app drawer and launch the updated Camera app on your phone. You will see the new changes the instant the app launches.
Google Camera 6.3 app carries a lot of features that are only limited to the Pixel devices. However, users can enjoy these features by installing a device-specific Google Camera Port too.
Do you like the redesigned UI, RAW support, and other features that come with the all-new Google Pixel 3 Camera App? Leave your opinion in the comments below.
Source: AndroidPolice