In this post, you'll be easily able to download OnePlus USB drivers for Windows and macOS systems.
A driver is a computer program that operates or controls a specific type of device attached to a computer. In order to connect your OnePlus device to the PC and transfer data to it, you will need to install OnePlus drivers on your PC or laptop. The driver provides a software interface to hardware devices, enabling Windows and Mac systems and other computer programs to access the data on the phone. You will also need OnePlus USB drivers in order to establish a successful ADB/Fastboot connection.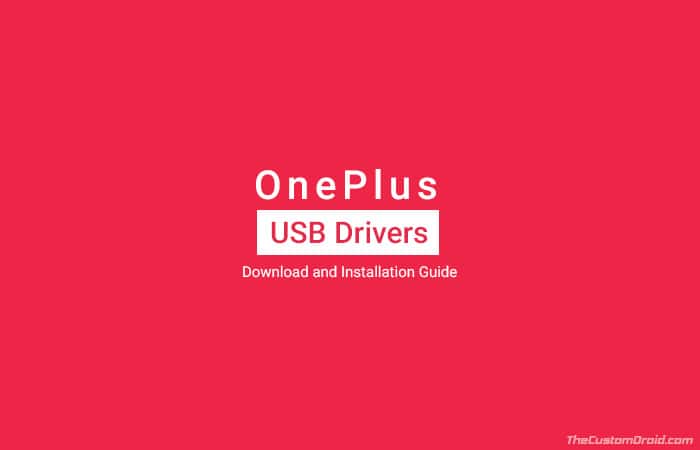 Before further going through the article, the question that is needed to be addressed is why do users need the drivers in the first place.
Table of Contents
What are OnePlus Drivers?
OnePlus has now become one of the most popular OEMs in the Android smartphone marketplace. Its customer base is expanding every day due to the immensely powerful Android devices like the OnePlus 5T. One of the shortcomings is that OnePlus does not offer any PC suite for their customers. Which means, the only way to connect your OnePlus devices with your PC is by downloading and installing OnePlus USB drivers on your PC. This will allow your OnePlus device to communicate with the computer.
Once the drivers have been downloaded on your Windows and macOS systems, it will support operating system applications along with detecting a variety of data. The processes of transferring images, music, videos and similar tasks become accessible once you install OnePlus USB drivers on the computer system.
Download OnePlus USB Drivers for Windows
The manufacturer provides a standard driver version for all its devices running Windows OS. These are generally bundled with the device itself. In order to transfer data between your OnePlus device and the Windows PC, you can follow the instructions below.
First download OnePlus USB drivers executable: OnePlus_USB_Drivers_Setup.exe
Double-click on the downloaded file.
The User Account Control prompt should pop-up. Click on "Yes".
The installer window should ask you to select a language. Select "English" and click on "OK".

On the setup wizard screen, click on "Install".

Once the driver installation is complete, hit the "Finish" button.

So, you have just been able to install USB drivers on Windows PC. Your OnePlus device should now be properly detected by the PC.
Download OnePlus USB Drivers for macOS
Android devices have a standard way to transfer data from or to macOS desktops and laptops. All you will need is your OnePlus handset and a compatible USB cable. Preferably the one that came in the box.
Download Android File Transfer for macOS.
Double-click on "androidfiletransfer.dmg".
Drag the "Android File Transfer.app" to the applications folder.

Once installed, connect your OnePlus device to the system.
The Android File Transfer app should automatically launch on your PC.

You may go ahead and transfer files like images, videos, movies, or documents directly using the AFT interface.
ADB/Fastboot Drivers for OnePlus Devices
Once you have installed OnePlus USB drivers, you can easily use them to establish an ADB/Fastboot connection. ADB/Fastboot drivers are needed to allow the PC to recognize an Android device while the device is in debugging or Fastboot mode. We often cover ADB tutorials to help our users accomplish various tasks. You can control your device over USB and perform actions like sideloading apps/OTAs, copying files back and forth, run shell commands, and similar activities. Fastboot is often used to flash system partitions like installing a custom recovery (TWRP) etc.
First, make sure to install OnePlus USB drivers on your OS. Once done, you can follow the linked guides to install ADB/Fastboot and set it up system-wide for easier access.
Once you have followed the detailed tutorials above, you can easily access your device over ADB/Fastboot to sideload ROMs, unlock the bootloader, or install custom partition images.
So you have just been able to download OnePlus drivers and install them on your Windows/macOS PC. If you have any questions regarding the driver installation, kindly leave a comment below.