If you wish to restore Razer Phone stock firmware, then follow this detailed guide to install Razer Phone factory image.
Razer is a reputed brand when it comes to gaming hardware, laptops, and related accessories. The company stepped into the Android smartphone market with its own Razer Phone. The device was launched back in November 2017 and targets the smartphone gaming community.  While the phone comes with impeccable hardware specs, it doesn't have much to offer in terms of the software. It's quite likely that users have already tried to customize the device or added third-party features by flashing a custom recovery or rooting. But there was no going back from that, up until now. The manufacturer has finally released Razer Phone factory images for November, December, and January updates. Users can now download the factory image and use it to restore Razer Phone stock firmware.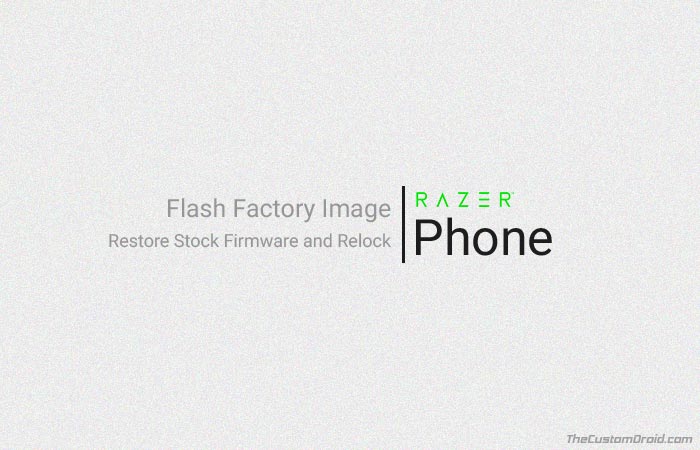 Table of Contents
Guide to Restore Razer Phone Stock Firmware
The availability of stock firmware is what the device owners have been lacking for a few months. For instance, if you have unlocked the bootloader and installed a custom ROM or recovery. And you somehow managed to soft-brick the device or realized that the customization doesn't suit you, then there was no going back. With the availability of official factory images, users can easily restore Razer Phone stock firmware.
Razer Phone features a spotting 5.7-inches Quad HD display with a 120Hz refresh rate, something that has never been done on any smartphone. The idea behind the feature is to provide a lag-free and fluid experience for hardcore gamers. Apart from that, the Razer Phone comes as a host of powerful hardware specs. On the software end, the device comes with stock AOSP environment running Nougat 7.1.1. The manufacturer has also added some additional features like Dolby Atmos, Nova Launcher Prime and more. Promisingly, Razer has been consistently pushing monthly updates, with the latest one reflecting the January 2018 security patch.
Those who want to install Razer Phone stock firmware on the device can follow the instructions below to flash the factory image. Note that in order to carry out the process, you will need to unlock your phone's bootloader. It's quite disheartening to see that Razer doesn't support active third-party development. Which means you will lose your phone's warranty the instant you unlock the bootloader. Here's your best chance to revert back to factory settings and relock the bootloader.
Prerequisites
Flashing the factory image will wipe all the data present on the device. We strongly recommend backing up your phone before proceeding. You can also follow our guide on how to backup Android devices.
Only use a USB 3.0 Type-A to Type-C spec-compliant cable. You can also check Bensun Leung's Google+ collection.
Install ADB and Fastboot tools on your PC.
Charge your phone to a sufficient battery level to avoid any sudden shutdowns during the process.
Enable OEM unlocking on your Razer Phone
Once you have correctly fulfilled the requirements, proceed to the instructions to restore Razer Phone stock firmware right now.
Download Razer Phone Factory Images (Cheryl)
8.1 MR1 (May 2018): cheryl-o-global-5038.zip (Global) / cheryl-o-ckh-5037.zip (Three)
8.1 MR0 (April 2018): cheryl-o-global-4054.zip (Global) / cheryl-o-ckh-4069.zip (Three)
7.1.1 MR3 (January 2018): cheryl-global-3005.zip (Global) / cheryl-ckh-3005.zip (Three)
7.1.1 MR2 (December 2017): cheryl-global-2009.zip (Global) / Carrier not available
7.1.1 MR1 (November 2017): cheryl-global-851.zip (Global) / cheryl-ckh-853.zip (Three)
The images provided above are for the global and carrier variants. Make sure to download the one corresponding to your device.
How to Install Razer Phone Stock Firmware?
First, unlock bootloader on Razer Phone.
Once unlocked, you will need to boot the device into Fastboot mode (Also known as Download Mode).
To do so, power down the device. Then press and hold the Volume Down + Power button simultaneously.
Connect your Razer Phone to the PC while it is in Download Mode.
Next, download Razer Phone factory image from above.
Extract the content of the downloaded factory image to C:\adb. This is where all the ADB and Fastboot binaries are present.
The extracted folder (e.g. cheryl-mr-release-3005) should contain a series of partition image (.img) files.
On Windows, locate the "flash_all.bat" script and double-click on it to restore Razer Phone stock firmware.
On Linux/macOS, open a Terminal window and use the following command to execute the install Razer Phone factory image.

./flash_all.sh

As soon as the flashing process is complete, your phone will reboot.
You can further relock bootloader.
To do so, boot your Phone into Download Mode and execute the following command to lock the critical partitions:

fastboot flashing lock_critical

On the confirmation screen, use the Volume keys to highlight and press the Power button.

Again boot into Download Mode and execute another command to finally lock Razer Phone bootloader.

fastboot flashing lock

When the confirmation screen appears, select "Yes".
When your Phone boots, it shall be running the factory firmware with a locked bootloader. That was easy, right? The manufacturer did the right thing publishing the factory images for end users. This could help them recover their device in situations like a soft-brick, bootloops, or even software issues.
So this was our guide on how to restore Razer Phone Stock firmware by flashing the factory image. If you have any question regarding the process, leave them in the comments section.