Through this post, you can download the latest Samsung USB drivers for mobile phones and tablets, along with all the previous versions. Further, we will also guide you on how to install the provided Samsung USB drivers on your PC running Windows 10, Windows 8/8.1, Windows 7, or Windows XP.
The cloud computing era has begun and you can easily share, sync, and transfer files wirelessly. But there's no doubt that a physical connection over USB is still the easiest and quickest way to transfer files. Not just that, a USB connection also plays an indispensable role when it comes to things like flashing the stock firmware, rooting, executing ADB commands, etc on your Samsung Galaxy mobile phone/tablet.
We often cover tutorials for various Samsung Galaxy devices which involve transferring files to or from the device's storage or flashing firmware files. And for things like these, you would need to physically connect your phone to the PC via the USB cable. In most cases, your Windows PC should automatically detect the device and install the required drivers. But if your PC fails to recognize your Galaxy smartphone/tablet, then you need to download and manually the required USB drivers on your computer.
What is Samsung USB Driver?
Samsung USB Driver is a program for Windows that allows your PC to properly recognize and communicate with your Samsung Galaxy mobile phone/tablet over a USB connection. In addition to transferring files and syncing data, Samsung USB drivers are also needed for Odin firmware flashing.
The manufacturer indeed offers its own Smart Switch companion software which bundles the said drivers as well. However, if it's just the USB drivers that you need, then there's no need to install Smart Switch on your PC at all. You can just download the latest Samsung USB drivers from below and install them.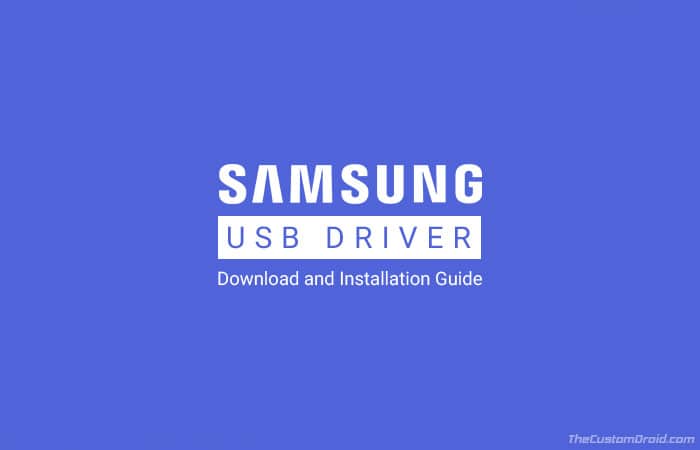 Supported Devices
The latest Samsung USB drivers provided on this page are compatible with all Android-based Samsung Galaxy mobile phones and tablets. These include:
Galaxy S20, S20 Plus, and S20 Ultra
Galaxy Note 20 and Note 20 Ultra
Galaxy Z Fold 2, Galaxy Z Flip, and Galaxy Fold

Galaxy S10, S10 Plus, S10e, and S10 Lite

Galaxy Note 10, Note 10 Plus, and Note 10 Lite

Galaxy Tab S7 and Tab S7+
Galaxy Tab S6 and Tab S6 Lite

Galaxy Tab S5 and Tab S5e

Galaxy A10/A20/A30/A50/A51/A70/A71/A90
Galaxy Xcover Pro

Galaxy Note 9

Galaxy S9/S9+

and more.
Samsung USB Driver Download Links
Below, you will find the links to download all versions of the Samsung USB drivers including the latest version, that is v1.7.23.0. These drivers are compatible with any Windows 7, Windows 8/8.1, and Windows 10 PC. It's strongly recommended to download the latest version at all times to avoid any issues and better compatibility with all new Samsung smartphones and tablets.
Latest Version
All Previous Versions
Samsung Smart Switch Software
Note: If you're using a macOS or Linux PC, you will not need any USB driver. Just connect your device to the PC and it will automatically be detected.
How to Install Samsung USB Drivers on a Windows PC
Installing the Samsung USB drivers on your Windows PC is extremely simple. Just follow the steps listed below.
First, download the Samsung USB drivers package on your PC.
Extract the downloaded ZIP file using an archive tool like WinRAR or 7Zip.
Open the extracted folder and double-click on the Windows executable file (e.g. Samsung_USB_Driver_v1.7.23.0.exe).
The Microsoft InstallWizard should now show up on your computer's screen.
Click "Yes" when prompted to allow User Account Control.
Click "Next" in the driver installation window.

Next, select your preferred language and country, and click "Next".

Choose the location on the PC where you want to install the drivers (Default is: C:\Program Files\Samsung\USB Drivers).

Finally, click "Install" to install the Samsung USB Drivers on your Windows PC.

Finally, click "Finish" once the installation completes.

Now that you have been able to download and install Samsung USB drivers, go ahead and connect your phone to the PC. Your Windows PC should automatically recognize your Galaxy smartphone or tablet automatically without any issues. You can now transfer files or use Odin to flash the firmware.
Frequently Asked Questions (F.A.Q.)
Below are answers to some of the most frequently asked questions by users regarding the Samsung USB drivers.
Where can I download Samsung USB Drivers for Odin?
There are no particular drivers meant just for Odin Flash Tool. The Samsung USB drivers provided on this page will enable the Odin flash tool to recognize your Samsung Android phone or tablet while it's in Download Mode.
Do I need Samsung USB drivers for a Linux or macOS PC?
No. Samsung USB drivers for Linux and macOS computers are neither available nor required. You can simply connect your Samsung mobile phone/tablet to the PC and it will be recognized automatically. If you're using a macOS computer, simply use the Android File Transfer tool for transferring files.
Are these USB drivers safe to install?
Yes, these drivers are officially signed and provided directly by Samsung on the website. We tested the driver executable file through VirusTotal and found it to be 100% safe. You can view the results here.
Do I need old versions of Samsung USB drivers?
Downloading and installing the latest version of the USB drivers is recommended, as it supports the most recently released Samsung phones and tablets like the Galaxy S20, Galaxy Note 20, Galaxy Tab S7, etc. Further, they also ensure maximum compatibility across all Windows OS versions.
In case the latest version fails to recognize your particular device, then you might need to remove it and install one of the previous versions of the USB drivers.
Source: Samsung Developers Portal