Frija is a utility software that lets you check and download the latest official stock firmware for Samsung Galaxy smartphones and tablets easily. It is also a new and updated alternative to the renowned SamFirm Tool. You can download the latest version of the Frija Tool from here and follow the instructions on how to use the tool to download the latest Samsung Stock Firmware.
Flashing stock firmware on your Samsung Galaxy device could be helpful in various scenarios. For instance, it can help you restore your device to its factory state, fix software issues, recover your device from a bootloop, etc. Moreover, you can also flash the stock firmware to manually upgrade your device to the latest software/Android version. We already have a detailed guide on how to install stock firmware using Odin.
But you'd need a stock firmware file for that. So, how and where can you download it? Finding stock firmware for Samsung Galaxy devices isn't that difficult. You can just Google for it and you'll be pointed to reputed online databases like SamMobile, SamFrew, Updato, etc. These databases are very reliable and constantly updated with the latest stock firmware files for all Samsung Galaxy smartphones and tablets. However, the only little snag is that the download speed is a little slow (actually, very slow) when using the "Free" service.
If you ask me, I don't blame them. The huge number of Samsung devices and their corresponding firmware files require a lot of space on servers (also known as "hosting"). And trust me when I say, it's very costly. And that's why they'd need users to opt for a premium membership plan.
So, how can you download Samsung stock firmware at faster speeds for free? Enter "Frija Tool".
Table of Contents
What is Frija Tool?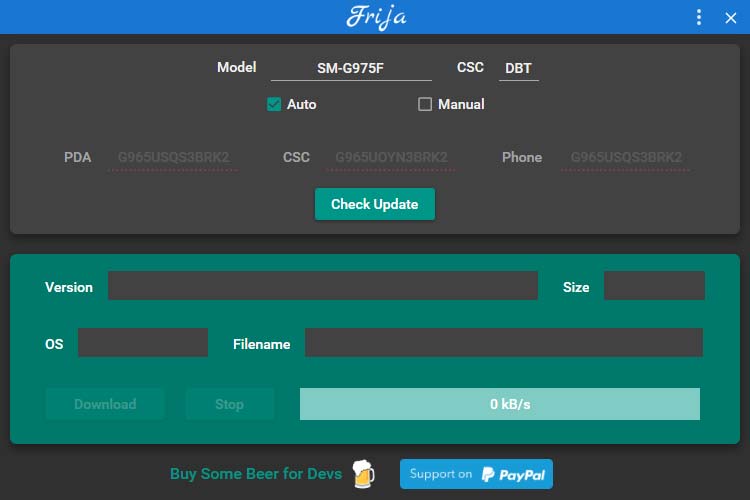 Frija Tool is a Windows utility software that lets you check and download the latest stock firmware for Samsung Galaxy devices at high speeds. The tool is primarily developed by XDA Senior Member wssyncmldm with contributions from other forum members including CrazyApe and eragon5779.
According to the original poster at XDA forums, the tool was named after "Frija", who was the wife of "Odin" (Samsung's Firmware Flashing Software) in Norse mythology. Frija Tool is also considered as a true successor to the SamFirm tool, which was deprecated long back, but still works to this day.
The tool downloads the latest stock firmware directly from Samsung Firmware Update Server (FUS). For increased functionality, it can also pause/resume firmware downloads even if the network connection is interrupted or if the software is restarted.
The user interface of the tool follows the Google Material Design, which surely looks and feels more up-to-date. It also offers a dedicated "Night Mode" feature that turns the complete UI of the software to darker colors, for a better viewability experience at night. It also includes an in-built updater that could allow you to update the tool itself when an update is available.
To sum up, Frija is better than SamFirm in so many ways. It offers a better UI, can pause/resume downloads, has Night Mode, and can update itself.
Samloader is a great alternative to Frija/SamFirm that works on Linux, macOS, and Windows computers.
Download Frija Tool
Below we have provided the link to download the latest version of the Frija Tool, which is v1.4.3 as of 3 November 2020. We have also added links to all the previous versions as well just in case you need them.
While we will try the best to keep this page updated with the latest versions of the tool as they are released. However, we still recommend checking the official GitHub releases page to verify that you're downloading and using the latest version at all times.
Note: Versions below 1.4.2 might be detected as a virus by antivirus software or Windows Defender. However, it is a false positive as explained by the developer himself in this post.
Frija is a portable tool, which means you don't need to install it on your PC. Just download the latest version of the tool from the link above, extract the downloaded zip file and launch the tool by double-clicking on the "Frija.exe" executable file. It supports any Windows PC with 32-bit (x86) and 64-bit (x64) architecture.
How to Download Latest Samsung Stock Firmware using Frija Tool?
First, download the latest version of Frija Tool on your Windows PC.
Extract the downloaded zip file (e.g. Frija-v1.4.2.zip) using an archive tool (WinRAR, 7zip, etc).
Now, enter your Samsung Galaxy device's model number in the input field next to "Model".

You can find the device's model number on the retail box or by going to "Settings" → "About phone" on your device. Also, make sure that you enter the full model number. For example: If the model number for the Galaxy S10+ is "SM-G975F". Then enter "SM-G975F" and NOT "G975F".

Next, enter your device's CSC (Country Specific Code) in the input field next to "CSC".

If you don't know the CSC of your Samsung Galaxy device, then you can easily find it using the Phone INFO SAM app.

Check the "Auto" checkbox in the tool's window.

Once you have entered the required information, click on the "Check Update" button.
Frija will check the Samsung firmware update server for the latest stock firmware for your Galaxy device. If it fails to find a firmware for your specific model and CSC, it may be because your phone's carrier does not use the Samsung server.
The firmware's info like version, size, OS, and filename will be displayed at the bottom of the tool's window.

Finally, click on the "Download" button to download the latest stock firmware for your Samsung Galaxy device using Frija Tool.
When prompted, select the location on the PC where you want to save the downloaded firmware file and click on "Save".

The tool will now start downloading the firmware at high speeds.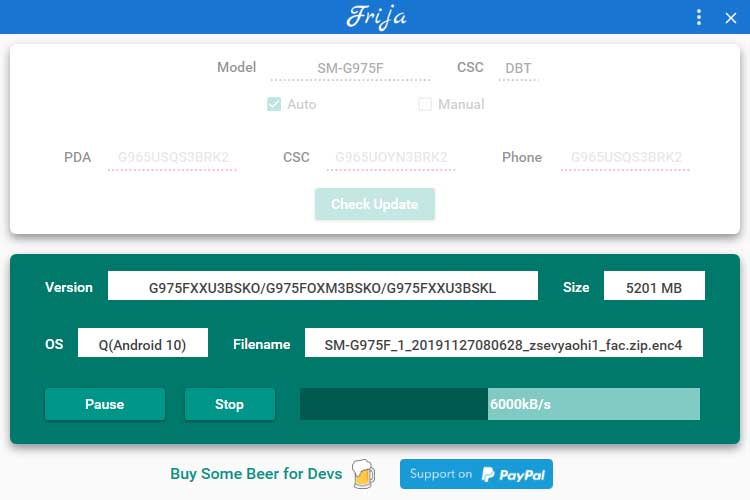 The stock firmware file that is downloaded from the Samsung servers is encrypted by default. So, once the file has been downloaded, Frija will automatically decrypt it and it will be saved to the location which you chose. You can then go ahead, put your Galaxy device in Download Mode, connect it to the PC, and use the Odin tool to flash the stock firmware.
If you face any issues with this tool, you can report it directly to the developer through the official XDA thread. Please make sure that you provide your phone's model number and CSC while reporting. If you're not sure how to find that info, then please download and use the Phone INFO SAM app from the Play Store.
So, you have just been able to download Frija Tool and use it to check and download the latest stock firmware for your Samsung Galaxy device. If you have any questions regarding the tool or its usage, please feel free to drop a comment below.