Samsung has finally released the stable Android 10-based One UI 2.0 update for Galaxy S10, S10+, and S10e, with G97*FXXU3BSKO and G97*USQU2CSKP software version for the Exynos and Snapdragon variants, respectively. The update is already rolling out to the official beta users as well as Android Pie users over-the-air. Through this post, you can download and install Samsung Galaxy S10/S10+/S10e Android 10 (One UI 2.0) update manually. This could be done by sideloading the OTA package via stock recovery (for beta users) or by flashing the Android 10 firmware using the Odin Flash Tool.
There's no doubt that Samsung really took things more seriously when it comes to software updates, especially the major ones. A month after Google released Android 10, the manufacturer announced the Android 10-based One UI 2.0 beta for the Galaxy S10 series, followed by the Galaxy Note 10/10+, and the Galaxy Note 9.
Ever since the commencement of the beta program, the Galaxy S10 device received multiple beta updates, and in quick succession more recently. This simply hinted how hard Samsung was working to release the stable update at the earliest. Well, they did succeed and Android 10 for Galaxy S10, S10+, and S10e is now rolling out to the beta and stable users in Germany, over-the-air. The update will expand to other regions in a few days or weeks.
Table of Contents
What's new in One UI 2.0 Beta for Samsung Galaxy S10 Series?
Now before you hop on to the download links and instructions to install Galaxy S10 Android 10 (One UI 2.0) update, take a bit of time to know what new features and changes this update brings.
One UI 2.0 is based on Android 10, which in itself brings a lot of new features to the said devices. To begin with, you will get the new gesture navigation system for a fully-immersive display experience. Moving on to one of the most anticipated features of Android 10 – System-wide Dark Theme. Samsung already had this incorporated in Android Pie-based One UI, but with Google's implementation, more and more third-party apps can now use Dark Theme. As we said, there are a lot of new features in Android 10.
This year, instead of adding any major new features, Samsung focussed on refining and polishing the old ones for improving the overall user-experience. While there's a lot that Samsung has improved in One UI 2.0, but have only covered the major ones below.
1. Focus on Task at Hand
One UI 2.0 incorporates a series of new changes that help you focus on the task at hand. These changes include the new minimized UI elements like caller notifications and volume bar, which are definitely less intrusive and allows you to focus your attention on the current task, without having to miss any important information. The size of the caller notification can manually be chosen from within the Phone app's settings.
Also, the time and date size in the Quick Settings area has been reduced to accommodate more toggles for better functionality.
2. Better Viewability Experience
Samsung already included a system-wide Dark Mode feature in One UI 1.1/1.5 based on Android Pie, but it was only limited to the Settings, QS toggles, Notifications bar, and certain apps. With One UI 2.0, Dark Theme further expands to the home screen to aid better viewability at night. It does so by adjusting the brightness of images, texts, and colors on the display.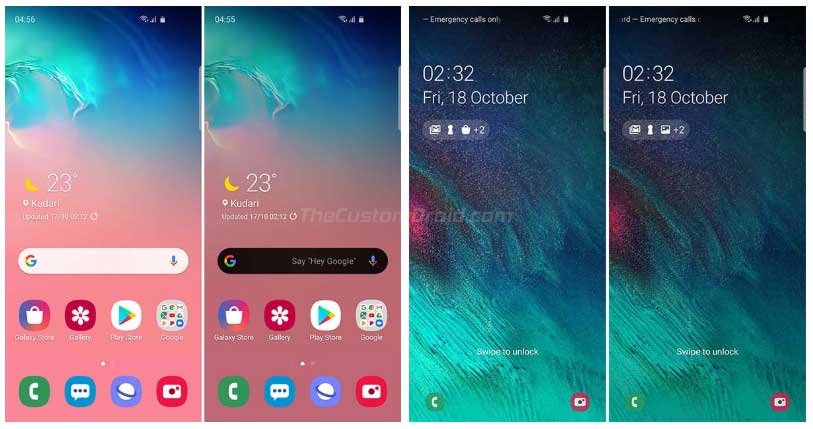 Another notable feature that aids better viewability in the software is the Smart Lock screen. The lock screen can now detect light and dark areas of the wallpaper to adjust the colors of texts and widgets. This makes the info provided on the lock screen much more legible.
'Device Maintenance' was renamed to 'Device Care' in One UI back with Android Pie. With Android 10, the Device Care menu has been redesigned and now shows four main categories (Battery, Storage, Memory, and Security), with the overall optimization score for your device at the top.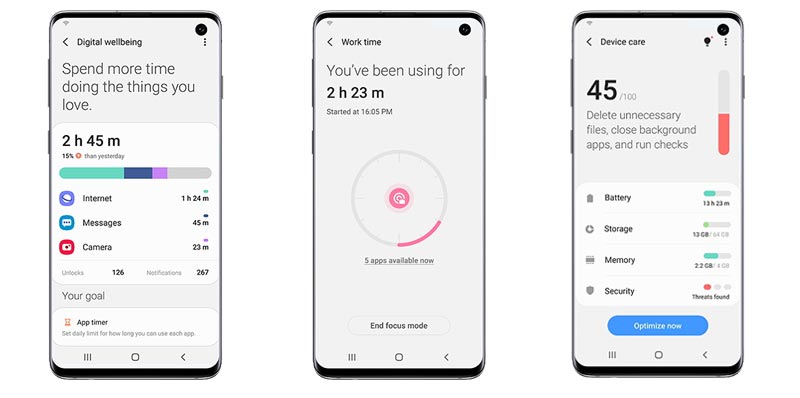 Furthermore, there's a new section at the top of the menu to provide you with tips that can help you keep your device optimized.
To sum up, there are a lot of changes in One UI 2.0 that help improve the overall user-experience. Taking the number of changes into consideration, Samsung has indeed done a fantastic job! If you're interested in all the small adjustments made by Samsung in this update, then we strongly suggest that you go through this post by SamMobile.
The stable Android 10 update is rolling out with 'G97*FXXU3BSKO' software version for the Galaxy S10 (SM-G973F), Galaxy S10+ (SM-G975F), and Galaxy S10e (SM-G970F). It also carries the December 2019 security patches, which is something that even the Google Pixel series is yet to get. Following is the complete changelog as provided directly by Samsung:
One UI 2 brings you Android 10, with exciting new features from Samsung and Google based on feedback from users like you.
We recommend that you back up your important data to keep it safe during the upgrade.
Some apps, including Calculator, Samsung Internet, Samsung Health and Samsung Notes, need to be updated individually after you update your OS.
Here's what's new.
Dark mode

Enhanced image, text, and color adjustments for day and night environments.
Darkened wallpapers, widgets, and alarms while Dark mode is on.

Icons and colors

Clearer app icons and system colors.
Improved layouts for titles and buttons to eliminate wasted screen space.

Smoother animations

Enhanced animations with a playful touch.

Full screen gestures

Added new navigation gestures.

Refined interactions

Navigate more comfortably on large screens with minimal finger movement.
Easily focus on what matters with clearly highlighted buttons.

One-handed mode

New ways to access One-handed mode: double tap the Home button or swipe down in the center of the bottom of the screen.
Settings moved to Settings > Advanced features > One-handed mode.

Accessibility

High contrast keyboards and layouts for large text have been improved.
Listen to live speech and display it as text.

Better text over wallpapers

See text more clearly against wallpaper, as One UI automatically adjusts font colors based on light and dark areas and color contrast in the image below.

Media and devices

Replaced the SmartThings panel with the Media and Devices.
Media: Control music and videos playing on your phone as well as other devices.
Devices: Check and control your SmartThings devices directly from the quick panel.

Biometrics

Added options for showing the fingerprint icon when the screen is off. You can choose to show it whenever you tap or keep it visible when the Always On Display is shown.

Device care

The battery usage graph now provides more detailed information.
Added battery limit setting and other enhancements for Wireless PowerShare.

Digital wellbeing

Set goals to keep your phone usage in check.
Use Focus mode to help avoid distractions from your phone.
Keep an eye on your kids with new parental controls.

Camera

Added the ability to edit the modes that appear at the bottom of the screen.
Provided a More tab so you can quickly access hidden modes from the preview screen.
Improved the layout so you can focus on taking pictures without the settings getting in the way.

Internet

Customize the quick menu to get instant access to the features you use the most.
Get more information from the app bar.
Install add-ons from the Galaxy Store to get even more features.

Samsung Contacts

Added Trash feature for Contacts. Contacts that you delete will stay in the trash for 15 days before being deleted forever.

Calendar

Stickers can be added to a date without creating an event.
Ringtones can be used for event alerts.

Reminder

More options are available for repeating reminders.
Set location-based reminders for a specific period of time.
Share reminders with your family group and other sharing groups.
Set reminders for a specific date without an alert.

My Files

Created a Trash feature so you can restore files if you delete something by mistake.
Added more filters you can use while searching to help you find things quickly.
You can now copy or move multiple files and folders to different destinations at the same time.

Calculator

Added speed and time units to the unit converter.

Connected car

Android Auto is now preloaded.

Tips

Added tips to help you get the most from your Galaxy.
Like we mentioned earlier, the update is only currently available for S10 series users in Germany. If you're in the said region/country, then go to 'Settings' → 'Software update' → 'Download updates manually' on your device to check for the OTA update notification. If you still haven't got the notification or your device is from a different region/country, then you can download Android 10 (One UI 2.0) firmware for Galaxy S10/S10+/S10e from below and install it manually to upgrade right now.
Important Notes:
If you didn't enroll your device in the official beta program and installed the beta software manually using our guide, then it is very important that you update using the instructions below. Users who installed the beta software without enrolling in the official beta program will not receive direct OTA updates to the stable release.
Installing the Android 10-based One UI 2.0 update on your S10 using the instructions in this post will not trip the KNOX counter or void your phone's warranty. So stay out of worries.
Prerequisites
Take a full backup of all your data first. While none of the described methods will erase any data on your S10, it is strongly recommended that you take a backup to safeguard your data in case anything goes wrong.
Charge your phone to a sufficient battery level to avoid any interruptions during the update process.
For Method 1 (OTA), your Galaxy S10 device must be on One UI 2.0 Beta 7 (ZSKL) to be able to sideload the stable Android 10 (One UI 2.0) OTA package.
For Method 2 (Odin Firmware) only:

Install the latest Samsung USB drivers on your PC.
Download Odin v3.13.3 from here and extract the downloaded zip package to a suitable location on your PC.
Download Galaxy S10/S10+/S10e Android 10 (One UI 2.0) Firmware
Since there are two ways to manually install this update, hence, there are two different types of firmware files available.
Update (17 December): Android 10 update for Galaxy S10/S10+/S10e users in the US and Canada is now available. You can download the Odin firmware from the links below or use the SamFirm/Frija tool for faster download speeds.
OTA Package
This is the Android 10 (One UI 2.0) OTA package that can be installed using the stock recovery. Make sure to rename the downloaded file to "update.zip".
A huge thanks to XDA Senior Member henklbr for sharing the download links to the OTA packages!
Odin Firmware
This is the Android 10 (One UI 2.0) Odin firmware that can be installed using the Odin Flash Tool. Note that the Odin firmware is only available for Germany (DBT) region with multi-CSC OXM. The firmware is now available for various regions. You can download it easily using Frija Tool.
Note: If you face any issues with the download speeds with regards to the links above, then you can alternatively use SamFirm tool or Frija Tool to download the Android 10 Odin firmware for your S10 device.
Samsung Galaxy S10
Samsung Galaxy S10+
Samsung Galaxy S10e
How to Install Android 10 (One UI 2.0) Update on Galaxy S10/S10+/S10e
You can manually update your Galaxy S10/S10+/S10e to Android 10 using two different methods. The first method will help you update your phone by manually installing the OTA package via stock recovery. The second method will guide you to flash the Android 10 firmware using Odin Flash Tool.
Make sure that you use the method corresponding to the type of firmware file available for your device model number.
Method 1: Install Android 10 OTA Package using Stock Recovery
Download Android Pie (One UI 2.0) OTA package for Samsung Galaxy S10/S10+/S10e.
Connect your phone to the PC and transfer the downloaded zip package to the root of your SD card.
Disconnect the device and power it off completely.
Hold the Volume Up, Bixby, and Power buttons together to enter stock recovery mode on your Galaxy S10 device.

In stock recovery, use the Volume buttons to highlight "Apply update from SD card" and select the option using the Power button.
Navigate to the SD card and select the Android 10-based One UI 2.0 OTA zip package (update.zip).
Finally, select "Yes" to install Samsung Galaxy S10/S10+/S10e Android 10 Update.
When the sideloading process finishes, select the "Reboot system now" option.
Method 2: Flash Android 10 Firmware using Odin Flash Tool
Download Galaxy S10/S10+/S10e Android 10 (One UI 2.0) firmware.
Extract the downloaded firmware file on the PC.
Power off your phone completely.
While holding the Volume Down and Bixby buttons together and, connect the phone to the PC using the USB cable.
On the warning screen, press the Volume Up button to enter Download Mode on your Galaxy S10 device.

Open the folder where the Odin 3.13.3 zip file was extracted.
Double-click on 'Odin3 3.13.3.exe' file to run the Odin Flash Tool.

The 'ID:COM' port should light up ensuring that your phone is successfully detected by the tool.
Now, click on the 'BL' button in Odin and select the firmware file starting with 'BL_G975FXXU3BSKO' for S10+, 'BL_G973FXXU3BSKO' for the S10, and 'BL_G970FXXU3BSKO' for the S10e.
Do the same for 'AP', 'CP', and 'CSC' and select the corresponding firmware files.

In the case of 'CSC', make sure to select the 'HOME_CSC' instead of the regular CSC file.

Once all the files have been selected, click on the 'Options' tab in Odin.

Make sure that 'Auto Reboot' and 'F.Reset Time' options have been checked.
Finally, click on the 'Start' button to install Samsung Galaxy S10/S10+/S10e Android 10 Update.
After the installation finishes, you shall see the 'PASS!' message in the Odin tool window and your Galaxy S10 should reboot into the updated OS.
In case you do not have an external SD card, you can also alternatively install the OTA using ADB Sideload. Although not mandatory, we strongly recommend that you perform a factory reset from the stock recovery or via device settings. This shall avoid any unexpected issues after upgrading. Note that factory resetting will wipe all your data including the internal storage.
So, you have just been able to download and install Samsung Galaxy S10/S10+/S10e Android 10 (One UI 2.0) update. Now go ahead and try out all the new features in this update. If you have any questions regarding the installation process, then please leave a comment below.