In this extensive guide, we will show you how to install Samsung Stock Firmware using Odin flash tool on Galaxy devices.
People often tend to wander off to custom ROMs and root to add more features to the software. Well, that doesn't always work out for everyone. Some may prefer the stability of the OEM software (One UI/Samsung Experience in this case) or its simplicity. But it might take some time before one realizes this. Anyhow, if you do wish to roll back to stock Samsung firmware, then the process is quite easy. All you need is your phone, a PC, USB cable, stock ROM, and the Odin flash tool.
Before we proceed to the actual steps, let us turn our attention towards the tool that we will be using to install Samsung stock firmware on Galaxy devices.
Odin (commonly referred to as 'Odin Downloader' or 'Odin Flash Tool') is a tool for Samsung devices that allows you to flash the complete stock firmware on your Samsung Galaxy devicewith ease. The firmware flashing tool is allegedly used by Samsung internally for flashing and testing stock firmware on Galaxy phones. The manufacturer, however, never released the tool out for the end-user. It was rather leaked to the public over the internet. It is a simple standalone executable only available for Windows. It inputs the firmware files in form of .tar or .tar.md5 formats. For the tool to work, your Samsung device must be connected to the PC in Download Mode. That's the basic methodology!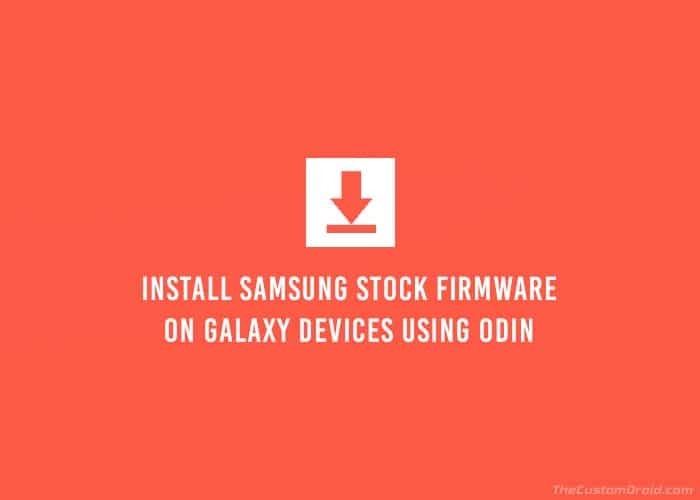 Despite the extreme simplicity of the available software and its usage, novice users are often able to brick their devices. We don't blame them! It's common when you're not much acquainted with a software. So to be able to help you with it, we have created this detailed guide on how to install Samsung stock firmware using Odin.
Now, why exactly would you want to install Samsung stock firmware/stock ROM? It can help a user in various situations. For instance, you might want to restore stock ROM on your rooted Samsung Galaxy device. Or, you might be selling your phone and would like to provide it in its factory state. Installing stock firmware using Odin can also help you manually update the phone to the latest software and can also help you fix certain software issues.
Table of Contents
Preparations
Before you head down to the steps to install stock firmware on Samsung Galaxy devices using Odin, make sure that you go through all the preparation steps.
1. Take a Backup
In almost all our tutorials, we recommend users to perform a complete backup of the device before proceeding. That's because manually tweaking with your phone's software, can often result in loss of important data, if performed incorrectly.
So, start off by taking a complete backup of the phone's storage. If your device is rooted, you can further take Nandroid backup using TWRP or use Titanium Backup to take complete backups of the installed apps and related data. You may want to read our extensive Android backup guide for everything.
2. Install Samsung USB Drivers
In order to install Samsung stock firmware using Odin, you must first establish a proper connection between the Samsung Galaxy smartphone/tablet and the PC. If you've already got Samsung Kies installed on your PC, then make sure that it is completely closed when you use Odin. Kies often tend to disturb the phone's connection with the Odin tool and thus could affect the process in between, which may also soft brick the phone.
If you've not yet installed the suitable drivers on the PC, then you can easily download standalone Samsung USB driver and install it.
3. Charge your Samsung Device
Right before you get to flashing, make sure that you charge your Samsung Galaxy device to at least 60% battery level. Why? You definitely wouldn't want the device to shut down in middle of the flashing process. It would eventually end up in a brick or a permanently irrecoverable state.
4. Download Odin Flash Tool
Finally, download the latest version of the Odin tool. For certain Android OS versions, you may need to download the recommended version too. For example, Odin v1.85 for Gingerbread/ICS, Odin v3.09 for JellyBean/KitKat, Odin v3.12.10 for Nougat/Oreo, etc. For any latest Android version like Android 10/Android 9 Pie, you can download the latest Odin v3.14.1.
5. Boot Samsung Galaxy Device into Download Mode
On almost all Android phones/tablets, the flashing procedure is generally carried out in fastboot/bootloader mode. But when it comes to Samsung Galaxy devices, you're supposed to reboot into Download Mode. The process is fairly simple and unique across almost all major Samsung Galaxy devices. It is only slightly different for newer devices such as the Galaxy S10/S10+/S10e, Note 10/10+, S9/S9+, and Note 9. Both the methods have been laid down below.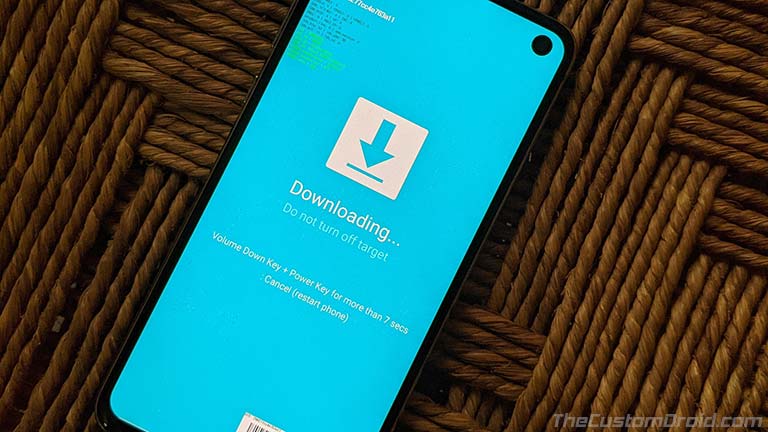 First, power off the phone completely. Next, hold the Volume Down + Home + Power button simultaneously for older Galaxy devices with capacitive buttons. For newer phones, hold the Volume Down + Bixby + Power button. Keep holding the keys for 3-5 seconds. Once the warning screen appears, simply press the Volume Up key to enter Download Mode.
Once you have fulfilled all the requirements, go ahead and follow the instructions to install Samsung Stock firmware on Galaxy devices using Odin.
Download Samsung Stock Firmware
Odin-flashable firmware is available all over the internet via various renowned sources. We have listed a few of them here. You can simply search the index for your device model and download the desired stock ROM/firmware for your region/carrier.
You can also download latest stock firmware using Frija or SamFirm Tool. Do not download firmware for a different device/variant/carrier. Only flash compatible firmware meant explicitly for your Samsung Galaxy device.
 How to Install Samsung Stock Firmware using Odin?
Download Samsung stock firmware (*.zip) for the device.
Extract the downloaded firmware ZIP to an easily accessible location on the PC.
Extract the Odin ZIP (e.g. Odin3_v3.13.1.zip) to an easily accessible location on the PC.
Open the extracted folder (e.g. Odin3 v3.13.1) and double-click on 'Odin3.exe' file.
Connect the Samsung Galaxy device to the PC while it is in Download Mode.

The COM port should light up in the Odin window.
Click on the 'AP' button and select the firmware file starting with AP.
Do the same for 'BL', 'CP', and 'CSC'.
Note that the regular CSC file will completely wipe the device. In order to preserve the data, simply select the 'HOME_CSC' file.
Make sure that 'Auto Reboot' and 'F.Reset Time' are selected in the 'Options' tab. Leave everything else as it is.

When everything is ready, click on the 'Start' button to install Samsung stock firmware on your Galaxy device.
The flashing process will take a few minutes to complete.
When finished, you shall see the 'PASS!' message and the device will reboot automatically. After that, you can disconnect the phone and close the Odin window. Once your Samsung Galaxy device boots, go through the initial setup by following the on-screen instructions. You can further follow the troubleshooting section in case you come across any issues while flashing stock firmware.
Troubleshooting
The device is not detected by Odin/COM port doesn't lighten up – Make sure that you Kies is disabled and you have properly installed Samsung USB drivers. If even that doesn't work, try using a different cable or switch between the USB ports on the PC.
See a 'FAIL!' message in Odin – This could be due to multiple reasons. You may not be using the correct firmware/Odin tool, or the USB connection could be faulty. Simply force shutdown the device and refollow the procedure from step #1.
The device enters a bootloop/doesn't go past the Samsung logo – In case you face a bootloop after the installation or any other software misbehavior, simply reboot into the stock recovery and perform a factory data reset. To do so, power off the device first. Then hold the Volume Up + Home/Bixby + Power keys altogether for a few seconds. On the 'No command' screen, hold the Power button and tap the Volume Up key once. Once in stock recovery, select 'Wipe data/factory reset' button and confirm.
The process was pretty easy, right? Even if it was not for the first time, it will be easy once you get hold of the complete procedure. So, you have just been able to install Samsung stock firmware on Galaxy devices using Odin. If you have any questions, leave them down in the comments.