Through this page, you can download all Nokia 7.1 OTA software updates released till now. This includes the latest Android 10-based December 2020 security update with the "V4.15K" software build/version number. Further, you will also learn how to manually install the provided OTA files on your Nokia 7.1 using the stock recovery. These are compatible with all models of the said phone, including TA-1085, TA-1095, TA-1096, TA-1097, and TA-1100.
Released in October 2018, the Nokia 7.1 is a mid-range smartphone in HMD's Android One lineup. Being a part of the Android One program, the phone is guaranteed to get 2 major Android version upgrades and continuous monthly updates for three years since its release. The phone was released in 2018 with Android 8.1 Oreo out-of-the-box and received its second major Android upgrade as Android 10 back in December 2019.
Manually Installing OTA Updates on Nokia 7.1
Software updates for the Nokia 7.1, like any other Android phone, are rolled out over-the-air. And due to the nature of these OTA updates, they are rolled out in phases, which is influenced by factors like regions, carriers, etc.
And so, when the original equipment manufacturer (HMD in this case) releases a software update for your phone, it could take some time before it's actually available for your specific unit. This time period could range from a few days to weeks.
But you can skip the waiting, and manually upgrade your phone to the latest software version right away. This could be done by download and manually installing (sideloading) the OTA update ZIP file on your Nokia 7.1 using the in-built stock recovery. Manually updating your phone using this method doesn't require you to unlock the bootloader or do anything else that could affect your phone's integrity.
Through this page/repository, you can download all Nokia 7.1 OTA update packages, including that of the latest December 2020 security update from here, and further follow the provided instructions to manually install it.
Prerequisites
Nokia 7.1 OTA Updates Download Links
Below, you will find direct links to download the OTA packages of the all software updates for the Nokia 7.1 (codename: CTL_sprout) released till now. These packages were captured directly from the official Google OTA servers. The links are listed in increasing order, so the latest one will be at the very bottom.
Note: You could also help us by capturing the OTA URL of an update when it arrives on your phone and sharing it with us. This would allow us to keep this page updated at all times with the new updates as they are released.
About OTA Updates
OTA updates are available in the following two forms:
Incremental OTA updates: These can only be installed over a specific software version and are small in size. Most OTA packages of monthly security updates are incremental in nature. For example, V4.15K December 2020 security update can only be installed on your Nokia 7.1 only if it has the V4.15J November pdate installed.
Full OTA updates: These are much bigger in size and can be installed over any previous software version. Most major Android version updates are full OTAs. For example, the latest Android 10 update can be installed on your phone irrespective of the previous Android Pie software installed.
So, if you're installing a monthly security update over a previous one, take note of the current software version installed on your Nokia 7.1 first. You can get this info by going to 'Settings' > 'About phone' on your phone. Then download the OTA package of the next update accordingly.
If you're going to install a full OTA package like Android 10, then the installed software version doesn't need to be accounted for.
Latest: December 2020 Security Update (V4.15K)
Previous OTA Updates
1. April 2019 Security Update (V3.53A)
2. May 2019 Security Update (V3.53B)
3. June 2019 Security Update (V3.54E)
4. July 2019 Security Update (V3.54H)
5. August 2019 Security Update (V3.54J)
6. September 2019 Security Update (V3.54M)
7. October 2019 Security Update (V3.54N)
8. November 2019 Security Update (V3.54P)
9. Stable Android 10 Update (V4.08B)
10. December 2019 Security Update (V4.08C)
11. January 2020 Security Update (V4.08D)
12. February 2020 Security Update (V4.08E)
13. March 2020 Security Update (V4.08F)
14. April 2020 Security Update (V4.08G)
15. May 2020 Security Update (V4.15C)
16. June 2020 Security Update (V4.15E)
17. July 2020 Security Update (V4.15F)
18. August 2020 Security Update (V4.15G)
19. August 2020 Security Update (V4.15H)
20. October 2020 Security Update (V4.15I)
21. November 2020 Security Update (V4.15J)
How to Manually Install OTA Updates on Nokia 7.1?
To manually install software updates on your Nokia 7.1, you will need to sideload the OTA zip package via the stock recovery. The process is extremely simple. You just have to download the OTA update file, boot your phone into stock recovery mode, and enter ADB sideload command on your PC to sideload the OTA.
Follow the instructions below.
Note: When entering the commands provided below, make sure to precede them with a dot and backward slash ".\" in Windows PowerShell or with a dot and forward slash "./" in macOS/Linux Terminal.
Step 1: Install ADB on your PC
The first step of the process is to install and setup ADB on your Windows, macOS, or Linux PC. ADB is basically a command-line tool used for debugging and other purposes like sideloading updates in this case.
So, start by downloading the Android platform-tools package according to your PC's operating system from below.
Once you have downloaded the package on your PC, all you have to do is extract the ZIP file using an archive tool like 7-Zip. The extracted "platform-tools" folder should contain the required ADB binary and other related files.
To make it easier to access, move the 'platform-tools' folder to the root of the C:\ drive, if you're using a Windows PC, or to the 'Documents' directory if you're using a Linux or Mac PC.
Step 2: Download the OTA Package and Move it to 'platform-tools' Folder
Now, download the OTA zip file of the software update that you want to install. Once downloaded, move the file to inside the "platform-tools" folder you extracted during the last step. This will allow the command-line to identify the OTA package while sideloading.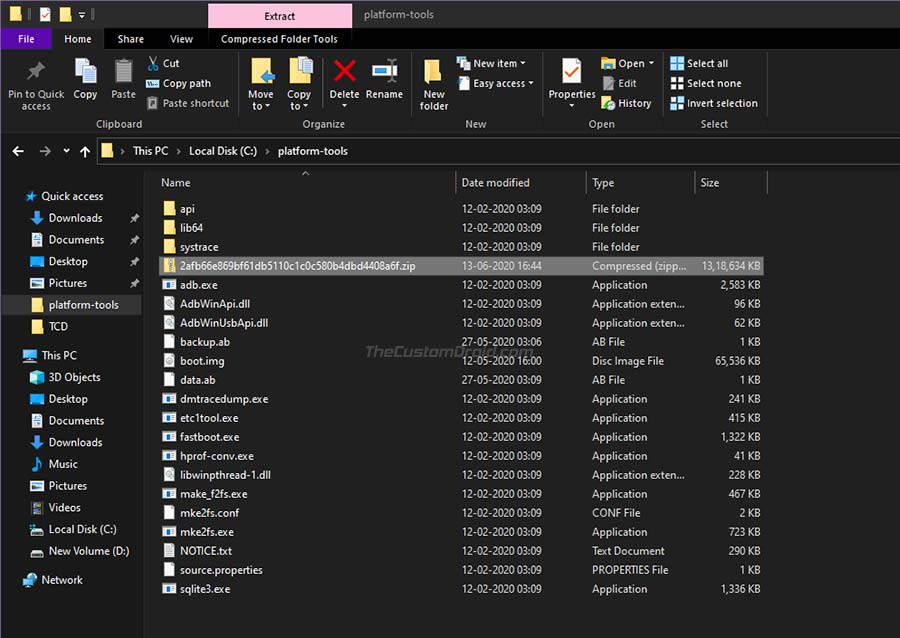 Step 3: Launch the Command-Line on your PC
With ADB and other platform-tools in place, you now need to launch the command-line window within the same folder. To do this:
Once you have done this, your PC should be completely ready to sideload the OTA package.
Step 4: Verify ADB Connection between the phone and PC
Enable USB debugging on your Nokia 7.1 now and connect it to your PC via a USB cable. Next, enter the following command in the PowerShell/Terminal on your PC to ensure that your PC can communicate with your phone over the ADB interface:
adb devices
Select 'Allow' if you see a prompt on your phone's screen to allow USB debugging.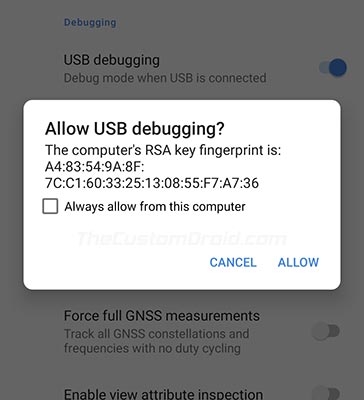 The command should return a unique device ID. In case it doesn't, it means that the proper ADB drivers are not installed, in which case, you can download and install them from here.
Step 5: Boot your Nokia 7.1 into the Stock Recovery mode
Now, to install the OTA update, you have to boot your phone into the stock recovery mode. To do this, simply issue the following command:
adb reboot recovery
Your Nokia 7.1 should now automatically boot into the stock recovery mode and you should the 'No Command' screen with an Android bot as shown in the figure below. To enter the stock recovery, simply hold the Power key and tap the Volume Up key once.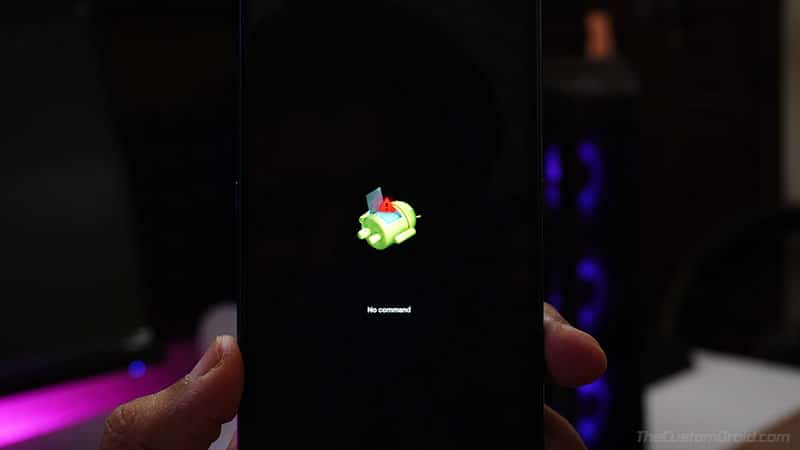 Step 6: Enable ADB Sideloading in Stock Recovery
For the stock recovery to accept the OTA installation, you must enable ADB sideloading. To do this, use the Volume keys to move the selector to 'Apply update from ADB' and press the Power key of your phone to confirm the selection.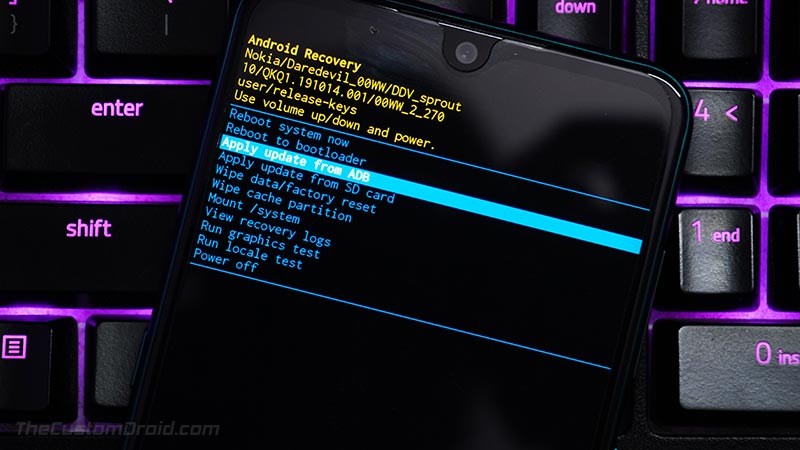 Step 7: Sideload the OTA Update on your Nokia 7.1
Now, enter the following ADB command in PowerShell/Terminal to start sideloading and install the OTA update on your Nokia 7.1:
adb sideload ota-filename.zip
Here, "ota-filename.zip" needs to be replaced with the actual filename of the OTA package you're sideloading. For instance, if you have downloaded the OTA file of the latest December 2020 security update, then the command should look like the following:
adb sideload 5befa1a6317870fb71204b35e53b23a2e2ec8047.zip

As soon as you enter the command, the stock recovery will begin the OTA installation. The progress for the same should be shown at the bottom of your phone's screen. The process could take from a couple of seconds to a few minutes to complete, depending upon the size of the file. So, leave the USB connection undisturbed.
Step 8: Reboot your Phone into the Updated OS
Once the update has been installed, use the Volume keys to move the selector to 'Reboot system now' and confirm it by pressing the Power key.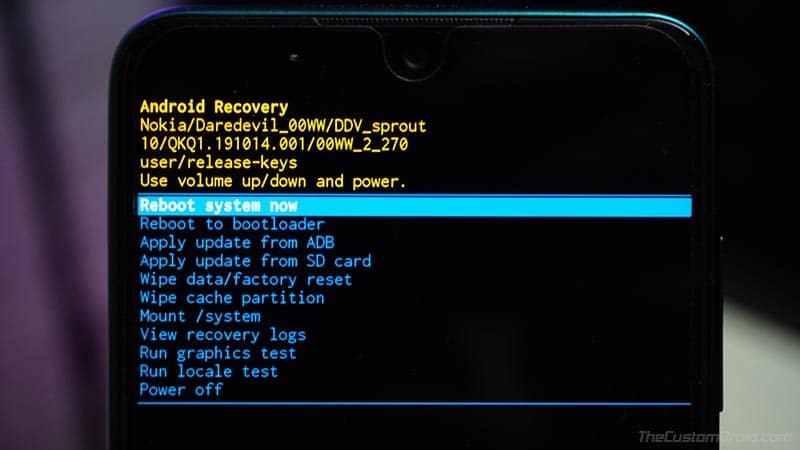 That's it! You have just successfully updated your Nokia 7.1 to the latest software version by sideloading the OTA package. You could repeat the same process to manually upgrade your phone every time a new update is released. We will give it our best to keep the download links up-to-date.
If you face any problems while following the instructions in this guide or have any questions regarding the whole manually updating concept, please feel free to ask us. Please don't forget to share the exact software version number currently installed on your phone while seeking help.
Enjoy your updated phone now!