We all fancy the Huawei-built Google Nexus 6P, not just for its premium design or latest software, but also for the new features that it has to offer.
If you have already bought the Nexus 6P, you must be familiar with all its new features, like the Nexus Imprint, Double-tap power button to launch Camera, USB Type-C support, Smart Burst, charging other phones using the 6P, Pedometer, etc. But there is something that has been hidden from your eyes, even to mine, until recently.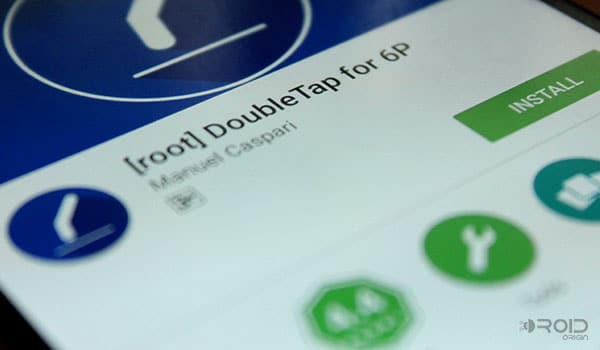 This is the infamous Double Tap-to-Wake feature, which you might be aware of if you have a history with custom ROMs. Earlier, before the Nexus 6P and Android Marshmallow, this very feature was available through custom kernels, that needed to have a specific module enabled. Knowing that the 6P embeds an AMOLED screen panel, Google did decide to push this feature to its latest Nexus smartphone. However, the information was never disclosed publicly.
There may be a good chance that you have discovered this feature somehow, but Manuel Caspari did notice this surely and developed an app, which will help you enable Double Tap-to-Wake on Nexus 6P within a single-click. The app is called DoubleTap for 6P, which is already available on the Google Play Store. The feature was kept a secret, I think, but this very app will enable it easily by changing the values of a single file in the kernel configuration. The one and only requirement of this app is that your Nexus 6P should be rooted (If you haven't rooted yet, click the link below). No, this won't work if you have a non-rooted device.
Read – Unlock bootloader, Install TWRP and Root Nexus 6P
Enable Double Tap-to-Wake on Nexus 6P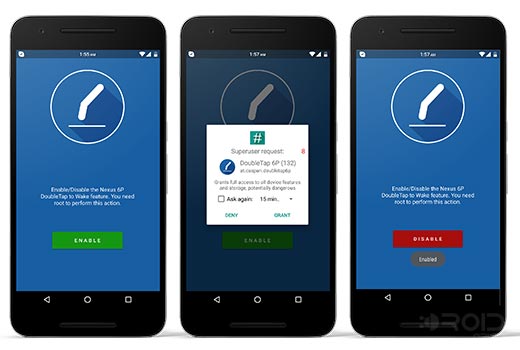 Download and Install DoubleTap for 6P from the Play Store.
Go to the app drawer and run the app.
Now, tap on ENABLE to activate Double Tap-to Wake on Nexus 6P.
Just as you tap, SuperSU will prompt you, so simply select GRANT.
That's it!
If you want to disable Double Tap-to-Wake on Nexus 6P for some reason, just open the app again, and click on DISABLE. We thank Manuel for making it a lot easier for everyone and saving the trouble to manually edit the file, which would again be a hectic process. Now, just go ahead, and try it.