Today we are not talking about the regular Mozilla Firefox browser, but a more sophisticated browsing mechanism dedicated towards the user's privacy. It is known as "Firefox Focus" and was first announced during November 2016 for the iOS. The browser is still not officially available for Android, but it seems like we have beaten all odds and can now install Firefox Focus on Android.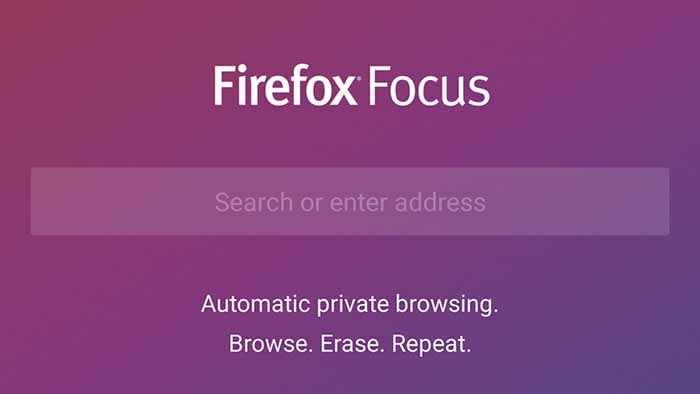 Firefox has always been the browser that experiments with new features every now and then. Of course, it wants to stay in the limelight, but only on strong grounds. Take "Reader mode" as an example, that has been baked into the browser for long. It is a feature that provides you a less distractive reading experience. And Firefox was one of the first few who brought that feature to the public.
In a similar manner, Firefox Focus is a unique concept too, especially for those who are utterly concerned with their browsing experience and wanna leave no trace. You might want to plan a weekend surprise for your wife but would never want the stupid synced-history and searches to ruin everything. This is where Focus kicks in and provides you the simplest and ultimate private browsing experience.
About Firefox Focus
Firefox Focus is Mozilla's attempt to create a very simple, free, and private way of browsing the internet without much hustle. With it, you wouldn't need to switch between menus and settings to enable a secure browsing environment.
It offers a plain user interface with no menus, tabs, or pop-ups. Just a single window to get it all done and a button to erase the complete session, all at once. Focus easily blocks any trackers that would try to take hold of your data for analysis or any other purpose whatsoever. This not only makes browsing more private but also tends to boost the website performance.
It's quite obvious that Mozilla already has plans to bring Firefox Focus to Android. You can tell it by the Focus repository available on Github.
Also read: How to Download Android Apps Outside Play Store
Install It On Your Android Now
Since the code was available publically, XDA member lexcyn took the liberty and made the effort to compile an APK for us. We appreciate his work and would like to credit him for the whole Focus scene on Android.
You can grab the APK directly from here. Make sure that the "Unknown sources" option underSettings > Security, is switched ON.
Once installed, the rest is pretty simple. Just run Firefox Focus and you will see a very minimalist homepage with the address bar. You can start by searching for something or entering a URL. When you're done, all you need to do is tap the icon on the bottom-right of the screen. The browser will instantly wipe your searches, page history, cookies, and passwords. So as the tagline states, all you have to do is "Browser. Erase. Repeat.". It is as productive, as cool it is to hear it.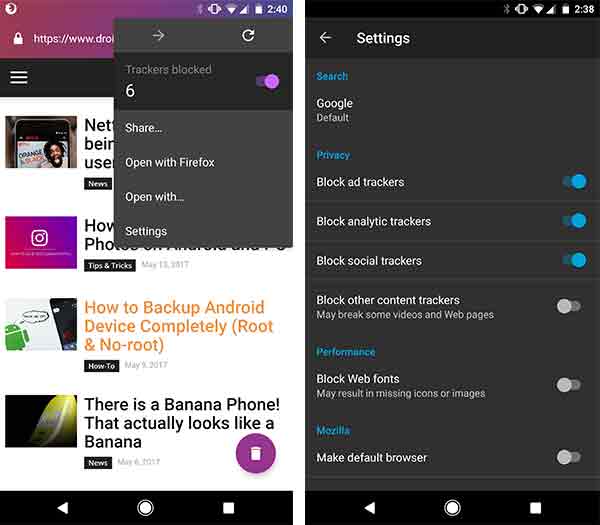 While browsing, you can tap on the menu (3-dot) button to see how many types of trackers are currently being blocked from a web page. You can also access the settings and tinkle around several options like default search engine, optional blocking choices, etc.
Let us know if you like this app. Does it help you at all with your private browsing experience? Drop a comment below. And don't forget to share this article with your friends on social media.