The primary source of most of our third-party apps is the Play Store, and these apps tend to seek various sorts of permissions on the device. But are you absolutely convinced that these permissions are only being used for the correct and stated purpose? I mean, how do we know. While Android is completely open-source, most apps that run on it are not. So how do you or someone else could inspect an app's code for any malicious activity? You can not! So the last resort is that you have to put a blind faith in the developer and Google's own security norms. But wait, there's a well-trusted way to download Android apps outside Play Store and it's through "F-Droid".
Am I paranoid? No, but a little bit of paranoia is expected when your personal data is being accessed by a random app.
F-Droid Lets You Download Android Apps Outside Play Store
F-Droid is a non-profit project which is developed and designed to provide Free and Open Source Software (FOSS) on the Android platform. You may consider it as a market or repository, that allows you to download Android apps outside Play Store. Many of you would be surprised to know that it has been in existence since 2010; Yes! those are seven long years and yet it is not very popular among the users. It comprises of apps that are completely free and open-source, that allows you to analyze an app's code and even build the app from the ground.
Also read: Remotely erase data on a lost or stolen Android device with Eradoo [Free Promo Codes]
At the moment, there are almost 2000 apps built into the repositories, yet according to the source, the UX never changed since the last 6 years, until recently.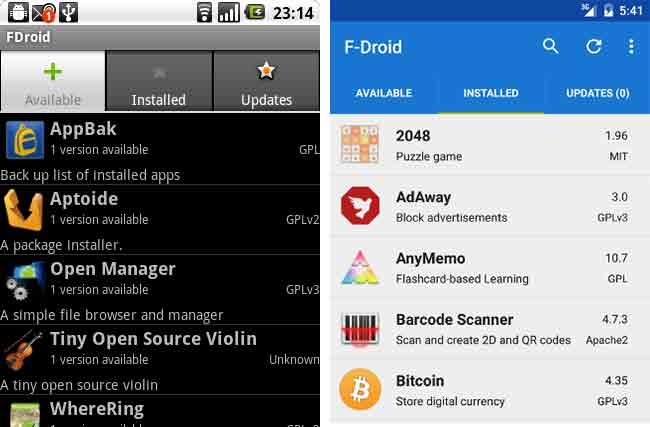 The latest update to the app brought some UI changes, syncing it with the modern design guidelines for a better user-experience. We appreciate the team for putting in the effort. The official changes are listed below:
Screenshots and feature graphics

Bulk download and install

Ability to translate apps metadata

Improved notifications for downloads and pending updates
In addition, some smaller parts of the apps are also being worked on, like better support for visually impaired users and better donation support for open-source app developers.
Download F-Droid – The Best Open-Source Play Store Alternative
Just like the Play Store, F-Droid has all its apps categorized for the ease-of-access. There are apps for both, the rooted and non-rooted users, which makes it even better.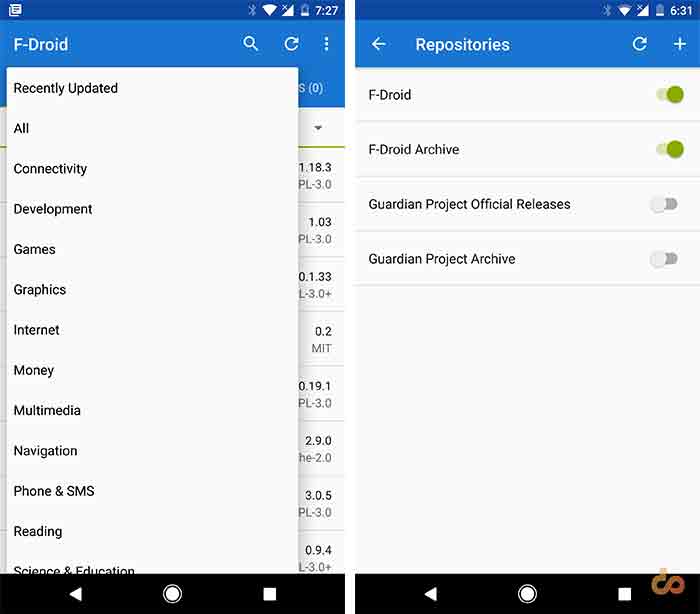 You can download the APK directly from the F-Droid website and install it manually. Once installed, you can launch the app and browse various categories for the app you need. F-Droid client is based on software repository, where all the Android app packages are gathered for the users to access. The app allows you to manage current repos and even add an external one.
The "What's New" filter in the drop-down menu offers you the list of latest apps that have been pushed to the F-Droid repo. The "Updates" tab in the app UI notifies you of the latest updates for the open-source apps installed on your device. So you don't need to search the web constantly, to find and install updates.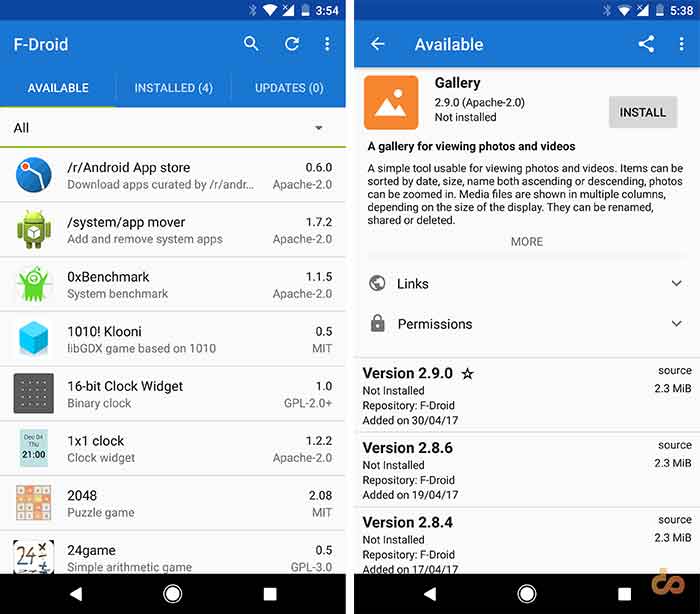 Each app window provides you the necessary links to the app's source code and also the permissions that the specific app would require. You can also download any previous package of an app. So you will not be forced to download the latest version of an app, and only use what feels appropriate.
If you are a developer, you can also submit your open-source app to F-Droid. Your feedback and input is highly valuable, so kindly provide it here.
I have been using F-Droid as a potential alternative to download Android apps outside Play Store and it has worked out pretty well. The latest update makes it even better. Let us know your opinion through the comments. And don't forget to share this article on social media, if you like the app.