Google I/O 2018 brought pretty new things to the table. Not just upcoming Android version 'Android P Beta', but new features and changes across all Google services. One of it that we're going to talk about today is the Google Assistant. The company's own virtual assistant has also received a lot during the past couple of days. One of the new things that we really look up to, is the ability to change Google Assistant Voice. This post is all about that!
Over the years, Google Assistant has reached out to almost all major devices around a user, be it a Smart TV, wearable devices, smartphones, Android Auto and what not. While the actions you could perform with the Google Assistant have significantly increased, there was something that stayed pretty much the same until now. During the recent Google I/O 2018 event, the search giant announced that it will add a couple of new voices to the Assistant. Well, it wasn't much later that the new voices were rolled out to the Android devices worldwide.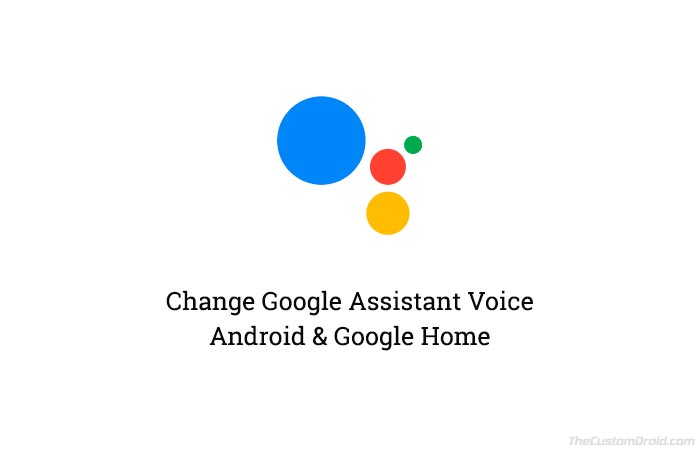 Now, the question arises, how do you actually change Google Assistant Voice on your Android phone and Google Home? No doubts, it is easy. But for those who still aren't able to figure that out, the steps below will help you with it. You can easily switch and activate a different voice for both your phone and Google Home. For the former, you can do it by visiting the Assistant settings on your phone. For the latter, you can do the same, but within the official Google Home app.
Note that you can only change Google Assistant voice on phones with Android 6.0 or above.
Table of Contents
New Voices in the Google Assistant
Ever since Google Assistant came to life, we were forced to stick with on single voice. It was in October 2017, that Google added the Male voice to the list. The company has now added 6 (six) new and different voices, each having its own tone. Which means you have now got a total of 8 different voices to choose from. We have gone through each one of them and the list below will give you an idea of how each voice sounds like.
Voice 1: The traditional female voice that we all have used earlier.
Voice 2: The traditional male voice that we all have used earlier.
Voice 3: The new female voice with a mid-range tone.
Voice 4: The new male voice with a mid-range tone.
Voice 5: The new female voice with a lower mid-range tone.
Voice 6: The new male voice with a lower mid-range tone.
Voice 7: The new female voice with a low tone.
Voice 8: The new male voice with a low tone.
Note that the voice you select for your phone will be the same across all your other devices registered with the same Google account. Currently, there is no way to assign a device-specific Assistant voice.
How to Change Google Assistant Voice on Android?
Long-press the Home button to launch Assistant.
Press the 3-dot menu button on the top-right.
Select 'Settings'.
Tip: You can easily hear the selected voice by simply tapping on it.
Once done, you can exit the settings and re-launch the Google Assistant and be greeted with the new voice that you just selected.
How to Change Google Assistant Voice on Google Home?
Launch the Google Home app on the phone.
Press the menu icon on the top-left.
Tap on 'More settings'.
Go to 'Preferences' and select 'Assistant voice'.
Change Google Assistant voice by pressing on one of the available voices.
The process is easy. All you have to do is access the Assistant settings and switch according to your choice. If your Home device is registered with the same account as that on the phone, then you cannot set different voices for either of them. Only once voice will be assigned to both.
It's quite nice to see that we are getting a more refined experience with our favorite virtual assistant. And not just that, Google will soon be adding 'Continued conversations' that will allow users to talk endlessly with the Assistant without saying "Hey Google" every time. Another great addition will be Duplex, that could eventually make your table bookings by answering the calls. That's definitely great, right?
So you were just able to change Google Assistant voice on the Android phone and Google Home. Don't forget to check out our post on 10 cool things to do with the Google Assistant.
Via: Android Authority