Can't install ViPER4Android on your device running Android 11/Android 10? Don't worry, it's a known issue. In this guide, we will show you how to install ViPER4Android on Android 11 and Android 10 Q using an alternative approach. The method used here is fully working and has been personally tested by us on two different OEM devices including the Pixel 3 XL on Android 10.
ViPER4Android (Abbreviated as "V4A") is one of the best Audio enhancing mods available for Android devices. And we already have a detailed tutorial on how to install it on any Android version, from 6.0 Marshmallow up to Android 11.
However, we have received reports that the original method sometimes fails to work on certain OEM devices. The problem? Basically the V4A drivers will fail to configure and prompt you to re-install them, again and again. This could probably be caused by the new changes implemented by device manufacturers in Android 11 and Android 10.
So, how can you install ViPER4Android on Android 11 or Android 10? Well, to be honest, the process is not the simplest one out there. It's pretty much a hit and miss process, but it has a very high success rate as per the reports we have received. It has been tested and confirmed to be working on Pixel 3/2 XL, OnePlus 6/6T (Thanks priba77 for confirming!), OnePlus 7/7 Pro, Xiaomi Mi 9T Pro (Redmi K20 Pro), Samsung Galaxy Note 10+ 5G, along with several other devices running Android 10 (Q).
First off, we would like to thank XDA member 1dopewrx05, who shared this method on the Pixel 2 XL XDA thread.
Table of Contents
Before You Begin
Before you head over to the instructions, make sure to fulfill all the requirements as stated below.
Your Android 10 device must be rooted with Magisk. If it's not rooted, then you can follow the instructions here on how to install Magisk or search our site's database for your device-specific rooting guide.
Ensure that you uninstall any audio modification library and any previous version of ViPER4Android that you might have installed earlier. Once uninstalled, reboot your phone and then only proceed ahead.
Instructions to Install ViPER4Android on Android 11 and Android 10
Download the latest ViPER4Android v2.7.1.0 APK from here.
Install the downloaded APK on your Android 11/Android 10 device using a file manager app.

Launch the 'ViPER4Android' app but do not install the drivers right now.
Open 'Magisk Manager' and go to the 'Downloads' section of the app.
Search and find the "Audio Modification Library" module and press the download icon next to it.

Tap on the 'INSTALL' button to install the module on your device.

Magisk module installer will prompt you to reboot but do not reboot your phone yet.
Now go back to the ViPER4Android app, tap on "OK" to install the required V4A drivers.

Grant the Superuser permissions to the app when prompted.
After the drivers are installed, the device will automatically reboot.
Once the device reboots, go to 'Magisk Manager' → 'Modules' and uncheck the 'Audio Modification Library' to disable it.

Now head back to ViPER4Android, repeat the driver installation process, and let the device reboot.
Once the device boots, launch the ViPER4Android app. Now, if the drivers are installed properly, you're done! If not, only then follow the steps further.
Go to 'Magisk Manager' → 'Modules' and re-enable the 'Audio Modification Library' module.

Open ViPER4Android, install the drivers when prompted, and let the device reboot.
Note: For some users, rebooting the phone after disabling the AML module in step #11 can help in the proper installation of V4A drivers (Step #12). Thanks to our fellow reader skythian for the tip!
Important Note: If your device ends up in a bootloop due to the incompatibility of drivers, you can simply follow this guide and use TWRP to remove the ViPER4Android module. This should certainly fix the bootloop issue. And so, you wouldn't have to go through all the trouble of re-installing the ROM and re-rooting the device.
This time, the drivers should be properly installed and ViPER4Android should be running on your Android 11/Android 10 device. You can now go ahead, enhance your phone's audio using the available controls, and unleash the audiophile in you.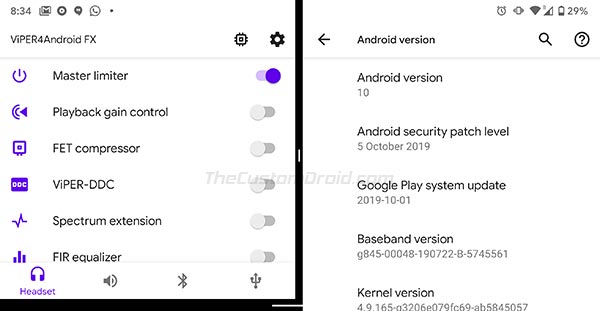 The method might seem a bit lengthy at first but isn't complicated at all. It seems like the installation of ViPER4Android and Audio Modification Library should be done in a specific order in order to make it work.
Alternative Method
If your device entered a bootloop following the above method, then we do have an alternative method to install ViPER4Android on Android 11/Android 10. This substitute method has been confirmed to work on Samsung Galaxy devices running Android 10 (One UI 2.0) and may work on other OEM devices as well, especially with custom ROMs installed.
Download the required files on your device:

ViPER4Android v2.7.1.0 APK: XDA Labs
Zackptg5's Rootless Driver Installer: v4afx-rootless_10.21.2020.zip

Go to the app drawer and launch the Magisk Manager application.
Press the menu icon and select 'Downloads'.
Search the module repository for the 'Audio Modification Library' module and install it. Do not reboot yet!
Now install the V4A APK file on your device using a file manager.
Once the application is installed, reboot your device into TWRP recovery mode.
Tap on the 'Install' button in TWRP and select the Rootless Driver Installer zip file (e.g. v4afx-rootless_03.17.2020.zip)
Swipe the button on the bottom of the screen to flash the file.
When the flashing process finishes, press the 'Reboot System' to reboot your device into the OS (system). You should now have V4A installed on your Android 11/Android 10 device.
Once the original developers of the mod pittvandewitt and MrWhite214 (Team_DeWitt) update it to support Android 10, we are certain that the installation will again be much easier and direct.
So, you have just been able to install ViPER4Android on Android 11 and Android 10 Q. If you have any questions regarding the process, make sure to ask us by commenting below. Make sure to include your device name (with the model number, if applicable) and the ROM you're using. We will try to the best of our knowledge to help you. Also, don't forget to let us know which ones of the above method worked for your particular device and ROM.
A huge thanks to all the readers who confirmed that this method works, and also to those who stuck around to help others!