OnePlus One has rocked the smartphone market ever since it was released in 2014. The phone by-default runs on Cyanogen OS – the most entrusted aftermarket firmware. We are well aware of all its features, and most of all, its update assurances. The phone has proved well, its efficiency and performance to all the other smartphones in its range.
One thing that OnePlus and Cyanogen take pretty seriously, is the user feedback. They work on them and provide their users with fixes through regular updates. The software distributor has now published the latest Cyanogen OS 12.1 OTA for the OnePlus One, which is based on Android Lollipop 5.1.1. The update is already available to the users as Over-The-Air update. But, if you're a bit skeptic about automatic update installation or may be just some who likes the manual way, then you can use our instructions to manually install the incremental update or the full update. This guide will help you update to Lollipop 5.1.1 by flashing Cyanogen OS 12.1 OTA on OnePlus One.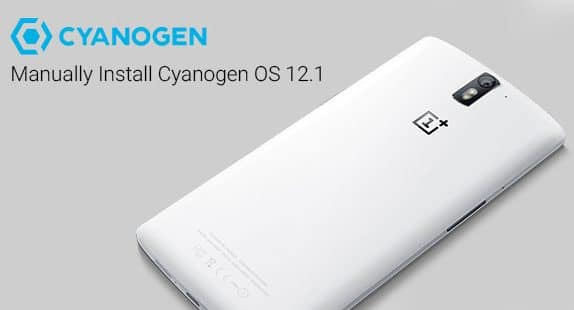 The update will upgrade your OPO to Cyanogen OS 12.1 (build: YOG7DAS2K1). The update fixes a  majority of security vulnerabilities related to stagefright on Android.
Please note that this incremental update should only be installed on the OnePlus One running Cyanogen OS 12 (Build: YOG4PAS3JL). However, the full update zip could be flashed on your OnePlus One running any of the previous builds.
Disclaimer
Updating your OnePlus One could be risky if done wrong. TheCustomDroid or any of its members shall not be held liable for any damage to your phone.
Prerequisites
The update process is time-consuming, so it is advised to charge your OnePlus One to at least 60% battery level, since the update may take 20-25 minutes to boot up fully.
Your OnePlus One should be running on the stock CyanogenMod recovery. To enable it, go to Settings > Developer options, and enable Update CyanogenMod recovery.
Backup your OnePlus One completely, including the storage, SMS, contacts, and calendars etc.
Install Cyanogen OS 12.1 OTA on OnePlus One
Download the update zip:
Connect your OnePlus One to the PC in MTP mode, and transfer the update zip file to the root directory (Not in any folder) of the internal storage.
Press and hold your power button for a few seconds until you see the power menu. Tap on Power off to turn off the phone completely.
Boot the phone into Cyanogen Recovery – Press and hold the volume down and power buttons for a few seconds until you see the OnePlus logo, and release the buttons thereafter.
Go to Apply update, and select Choose from internal storage now.
Navigate to the location of the update zip file and tap on it. The flashing procedure will begin automatically.
It will take a few minutes to complete. When it's done, tap on Wipe cache partition.
You can now select Reboot system now to boot your OnePlus One to the updated Cyanogen OS 12.1.
So now you have successfully Installed Cyanogen OS 12.1 OTA on OnePlus One.
That was easy but if you still come around a bump, be sure to comment below and let us know. Also, tell us how the update is treating your OnePlus One. Stay tuned until we get back with more tips & tricks for the OnePlus One.