We all know what comes up first when we tap the power button – "LockScreen". Lockscreen is as important as any other part of your Android device. And yes, it is not limited to a single design, it varies from device-to-device, and manufacturers too. Most users are influenced by the variety of lockscreen options or setups. So, let's explore the top five lockscreen apps, that may prove to be an efficient choice, for many.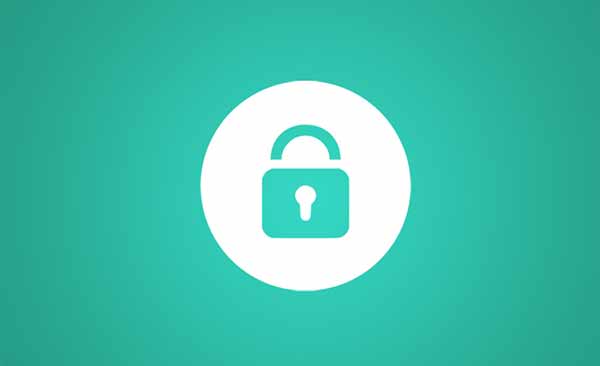 Nowadays people don't give much consideration to the major departments like space usage, clean-up methods, etc. Rather they pay their attention to the device's looks, which mainly comprise of the lock-screen, wallpapers, and home-screen. These simple factors contribute a lot to the user's personality and his taste.
LockScreen Apps are available in numbers, but which one of them have proved to be more efficient and deliver quality content? We will be discussing it below.
Table of Contents
Top Five Lockscreen Apps for Android
1. CM Locker
Price: Free
It is an attractive lock screen from Clean Master, which is pretty clean and crisp in its own way. It proves to be a good multitasker for any android user by monitoring notifications. It offers a direct approach to the selected apps, and also embeds an intruder alert, which can detect the person by clicking a snap directly through its camera. Just in case, if someone tries to unlock your device with an incorrect PIN, Pattern, or Password.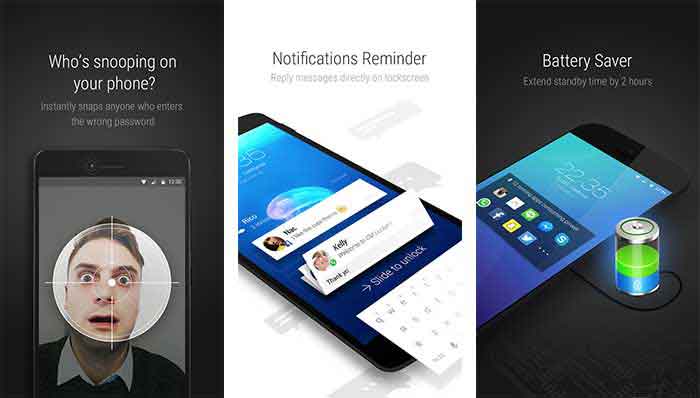 Android users have resources for their devices, which helps them to preserve a decent amount of battery. And here comes 'CM Locker' with the slide-to-unlock feature, similar to iOS, which is consistently saving power, by directly cleaning out the battery draining apps from the lockscreen. It offers both the PIN and Pattern unlock modes for your device.
Its efficient and easy to use.
CM Locker displays your notifications directly on to the lock screen, which can be easily personalized by the users. They can choose, how and when they want their notifications to be displayed on the lockscreen, and also enables them to set their own level of foremost privacy. It has a direct access to some of the selected tools which includes Phone Booster, Calculator, Flashlight, Wi-Fi toggle, Volume, Brightness, and others. You can add up the others according to your own preferences.
Over to the design, it is somehow a totally customisable lockscreen, which offers a whole lot of different additional theme designs. And believe me when I say, "The list is quite long, and includes design of all kinds". You can choose various backgrounds, or even set one of your images. It includes a few personalisation features, like changing the colour of the clock. The mentioned, may not be a huge convincer, but is still a nice and small feature to peek.
Download CM Locker-App Lock, Lock Screen
2. Solo Locker (DIY Locker)
Price: Free, with In-App purchases
Even though you are expanding your experience on Android, you should never stop having fun. Whatever be the age, a person will always have a little creative mind. So, here we are with a DO-IT-YOURSELF lockscreen app – "Solo Locker", which allows you to completely build your self-made lock screen.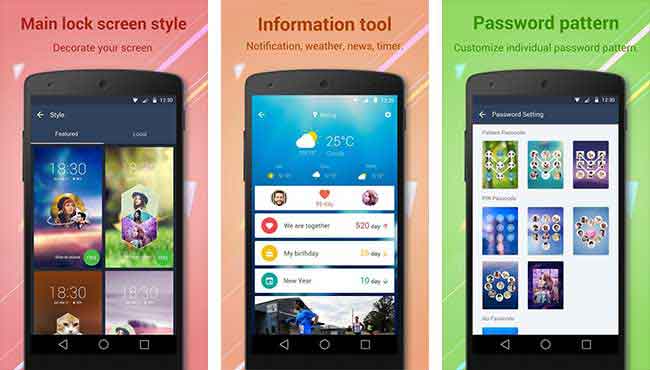 Being functional is fun!
There app offers a huge amount of options, which will intrigue you to use it. Options for passwords, PIN, and patterns are elected by most lockscreen apps. But here in Solo locker, you get par all the common stuff. You can make personalized patterns that displays the images of your like, from your device's gallery, and can also alter attributes like the colour and size. It lets you decorate your main screen with different arrangements, and provides variation in Password patterns, like Heart shape, Circular, Squares etc. Informative tool-Notification, weather, timer, wallpapers, number styles and much more are included too.
Download Solo Locker (DIY Locker)
3. C-Locker
Price: Free and Premium
C-Locker is famous for the various patterns that it provides, for unlocking your device. Generally, apps offer the slide-to-unlock or other options, which are way more common, but in C-Locker its offering Slide-to-unlock, Swipe-to-unlock, and other unique unlocking options. The app includes free wallpapers to match your lockscreen style, which won't even cost a dime.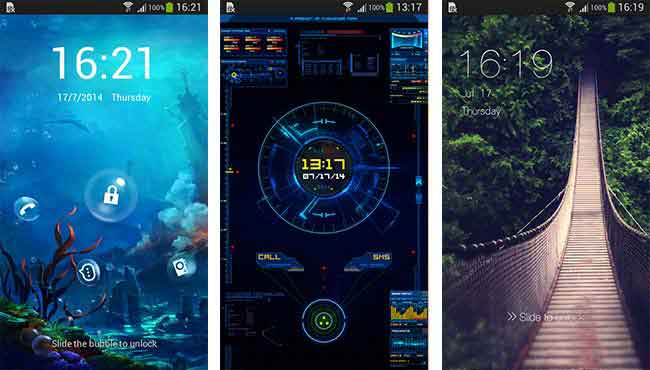 Things you can see from the Lock Screen:
3 Profiles: default, music, location
5 types of default widgets: Time, Weather, Date, Day, Next Alarm
App Widgets
Alerts for missed calls, messages, and Gmail.
Push notifications from Facebook, Google+, WhatsApp, and many more (Maximum of 2 notification apps can be selected at once, for the Free Version)
Things you can customize on the Lock Screen:
Preset your own location profile
Security PIN for shortcuts and unlock (only one PIN can be set for Free version)
Add app Widgets
Block statusbar, hide statusbar clock and icons, disable statusbar alerts, hide navigation bar (Root access required)
Lock screen Wallpaper/Live Wallpaper
To show/hide missed calls contact, new sms contents
Own custom icon selection
Screen time-out
Unlock sound, screen off sound
Disabling Default Home Button function, Long press Home Button to launch recent apps
Weather update interval and other settings
And many other customisations
C-Locker provides the basic lockscreen functionality along with a list of extra features. So, if you are looking for a little customization with only the essential features, C-Locker would be the choice.
4. GO Locker
Price: Free, with In-App purchases.
It's not just about security every time, looks also matter to some of us. Here with GO Locker, we have decent themes to discover in a really good package. It really does have the largest catalog of themes to choose from. Offering swing of ways to unlock your device, and presents you quick access to the apps you want.
Loads, loads, and loads of themes!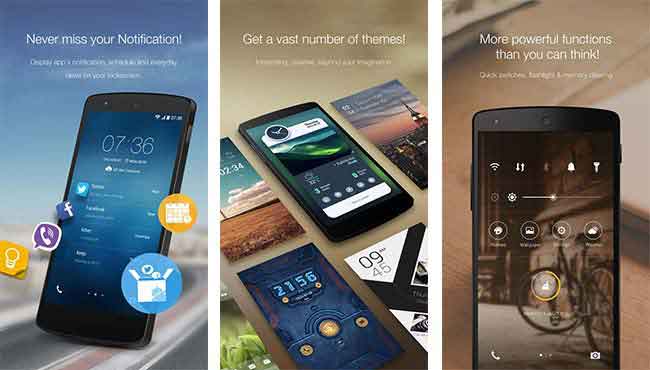 No need to worry about the privacy, it will completely lock the home button from waking up your screen. Switches can be set on the left of your screen, and along with that you can clean your running apps to boost up your device. Read your messages directly from your lock screen. Another plus, GO Locker supports multiple languages.
It can surely be a great replacement, if you're keen on themeing the lockscreen. So go through it once and get yourself indulge in it completely.
Download GO Locker
5. Echo Notification Lockscreen
Price: Free
Its a fine example of clean and sleek minimalistic lockscreens, that displays notifications and gives you good amount of control over what you see and have instant access to. Echo emphasis more on notifications and quick access, rather than themeing and customizing the UI.
You can even categorize your apps for the notifications like work, media, or social, etc. So, with that it got one point higher, as it's organised or we should say "Automatically sorted".
Perfectly organised at one time, without any hassle.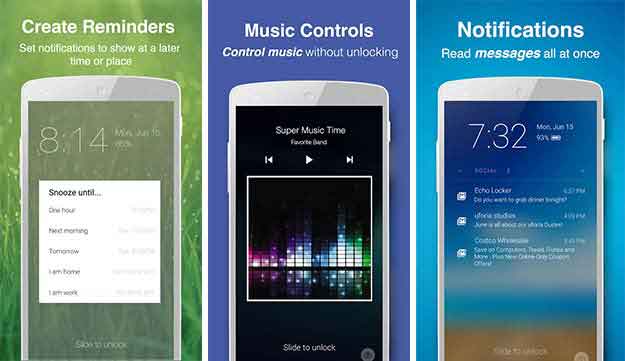 Music can be controlled without unlocking your device. You can snooze your notifications according to your preferences, as when you want to deal with them. You don't need to change your launcher settings. It is light and doesn't affect your phone's battery like other overloaded apps.
Download Echo Notification Lockscreen
---
BONUS: Want a lockscreen app which is not overloaded, and offers some cool features? Try 'Next Lockscreen'.
Rejoice Your Native Lock Screen, with Next Lock Screen
That was quite a list to choose from. I personally recommend you to try each and all of them, and choose what you like the most, per your taste. Wait until we get back with more top apps for your Android devices.