Want to Unlock Bootloader on Xiaomi Devices? Here is a simple guide to help you Unlock Bootloader on Xiaomi Devices right now.
Xiaomi, like every other Android OEM, provides locked bootloader on all its devices in order to protect users' data and to maintain the device integrity. But, in case if you have a valid reason for Unlocking Bootloader then you can easily do it using the official method provided by the manufacturer itself. For this, you will need to follow some instructions given in this guide.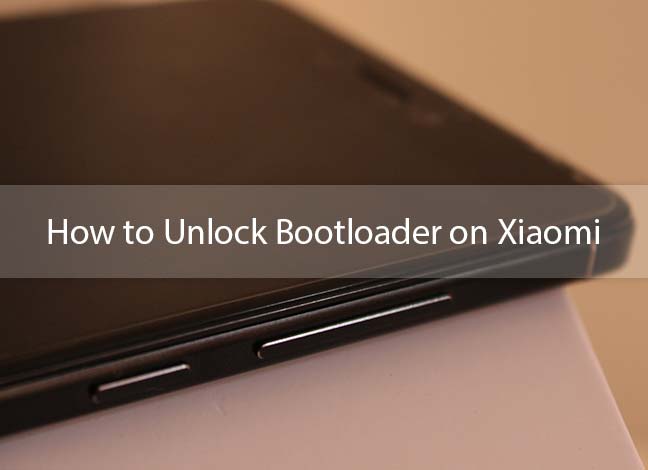 Unlocking bootloader on your Android will lift the limitations set by the manufacturer. You will then be able to root your device and install custom ROMs of your choice. However, there's one thing you should note down first. If you unlock bootloader on Xiaomi or any other OEM device for that matter, you will void the official warranty.
Table of Contents
How to Unlock Bootloader on Xiaomi Devices
Unlocking bootloader on Xiaomi follows a pretty unique process. You will literally have to request for unlocking permission from Mi (Funny, right?) and for that you need to provide a solid reason. The manufacturer clearly states that copied reasons will automatically be rejected. So be prepared to justify it. Haha!
This guide is split into two major parts – the first one guides you how to derive the essential unlock permissions from Mi and the second one explains how to unlock Bootloader on Xiaomi Devices using official Mi Flash Unlock Tool.
Also read – How To Install MIUI 9 on Redmi Note 3
Prerequisites
It is important that you take a complete backup of your Xiaomi smartphone. The process to unlock bootloader on Xiaomi wipes the complete device including internal storage. So be prepared pre-hand. Also, make sure that your device is charged to sufficient battery level, to avoid any hiccups during the process.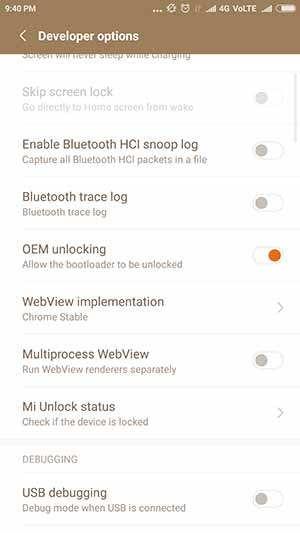 You must enable "OEM unlocking" option in Settings > Additional settings > Developer options.
Your device is now ready!
Apply for Bootloader Unlocking Permission
First of all, open the Mi Unlock page on your PC: Link
Now you need to request for the Bootloader Unlocking Permission using your Mi account.
So, click on the "Unlock Now" button.


How to Unlock Bootloader on Xiaomi Devices – Mi Unlock Page

On the next screen, you will be prompted to log in with your Mi account. Or you can also log in with your Facebook account. If you don't have an account, you can create on right at the moment.
Now, fill the form with the details, including your name, phone number, and an absolutely valid reason on why you would like to Unlock Bootloader on Xiaomi device.


How to Unlock Bootloader on Xiaomi Devices – Form submission

Confirm to the disclaimer checkbox and hit the "Apply Now" button.
Enter the confirmation code that you received on your phone on which Mi account is configured.
Now, wait until your request gets approved.
This process generally takes around 2-10 working days. After successful approval, you will receive a message on your phone with the download link for Mi Unlock Tool. Now, follow the next steps to Unlock Bootloader on Xiaomi using Mi Flash Unlock Tool.
Also read – How to Install AOSP 8.0 Oreo ROM for Xiaomi Mi 3 and Mi 4
Unlock Bootloader Using Mi Flash Unlock Tool
Once, your Mi account has permission to Unlock Bootloader on Your Xiaomi Device, you can proceed to the following steps.
Download Mi Flash Unlock Tool on your PC using the link that was sent to you.
Extract the downloaded tool zip file and run the "MiFlashUnlock.exe".
Once the Mi Flash Unlock tool runs, you will need to accept the Disclaimer displayed on the screen.


Mi Flash Unlock Tool – Disclaimer

Then log in with your Mi account in the software window. This should be the same account you used previously to request unlock permissions.
Now, it will detect for Bootloader permission.
Now power off your Xiaomi device and boot into Fastboot mode by holding volume down + power buttons simultaneously.


Mi Flash Unlock Tool – Connect your device and unlock

Connect your Xiaomi device using USB cable. Make sure USB Debugging Mode is enabled and you have ADB access.
Once the device is connected, Mi Flash Tool will detect it.
Finally, click on the "Unlock" button to unlock bootloader on Xiaomi.
This will take around 2-3 minutes to complete. Once the process is finished, click on reboot device.
Also read – Download MIUI 9 Beta ROM for Xiaomi Devices
Your Xiaomi device now has an unlocked bootloader. Now, you can install Custom ROMs, recoveries and root your Xiaomi device for complete control. If you have any problem regarding Unlocking Bootloader then, feel free to comment below.