Want to try Augmented Reality experience on your Android? This guide will help you install Google ARCore on your Android device.
Google has worked for years on project Tango and is finally bringing Augmented Reality to Android via ARCore. Augmented Reality will allow you to bring in digital and physical worlds together. While the project is not yet stable, the ARCore Preview is now available for a few devices. Google is all set and working with the manufacturers to support a long list of devices by the end of the preview. Take a note that ARCore will only be supporting Android devices running Nougat or above.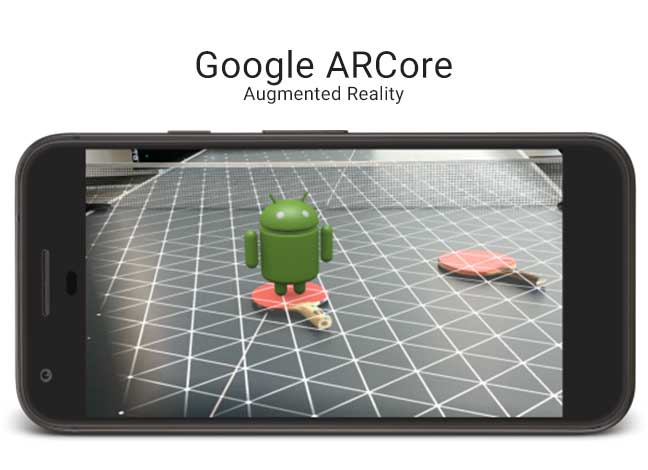 So how does it work? – The ARCore platform on Android tracks the location of your Android device and observes its movements to understand the physical world. Then it identifies the key points (known as features) and tracks how these point change over time. With a blend of these two things – the mobile device movement and key points, the ARCore creates object, information, and annotations to be placed at the right place. It might still take a bit of time to make ARCore completely stable and work consistently, but rest assured it is coming to you soon enough. According to Google, the currently supported devices by AR are – Google Pixel, Pixel XL, and Galaxy S8.
To understand more about ARCore and its fundamentals, refer to this link.
Now follow the steps below to install Google ARCore on your supported device. We have also listed two apps that will give you a good taste of the app.
Third party developers have already started to work on bringing ARCore to all Android devices, but it may come slowly.
Check out more articles:
Download & Install Google ARCore
To install Google ARCore on your Android device, you must first install the ARCore service preview APK manually. Once that is installed, you can download one or both the linked test apps to enjoy Augmented Reality on your device.
Atom Visualizer is the first ever Augmented Reality app published on the Play Store. It allows you to experience various atomic models in AR. So just launch the app and it will open the device's camera. Then tap on the "+" icon to choose an atom of your choice and the rest will be done by Google ARCore.
If you're an app developer, you can already start developing ARCore apps. Refer to the documentation here.
There you have it. You have been successful to install Google ARCore on your Android. Exciting, right? Android is stepping up its game. Who knew that a mere concept that we say in Sci-Fi movies will come right into our hands. Enjoy!