There are quite a number of customizations options available for Android including themes, icon packs, and Launchers which are highly customisable and full of features. Here we will be talking about 5 Best Launcher Apps for Android. Have a look at these launchers and enhance your user experience and personalization.
The first step towards making your phone attractive is to customize the homescreen. And the element to start with is the launcher. A launcher is the most convenient and quickest way to enhance and upgrade the user experience. They provide better and personalized interface. And we are here on the hunt to find the Best Launcher apps for Android.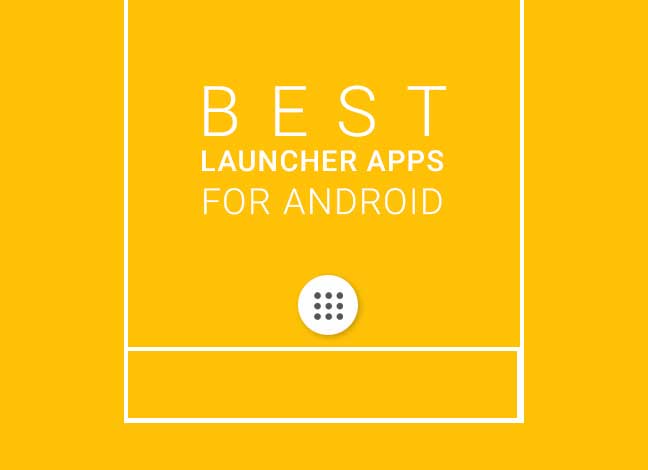 Getting bored of your phone's stock launcher is quite common and why wouldn't you? Most stock launchers lack features, while other are not attractive enough. A good launcher is the one that balances these standards. So, that's why we curated a list of 5 Best Launcher Apps for Android. Have a look at it and you might just find the one best for you.
— 5 Best Android File Manager Apps
Table of Contents
5 Best Launcher Apps for Android
1. Nova Launcher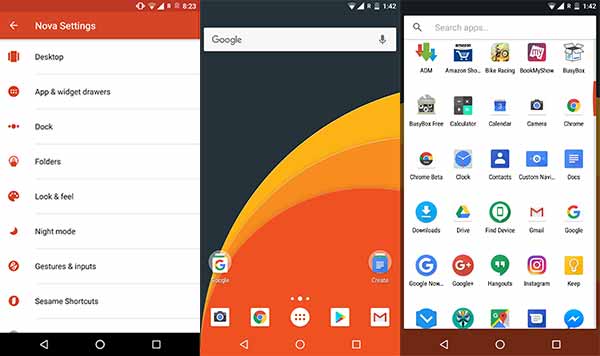 Nova Launcher is one of the most popular and probably the best Android launcher available. It is highly customisable, performance driven and smoother than a majority of self-proclaimed launchers out there. Nova offers a design that is always much updated with the latest Android guidelines. It offers much more control over your screen customisation. You can download and set different themes on the launcher, for a specified alike experience.
Some other great features are Night Mode, Gesture, Settings Backup & Import, and many more endless configurations. The launcher also allows you to use the remarkable "Notification badges" feature from Android Oreo on any device running Marshmallow (Premium feature). Nova Launcher is all about functionality and usability to get things done quickly and more easily, paired with soft-core launcher themeing.
TeslaCoild Software also offers a premium version of the launcher as "Nova Launcher Prime" at a price tag of $4.99.
2. Action Launcher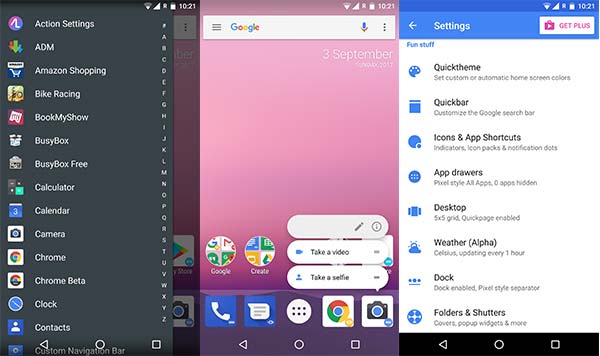 Action Launcher is an Elegant and Material UI Launcher which aims to bring all the features of Pixel Launcher and Android Oreo to your device. Quick Theme is one great feature of the Action Launcher which grabs or extract the colors from your wallpaper and applies them as accent color over the interface. It means UI changes color every time you change the wallpaper. The launcher brings two major Oreo features including App Shortcuts and Notification Dots to all the devices running Android 5.1 or above. Apart from these, other launcher features include Useful Home screen gesture, Quick edit, Quick drawer, Quick bar, and a lot of customizations, etc.
The launcher allows a user to import existing layout settings from most other launchers including Google Now Launcher, HTC Sense, Apex, Nova, TouchWiz, etc. It is also the Best Awarded Launcher in 2016 by AndroidCentral.
— Download Galaxy Note 8 Wallpapers (13 Wallpapers)
3. Lawnchair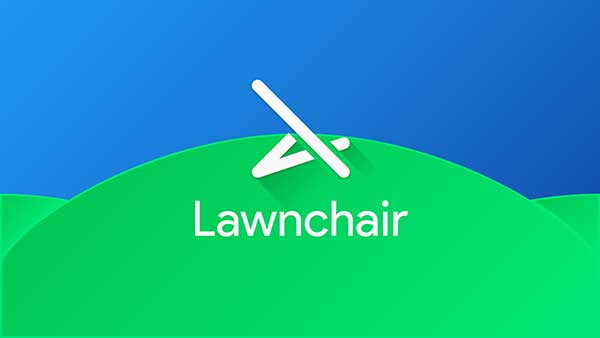 Lawnchair is another excellent Launcher app which brings Google Pixel Launcher interface with Google Now integration. It exactly looks and behaves like Google Pixel Launcher since it is basically a compiled Launcher3 from AOSP with added Pixel functionality including Pill-style search bar and Google Now integration. The added features of Lawnchair are Icon packs, App renaming, App Hiding, Adaptive theming, App tray transparency, ChangingIcon size and Grid Size customization, etc.
With the help of Lawnchair, you can get Pixel and Oreo features on any device running Android 5.1 or above. Undoubtedly, if we ignore extra features, it's impossible to tell that this isn't the official Pixel Launcher from Google.
Download Lawnchair from GitHub
Lawnchair is not available on Google Play Store. So, you will have to manually install the APK file. Make sure that you have enabled "Unknown sources" in Settings > Security or the "Install unknown apps" option in Oreo settings.
4. Yahoo Aviate Launcher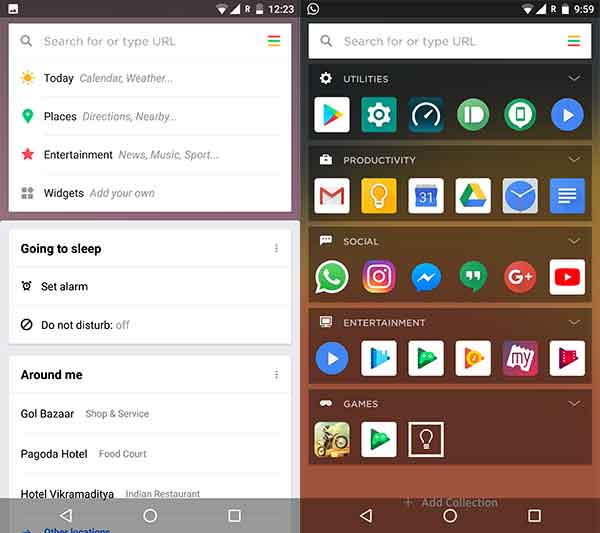 Aviate Launcher is a smart Launcher that completely overhauls the traditional app drawer style to make it more accessible and functional. It offers simple, beautiful Navigation and smart stream to keep everything at your tips. It automatically organizes your apps so, you can quickly jump to them. The smart stream is a good feature which adjusts the content on your home screen based on where you are and what you're doing.
Along with this, it has a convenient search box which makes you to quickly search the web, your contacts, and apps. Overall, it is an Interactive, smart and informative Launcher app different.
5. Evie Launcher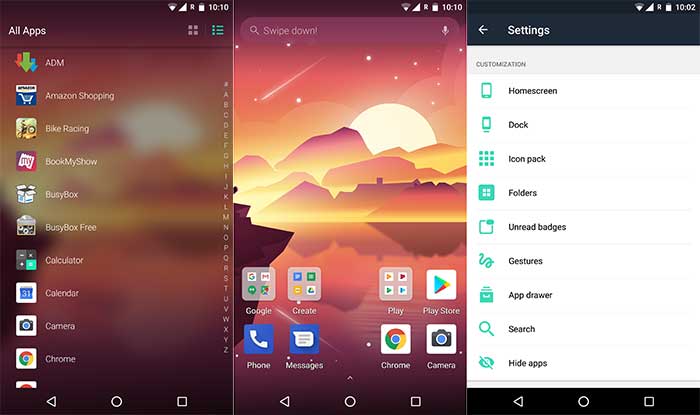 Evie Launcher is another light, fast and easy-to-use launcher app available on Play Store. It has very Simple and clean interface which provides users a comfortable and effective user experience. Evie Launcher also provides a search bar to search for movies, apps, restaurants, and more, right from your home screen. Similarly, you can configure your home screen, Dock, Icon pack, App drawer, gestures, Backup and restore Launcher data.
Overall, Evie Launcher is a perfect, extremely simple and intuitive Launcher app in place of stock Launcher.
So this was the list of 5 Best Launcher Apps for Android in September. Look out for more "Best Apps" series on our website. Do you think we missed something? Let us know via the comments.
More for you: