Another Android Oreo-based beta update is now rolling out to OnePlus devices released in 2016. You can follow this guide to download and install OxygenOS Open Beta 29/20 on OnePlus 3/3T right now.
OnePlus is seeding out rapid updates for all its devices recently. Most of which are now based on Android 8.0 Oreo. To provide a more stable software experience, the manufacturer has now announced another set of Open Beta builds for the OnePlus 3 and 3T. The update brings several improvements over the previous build. If you don't want to wait for the OTA, then follow the steps below to manually install OxygenOS Open Beta 29 and Open Beta 20.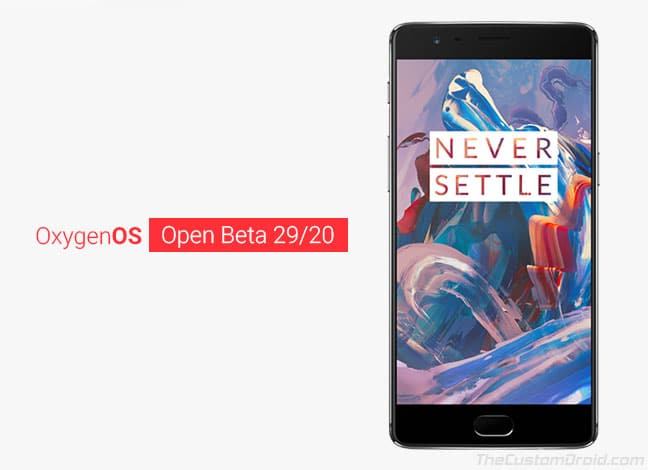 Table of Contents
OxygenOS Open Beta 29/20 for OnePlus 3 & OnePlus 3T
The beta series for the OnePlus devices are focused on making the Oreo experience more streamlined. The stable OxygenOS 5.0 released during November. But it wasn't short of bugs, that disturbed the overall functioning of the system. For which, we also covered a few tips to fix common OxygenOS 5.0 problems.
OnePlus staff member – Teja Naga Bharan announced Open Beta 29/20 based on Android Oreo for the mentioned devices. The new build aims at bringing improvements over the previous beta and also adds certain new features.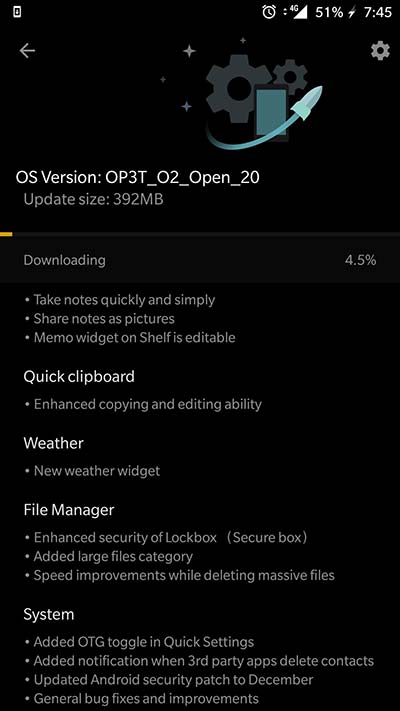 Now before you even install OxygenOS Open Beta 29/20 on OnePlus 3 and 3T, let us take a look at the changelog.
Added official OnePlus Notes app
Added new Weather widget
Better clipboard with enhanced copying and editing ability
Added notification when 3rd party apps delete contacts
Added OTG toggle in Quick Settings
Speed improvements while deleting massive files
Added large files category in File Manager
General fixes and improvements in the system
That's quite an amount of changes and features to be introduced in the Beta software. We are sure that all of these are in favor of a more updated and almost bug-free experience.
Now that you are aware of the changes, follow the steps below to manually install OxygenOS Open Beta 29/20 on your OnePlus 5/5T.
Prerequisites
Beta firmware could sometimes be buggy and suitable for daily use. If you face any problems that grow out of your hands, you can always revert back to the previous stable release.
Take a complete backup of your OnePlus 3/OnePlus 3T. You may follow our guide on how to backup Android phones.
Charge your OnePlus device to a sufficient battery level to avoid any shutdowns during the update process.
Downloads
OnePlus 3: OnePlus3Oxygen_16_OTA_039_all_1712281521_1f64de7abb214d57.zip (File removed by uploader)
OnePlus 3T: OnePlus3TOxygen_28_OTA_039_all_1712281506_01209b3e7.zip
How to Install OxygenOS Open Beta 29/20 on OnePlus 3/3T
We have covered two different methods, depending on your phone's current situation. If your OnePlus device is completely stock, you can simply choose Method 1. On the other hand, if your device is rooted or has custom ROM with TWRP, opt for Method 2.
Method 1: Using Local Upgrade
The easiest method to install OxygenOS Open Beta 29/20 is to use the Local Upgrade option in Settings.
Download the full ROM zip for your device, from the links above.
Connect your OnePlus 3/3T to the PC.
Enable 'Transfer files' mode and copy the full ROM package to the root of the internal storage.
Once transferred, disconnect the phone.
Go to 'Settings' -> 'System updates'.

Press the cog icon on the top-right and select the 'Local upgrade' option.
Tap on the ROM filename and select 'UPGRADE NOW' to install OxygenOS Open Beta 29/20 on OnePlus 3/3T.
Your device will reboot once the update process is complete.
Method 2: Using TWRP Recovery
Download the full ROM zip from the links above.
Transfer the downloaded file to the phone's internal storage.
Boot OnePlus 3 or 3T into TWRP recovery:

Power off the phone completely.
Press and hold the Volume Down + Power button until the OnePlus logo appears on the screen.

If your device has a ROM installed other than OxygenOS, then you will need to wipe it.
Go to 'Wipe' -> 'Advanced Wipe' and select the partition checkboxes as shown in the image below.


Wipe in TWRP to Install OxygenOS Open Beta 29/20 on OnePlus 3/3T

Swipe the 'Swipe to Wipe' button.
Once the wiping process is complete, go back to TWRP's main screen.
Press the 'Install' button.
Navigate to the location where the file was transferred and select the full ROM zip.
Finally, swipe the button to install OxygenOS Open Beta 29/20 on OnePlus 3/3T.
The flashing process should finish in about one minute. Once it is, press the 'Reboot System' button. Your device will boot into the latest Open Beta software, based on Android Oreo. Try out the new Notes app and see how the update has improved your daily usage.
So you have been successful to install OxygenOS Open Beta 29 and Open Beta 20. Share your feedback or problems through the comments. We shall give our best to assist you.