Here's how you can easily enable Pixel 2 Portrait Mode on Nexus 6P, Nexus 5X, and original Pixel devices.
The new Pixel 2 phones come no short on your expectations when it comes to the camera. Despite the Dual-lens trend, Pixel 2's single-lens setup is capable of taking DSLR-level pictures, with amazing details, colors, and low-light capabilities. That's not it, the camera also adds some exclusive features, like Motion photos, AR Stickers, and the Portrait mode. We previously posted on how to get Pixel 2 camera features on your Nexus and Pixel phones. Today, we will cover how to enable Pixel 2 Portrait Mode on Nexus 6P/5X and Pixel devices released in 2016.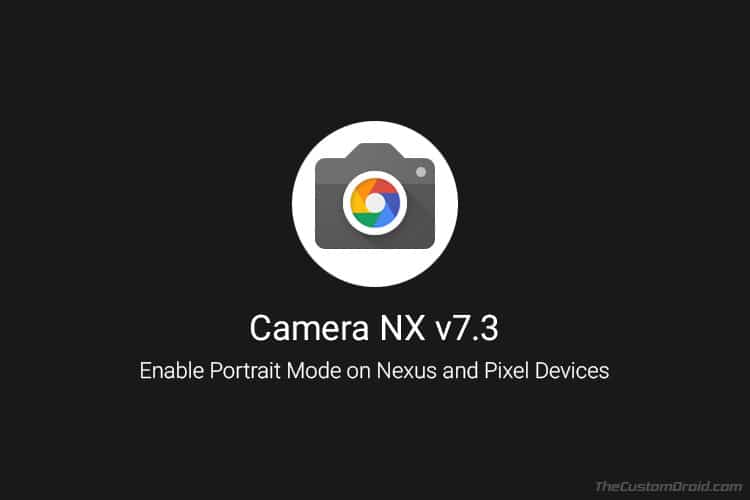 The Portrait Mode on Google Pixel 2 and Pixel 2 XL allows a user to take photos with a professional depth-of-field effect, also referred as Bokeh effect. And it not only works with the primary (rear) camera but also the secondary (front-facing) camera. Such an effect would normally require a dual-lens camera setup like in OnePlus 5T.
But on the Pixel 2, this is achieved through Google's Machine Learning technique. This post will be way too short to explain how this actually works. However, if you're really interested in knowing, follow the link below.
Google Research Blog: Portrait mode on the Pixel 2 and Pixel 2 XL smartphones
How to Enable Pixel 2 Portrait Mode on Nexus and Pixel Devices using Camera NX v7.3
In this post, we will guide you how to enable Pixel 2 Portrait Mode on your older Nexus and Pixel phones. But before we do that, let us learn a bit more about how it will be achieved.
XDA senior member – Charles_l has been known for his more than amazing work to bring Pixel-exclusive features to older Google phones by modifying the original Google Camera application. His modded app is popularly known as "Camera NX". We previously saw how it helped us enable Motion Photos on the Nexus 6P, Nexus 5X, and original Pixel devices.
Initial speculations indicated that Portrait Mode is a feature that is dependent on hardware. But after constant research, the developer came up with the fact that Portrait Mode in Google Camera can be enabled on the software end.
Recently, Charles Chow confirmed that users can now enable Pixel 2 Portrait Mode. Which could be done using the updated Camera NX v7.3 application, which is based on Google Camera 5.1.016. This new update also adds Face Retouching feature in Portrait mode. And previously introduced features work flawlessly as well, like Motion Photos, Electronic Image Stabilization, etc.
The new feature has been thoroughly tested by users across all the supported devices. These include Nexus 6P, Nexus 5X, Pixel (2016), and Pixel XL (2016).
Download Camera NX v7.3
camera_nx_v7.3_ZSL_chromloop.com.apk | Mirror
You can easily install the modded app on your device to enable Pixel 2 Portrait Mode. It shall not replace the original Google Camera and neither does it require any root permissions to make this feature work.
First, download the APK to your device.
Before you install Camera NX v7.3, you must enable 'Install unknown apps' or 'Unknown sources' option in Settings.
Then use your favorite file manager to manually install the APK.

Once installed, go to the app drawer and launch the 'Camera' app.
Press the menu icon on the top-right.

You shall note that the 'Lens-Blur' option is now replaced with 'Portrait' mode.

Select 'Portrait'.

Move your Nexus or Pixel device closer to the subject and take a shot.
The camera NX app will take two pictures. The first picture will be normal and second one with the Portrait effect with shallow depth-of-field.
You have just been successful to enable Pixel 2 Portrait Mode on Nexus 6P, Nexus 5X, and Pixel devices. It's quite exciting to be able to enjoy features from the latest Google flagship, especially without rooting.
Source: Chromloop