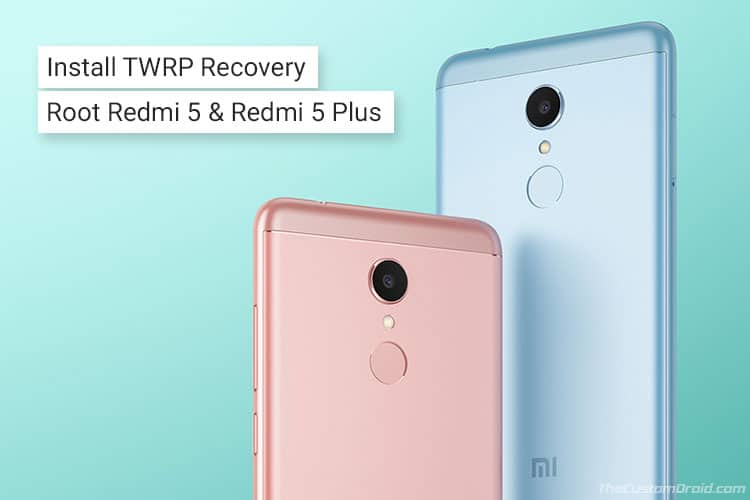 Want to customize your new Redmi device? Then follow this guide to install TWRP Recovery and root Xiaomi Redmi 5 & Redmi 5 Plus using Magisk or SuperSU.
Xiaomi has seen some really good times during 2017. One major factor in its success is the "Redmi" device lineup, that focuses on bringing powerful hardware at an affordable price. Xiaomi released another Redmi series successor during December, last year. If you've already got the device, then here's your chance to install TWRP Recovery on Xiaomi Redmi 5 and Redmi 5 Plus, and root it.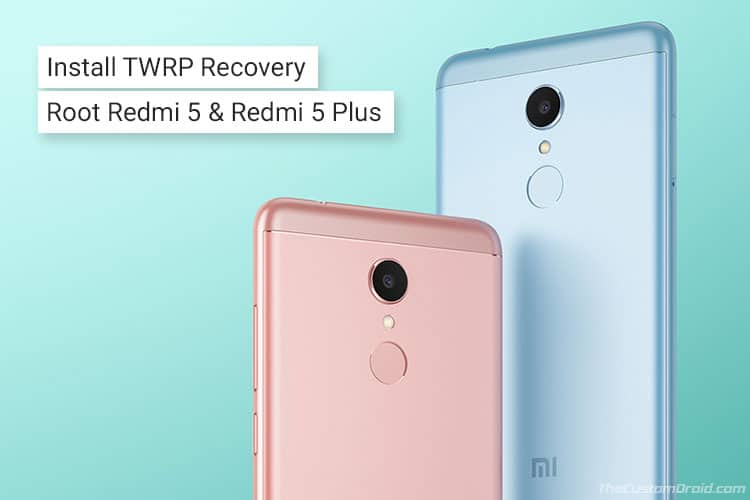 How to Install TWRP and Root Xiaomi Redmi 5 (Plus)
Following the current trend, the Redmi 5 features a curved full-view display. The aesthetical features stay the same with an Aluminium body. On the inside, the phone runs a Qualcomm Snapdragon 450 processor powered by 8 cores. It comes with MIUI 9, based on Android Nougat 7.1.2.
If you consider adding more features to stock firmware or move up to a third-party firmware totally, you will need root or a custom recovery like TWRP, in that order. In this article, we will help you install TWRP recovery and root Xiaomi Redmi 5/Redmi 5 Plus.
There are several reasons why Android users desire root access on their devices and often times this arises from the need to add extra functionalities and customizations to their device. Other times it's is just to bypass certain limitations and apply patches. Take a look at a few things you will be able to do after you root Xiaomi Redmi 5 and Redmi 5 Plus.
Improve your device's overall performance using custom kernels.
Install custom ROMs to get the latest Android version running on your Xiaomi phone.
Enhance audio performance using popular mods like ViPER4Android.
Add extra features using Xposed Framework or Magisk.
Use root-enabled apps
This is just an overview of a long list of advantages.
Recently, TWRP developers have added official support for Redmi 5 and Redmi 5 Plus. We will guide you on how to easily install it using a simple Fastboot command. Further down, you will be able to use Magisk to root Xiaomi Redmi 5 and Redmi 5 Plus.
Prerequisites
Once you have fulfilled the requirements stated above, move down below to install TWRP and root Xiaomi Redmi 5/Redmi 5 Plus.
Downloads
Install TWRP Recovery on Xiaomi Redmi 5/Redmi 5 Plus
The first step in order to root Xiaomi Redmi 5, is to install TWRP recovery on it.
First of all, download the TWRP recovery image for your device, from the links above.

Copy the downloaded img file to C:\adb, where all the ADB and Fastboot files are present.

Open the folder, hold down the SHIFT

 key on your keyboard and right-click on an empty space.

 

Select 'Open PowerShell window here'.

Boot Redmi device into Fastboot mode:

Power off completely.
Press and hold the Volume Down and Power button simultaneously.

Now connect your device to your PC using the USB cable. 

Finally, install TWRP on Redmi 5:

fastboot flash recovery twrp-3.2.3-0-rosy.img

Use the following command to install TWRP on Redmi 5 Plus:

fastboot flash recovery twrp-3.2.3-0-vince.img

Do not reboot your phone yet, or TWRP will be overwritten by stock recovery.
You've just flashed TWRP Recovery on Xiaomi Redmi 5 and Redmi 5 Plus. Now head on to root Redmi 5 using the steps outlined below.
Root Xiaomi Redmi 5 (Plus) using Magisk
While the phone is still in fastboot mode, press and hold the Volume Up and Power button

 until the TWRP Recovery screen shows up.

When prompted for the decryption password, enter the PIN/password that you previously wrote down.
On TWRP Recovery menu, go to 'Wipe' -> 'Format Data'.
Input "Yes" in the provided field to wipe the device completely.
Once wiped, reboot recovery by going to 'Reboot' -> 'Recovery'.
In TWRP, go to the 'Mount' menu.
Connect your phone to the PC and press the 'Enable MTP' button.
Then download the Magisk or SuperSU zip and transfer it to your phone's internal storage.
Disconnect the device.

Return to the TWRP Recovery menu and tap on 'Install'.

 

Then select the Magisk/SuperSU zip file.

Finally, swipe the button on the screen to flash Magisk and root Xiaomi Redmi 5 and Redmi 5 Plus.

Once the installation is complete, press the 'Wipe Cache/Dalvik' button.

After clearing the cache, reboot your device by hitting the 'Reboot System' button.
I hope you find these steps easy to follow and that you enjoy the privileges of having root access on your device.
So you have just been able to root Xiaomi Redmi 5/Redmi 5 Plus and install TWRP on it. Kindly use the comment section below if you have any questions.